Archived Arts & Entertainment
The things I've Seen: Pink Beds release debut rock album
Tuesday, February 02, 2021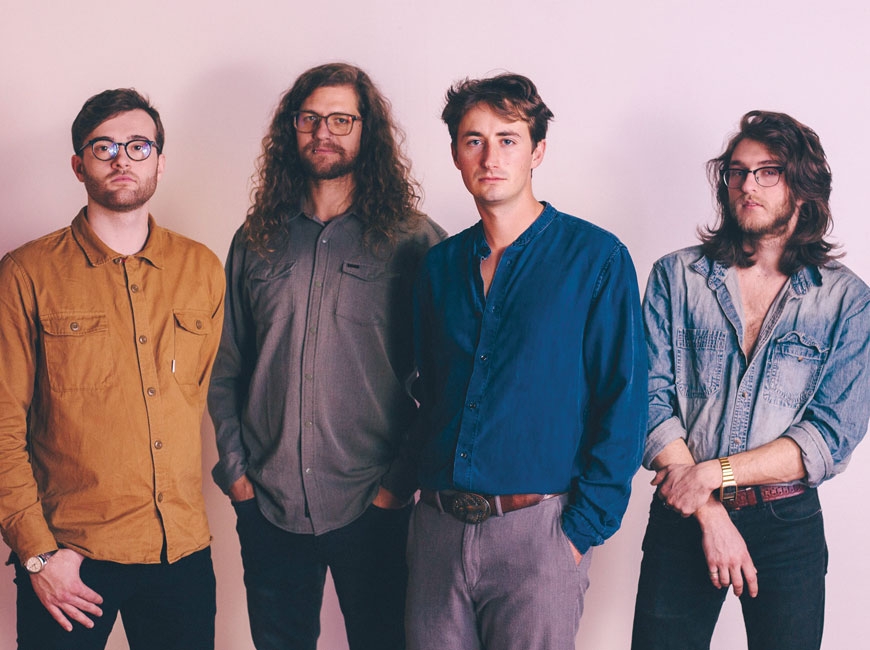 Pink Beds is an Asheville-based indie rock band. From left, the group consists of Logan Hall, Ryan Sargent, Aaron Aiken and Jackson Van Horn. (photo: Daniel Barlow)
What started out as a casual jam to entertain a keg party has morphed itself into one of the most intriguing new musical acts in Western North Carolina.
"By August 2019, my old band had come to an end. Some friends of mine from college were looking for someone to play their Halloween bash, and I said 'yes,' all while forgetting I didn't have a band anymore," Aaron Aiken laughed. "Nobody wanted to travel to the gig and we weren't getting paid, so I just called up some friends who play around the area. When the party ended, we talked after and decided 'let's not make this our last gig.'"
Lead singer of Pink Beds, Aiken, a Brevard native, now fronts an Asheville group that stands at the intersection of indie rock, psychedelic folk and cerebral pop. It's a seamless blend, more so a vibrant flow, that harkens back to the sounds of early 2000s indie icons The Strokes and Keane, with a thick thread leading to the melodic camps of Tame Impala and Snow Patrol.
With its debut album, "All I Have," dropping last month, Pink Beds emerged from the Halloween 2019 gathering ready and roaring to perform live, only to spend most of the 2020 pandemic hunkered down in Aiken's West Asheville home. The quartet would (and continues to) huddle in the basement, working out new tunes or simply jamming out until someone had to go and not be late to their day job.
Now the record is out and being happily consumed by Pink Beds' growing fan base. Recently, there was an album release party in the basement. Only a handful of close friends and family were (safely) allowed in to bear witness to what Pink Beds has been concocting during the shutdown, each attendee walking away in sheer awe of the presence and tone of this captivating ensemble eager to emerge from the underground.
Smoky Mountain News: It must have been a little deflating to have this seed planted in your head in late 2019 of starting this new band, where you bust out of the gate and play a couple of gigs, only to come to a complete halt with the shutdown.
Aaron Aiken: Exactly. We had some festivals in June [2020] that we were super excited for and obviously none of them happened. But, I think there were a lot of positives out of the negatives.
We were a brand new band [in early 2020], essentially playing a bunch of songs that I had written for other bands that never came to fruition. So, in this moment, we're finding out what we want to sound like, because these are old songs that I have. I'm showing them to these guys and they're becoming a whole other beast.
Since we couldn't play shows because of COVID, it was kind of nice because instead of trying to rebirth songs, I had the freedom and the free time to write a whole new album for this band.
Months and months of me in the house — I record something and send it to the boys. Then, they'd send something back or we'd meet up, show each other what we came up with and restructure it. We [had time to] focus only on an album.
SMN: How much did it mean for you to have that creative outlet during the shutdown?
AA: Oh, man. If I didn't have that, I don't know what I would've done. This one [creative outlet] definitely took up about 80 percent of my time.
SMN: I was very impressed from what I saw at the album release party. The sound is very cerebral and intricate, but also very danceable. Was that by design or did the band evolve into that sound?
AA: I think we're still evolving the sound. I mean, it's still early because we're getting into a practice regiment, so when things open back up, we're ready. It's a soundscape that I've had in mind since we started the album, it's just figuring out how to accomplish some of it.
SMN: When I heard Pink Beds, I immediately started to think of those great indie rock acts like The Strokes or Tame Impala — this very danceable music, where there's all these levels to the sound, these melodic rabbit holes.
AA: Yeah, totally. You definitely want energy behind the songs live. If you're playing with emotion, you have your body movement, which is your beat. You want it to be danceable and you want it to be slow. You can instantly hear that in the music.
And I'm a huge vocal melody guy. That's probably the most important thing for me in music. You mentioned The Strokes, so [their lead singer] Julian Casablancas does that really well. Having layers is super [important] to us. If it's too surface level, people see right through it.
I don't think I'd ever write a song for anyone else but me. I start a song because I feel like it's something I want to see come to fruition or I had to get off my chest or it's a story I needed to tell. So, coming from something like that always gives it a little more purpose.
The most rewarding feeling might be seeing a song come together. You kind of go into this dreamlike state and you kind of know where it's going, but then there's the whole journey of starting it and, "Oh, didn't see that coming, let's run with this" — it's this fun puzzle that you're putting together and putting out into the world.
Want to listen?
Pink Beds debut album, "All I Have," is now available for purchase and streaming on all digital music platforms. For more information on Pink Beds and an upcoming show schedule, click on www.pinkbedsmusic.com.