Archived News
SCC to host two virtual job fairs
Monday, February 01, 2021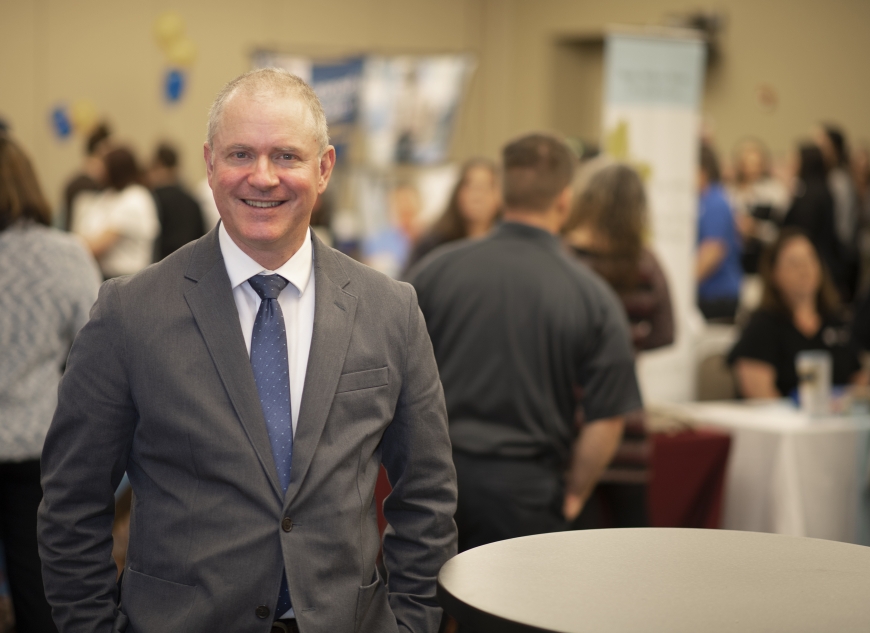 Mike Despeaux overseeing the career fair, now being hosted virtually.
Even as the pandemic continues, employers continue to seek eager workers to fill important job roles. To help with the search, Southwestern Community College's Career Services is offering two virtual job fairs through Google Meet.
While jobs are posted daily, there will be a showcase of jobs on the SCC Job Board on Monday, Feb. 15. Students can tune in at 10 a.m. to discuss opportunities with Diector of Career Services, Mike Despeaux, and co-host Paula Alter, Career Center Manager of the Macon, Jackson and Swain County NCWorks Career Centers.
The first event, co-hosted by the Director of SCC's nursing program, Wendy Buchanan, is a healthcare career fair that will take place from 1-4 p.m. on Tuesday, Feb. 16. A general job fair will then take place from 1-4 p.m. on Thursday, Feb. 18. Julie Spiro Donaldson, Executive Director of the Jackson County Chamber of Commerce, and Stephanie Edwards, Executive Director of the Cashiers Area Chamber of Commerce, will co-host the event, each taking turns.
Despeaux will begin each job fair by introducing SCC's resources to job-seekers and employers, then he'll allow participating employers to introduce themselves and discuss their respective job openings.
Throughout these timeframes, employers will be available to answer calls, respond to emails, and set up individual Google Meet or Zoom meetings to discuss job openings and hiring plans. After the events, recordings will be available as podcasts to any job-seeker who visits www.southwesterncc.edu/career-services/southwestern-career-connection-video-podcast-series.
"Job fairs are excellent opportunities for candidates to learn more about opportunities, gain an advantage in the hiring process, and leverage their SCC educations to achieve success," said Despeaux.
Participation in the job fairs, traditionally hosted on campus, is free and open to the public.
Employers who would like to reach a large number of qualified job-seekers can sign up by contacting Mike Despeaux at This email address is being protected from spambots. You need JavaScript enabled to view it..
Job-seekers can get more information about how to participate in the Virtual Job Fair and the schedule of employers by visitng www.southwesterncc.edu/career-services/preparing-job-fair.