Archived News
Pancake Day in a pandemic?
Thursday, January 28, 2021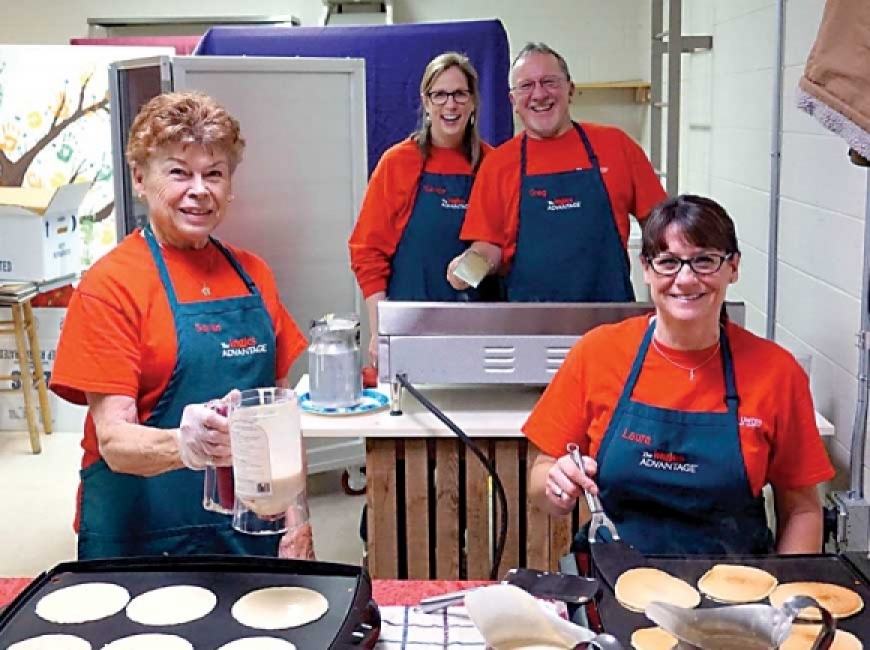 That is the question the Pancake Day Team and staff at First United Methodist Church of Waynesville pondered last fall as it became clear that the COVID-19 pandemic would most likely still be around in February 2021.
Which meant mask-wearing and social-distancing would still be the norm on what has historically been one of the largest community gatherings in Haywood County. How would that look in a pandemic? Imagine trying to eat a pancake with melted butter and gooey syrup through a mask. Pretty messy.
So there was a moment when those at the planning table thought FUMC Pancake Day 2021 would be another event that would not happen because of the pandemic. But that moment was brief and the decision was made to continue the tradition of serving pancakes to the community — just in a different way.
Every year, for 64 years, hundreds of volunteers from FUMC-Waynesville cook and serve thousands of pancakes to thousands of people from the community on the last Tuesday in February. Nothing has ever stopped it and neither will a pandemic. Only this year, the 65th FUMC Pancake Day, the volunteers will be handing out Stay Home-Flip Safe Pancake Day Kits through a drive-through in the church parking lot. Each packet will contain enough pancake mix to serve a family of four. Also included will be a bottle of syrup and a spatula for flipping the pancakes.
The goal of the very first Pancake Day in 1956 was to raise money as part of a building campaign. Over the years, money raised from this annual event has been used for various missions. But it became clear that the heart of Pancake Day was the gathering of people and serving those people. In thinking of ways to give back to these people and show appreciation for all the years of support, it was decided to make Pancake Day even more welcoming. The day is about bringing together neighbors, getting to know one another, nurturing relationships and fostering a culture of kindness and caring for all. In order for people to understand that all were truly welcome, Pancake Day needed to be free of charge.
This feeling of a welcoming community is needed now more than ever so after that brief moment of wondering if Pancake Day could be accomplished during a pandemic, the Pancake Day Team began brainstorming ways to continue a tradition of community gathering and keeping people safe. So the plan is to have several days of drive-up Pancake Day Kit pick-up and an all day Zoom gathering on the actual Pancake Day 2021.
Requests for packets or for more information, visit fumcpancakeday.com. Volunteers will be handing out Pancake Day packets in the church parking lot (Tate Street entrance) on Sunday, Feb. 21, 2-5 pm; Monday, Feb. 22, 12-6 pm; and Tuesday, Feb. 23, 3-6 pm. First United Methodist Church of Waynesville is located at 566 South Haywood St., Waynesville, NC, 28786, (828-456-9475).