Archived Arts & Entertainment
Shuttered for almost a year, HART Theatre aims to reopen
Tuesday, January 26, 2021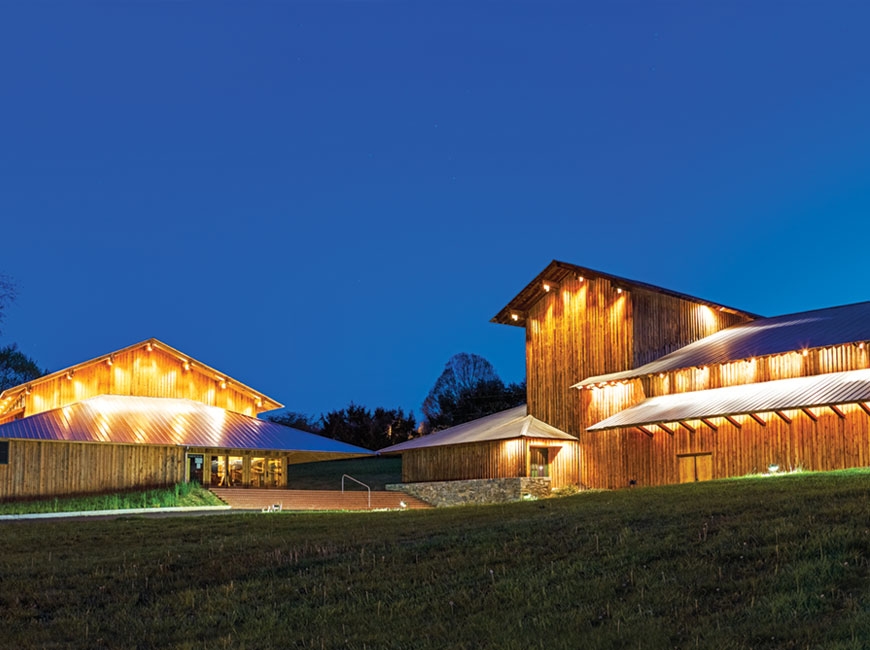 The Haywood Arts Regional Theatre in Waynesville.
In his over 30 years of being part of the Haywood Arts Regional Theatre in Waynesville, longtime Executive Director Steven Lloyd has held pretty much every job title within the organization, from stage actor to set designer. But, there was one duty he'd yet to partake in, that is until recently: volunteer.
"We had our annual [HART] meeting via Zoom last week. Under normal circumstances, we would have met in person, had wine, snacks and celebrate the end of another great year," Lloyd said. "Normally, I'd put together a video retrospective of the year and all of the performances — this year it would just be a blank screen."
Closed since last spring due to the Covid-19 pandemic and shutdown, HART, which celebrated 35 years in operation in 2019, is a pillar of the Haywood County and greater Western North Carolina artistic community. What started as a grassroots organization those many years ago has now become a nationally-acclaimed stage, one where a sold-out performance to rave applause is the norm.
Aside from Lloyd's current volunteer role, he had to let go of his entire staff last year for the foreseeable future, some of which had been with HART for decades. The immensely popular Kids at HART youth program was suspended until further notice, and the Harmons' Den Bistro has been closed for good.
In a usual year, the overhead costs of HART hover around $35,000 per month. With the shutdown and darkened stages, HART has managed to narrow those costs down to $2,000 a month. That said, it still has to pay those bills, and with no money coming in from ticket sales.
"Between the virtual programming fundraisers, private donations from several generous patrons and a [federal] CARES Act grant, we've been able to put together enough of a war chest to make sure we can pay the mortgage and the rest of our bills right now," Lloyd said.
When turning the spotlight to Lloyd himself, the question remains as to his future with HART. At 67, he had already been in the process of transitioning his role to the new generation that will run the organization. Although he has no plans to fully step aside and will remain executive director moving forward, Lloyd will be the first to say that the shutdown did shift his mindset toward "the next chapter" of his own life.
Steven Lloyd.
"[The shutdown] did accelerate my exit strategy. I wasn't planning on going on Social Security until I turned 70. But, I got laid off on April 1. I went on Social Security and I've got savings, so I'm financially secure," Lloyd said. "So, I don't have to 'do this,' but [HART] is what gives me purpose. I don't want to come back in here and be the person who signs checks and deals with all this stuff. I want to be able to hand that off, then direct a couple shows a year, pick the seasons, attend the board meetings."
With a tentative opening date of June 11, HART is aiming to hold live performances with an audience. Whether it be on the large grass knoll and patio between the stage buildings outside or simply opening up the large wraparound doors of the Fangmeyer Theatre with limited capacity shows, the show must go on, according to Lloyd.
"Anybody who bought a season ticket for last year, it's good for this year. And we're not going to be selling season tickets in advance of shows until we know we can open this year, because we don't know when that will be," Lloyd said. "[Otherwise], we're basically ready to pounce. And even if we are able to open, we're not going to be the ones who decide if 'we're open' — the public will. Once the public is comfortable again to sit with 200 people in a theater, then we will [officially] be back open."
When asked what will be going through his mind when the curtains do finally get pulled back and shows once again grace the stage of HART Theatre — in front of a real audience in real time — Lloyd can't help but smile and chuckle happily at that image rolling through his mind.
"Everybody — the audience, the cast, the staff — is going to be so excited just to be together. Watching a performance with your friends, having a beer — we all miss that," Lloyd said. "When we return, our house is going to be so packed because people are going to be so hungry for real entertainment, and they're not sitting and watching on a screen. I think people are going to be in tears — they're going to be so thrilled to be able to do this again."
Want to help?
If you would like to donate to the Haywood Arts Regional Theatre, you can go to www.harttheatre.org, click on the "Get Involved" tab and scroll down to the "Donate" section.
As well, to watch the "Virtual Stage" performances by the HART Theatre, you can stream the productions by going to www.harttheatre.org, clicking on the "Current Season" tab and scrolling down to the "Virtual Stage" section.
Currently, you can stream the production of "Together: Love Songs and Scenes from the Stage to You" for a suggested ticket price of $10. Other virtual productions will also be offered in the coming months.
For more information, call 828.456.6322 or email This email address is being protected from spambots. You need JavaScript enabled to view it..
Leave a comment
1

comment
I am looking forward to your opening. I suspect more Floridians like me who are used to having things open 100% should help your attendance immensely

Sunday, 05/02/2021