Archived Arts & Entertainment
Show me the way to go home: WNC's last real 'dive bar' turns 15
Tuesday, January 19, 2021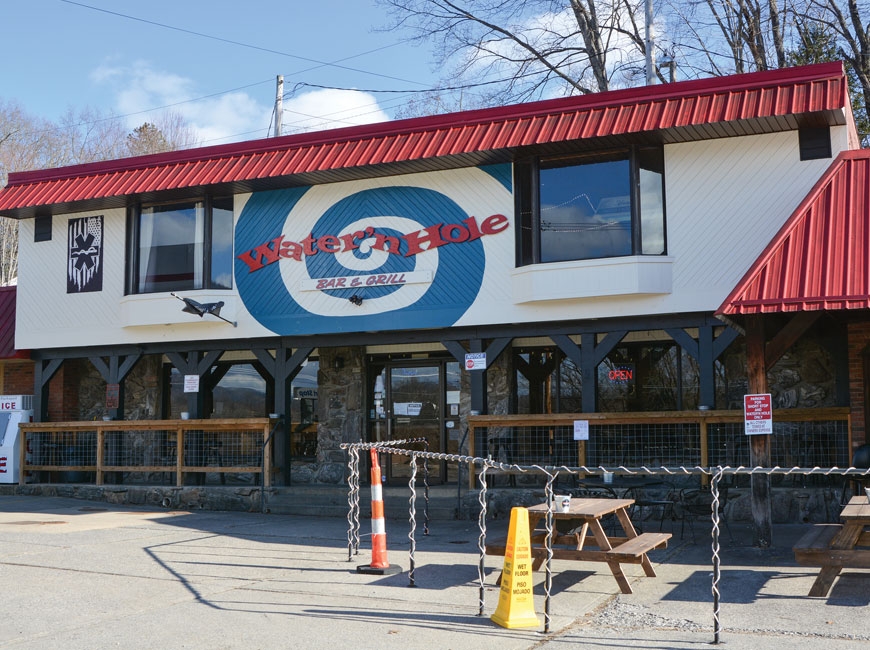 The Water'n Hole in Waynesville will soon celebrate 15 years in operation as the final frontier of the beloved 'dive bar' in our region. (photos: Garret K. Woodward)
It's a label that some avoid at any and all costs. But, for Becky Robinson, it's a sincere and genuine term of endearment that she wears like a badge of honor: "dive bar."
"We do wear it as a badge of honor. And I think it's the comfortability factor," Robinson said. "I feel that you can come in here and you can be comfortable. You can come in and have a good time. Everybody is welcome. You don't have to pretend to be somebody else in here — you can just be yourself."
Owner of the Water'n Hole Bar & Grill on North Main Street in Waynesville, Robinson has been at the helm since it opened in 2006. With its 15th anniversary just a couple of weeks away, the establishment remains a beacon of curiosity and compassion, not to mention a bastion of gut-busting meals and the coldest suds in the region.
"What I'm most proud of is our acceptance of others," Robinson said. "Not just me, but my entire staff — we're not judgmental. We always want to be a place where you can go and feel safe, and to have the time of your life."
In a modern era of uncertainty, with seemingly all things familiar disappearing from sight, places like the Water'n Hole are few and far-between. With rising property values and shifting cultural trends, the neighborhood bar in America is something either felt in memory or seen in dusty photographs, perhaps only viewed on late-night TV reruns and in old films.
But, the Water'n Hole remains, just as things steadfast and beloved tend to do. It's the type of place where you can be completely new to town, walk in not knowing a single soul, only to leave with a whole slew of new friends, hopes and aspirations (something not lost on this "damn Yankee" journalist, who experienced this first-hand upon arrival here in 2012).
This past Sunday afternoon, Robinson grabbed a seat at a picnic table in front of the building (which is attached to a gas station) and took a moment to reflect on a decade and a half in operation, especially now in the midst of a pandemic when small businesses are finding themselves in severely dire straits.
"During the first month of the shutdown, we lost about 90 percent of our normal business. But, we knew we had to figure something out," Robinson solemnly stated. "We added the outdoor table seating, started being open seven days a week, and now offer Sunday brunch — we're trying anything and everything we can to stay afloat. And, thankfully, our loyal regulars choose to spend their money here and continue to support us."
Fifteen years ago, Robinson was a 26-year-old seeking her purpose. Initially, she arrived in Waynesville a few years prior to work with at-risk youth. Following a soul-searching cross-country road trip, the Indiana native circled back to Haywood County. At that time, the Water'n Hole was a 1950s style-restaurant known as Pastimes (before that, a sports store called The Rookie).
Becky Robinson.
"The owner of Pastimes was looking to sell, so I put together every dollar and cent that I had or could borrow and bought the property. I was so young, but this is where I wanted to be," Robinson marveled in recollection. "I called it the Water'n Hole because it reminds me of that cross-country trip and the adventures I had traveling around out there, stopping in to these random dive bars and figuring out what I wanted to do with my life — the name on the front of this building is part of my journey."
Aside from its core philosophies, the business is well-regarded for its countless fundraising events for a wide array of local organizations. It's also become a hub for social activism, this voice of reason that aims to bridge the divide and find understanding between human beings from all walks of life.
"We're a community bar, and being part of the community means giving back. And it's this community upon which we've built within these walls, too" Robinson said. "We've created a place where you can go to anybody. You can find help with your plumbing as easily as you can find a shoulder to lean on. This isn't just a bar — it's a second home for many people."
Getting up from the picnic table, Robinson heads back into the Water'n Hole. Back behind the counter. Back to her customers. And back to her daily duty of open arms to any and all who may wander in for the first time or the thousandth. Pour the drink. Plate the food. Entertain the conversation. Feed the people, physically and emotionally.
"This place means as much to the customers as it does to me. And I'm proud of being here for 15 years, though it really doesn't feel like it's been that long. I mean, I'm getting older and the days are getting longer," Robinson chuckled. "But, I love this bar. I love doing what I do and it makes me happy. I always said if it didn't make me happy, then I would stop doing it — I love it more now than ever before."
Want to go?
The Water'n Hole Bar & Grill in Waynesville is open seven days a week. Hours are 11 a.m. to 9 p.m. Monday through Friday, 2 to 9 p.m. Saturday and noon to 9 p.m. Sunday. A full brunch menu is now available from noon to 3 p.m. on Sundays (mimosas served all day).
For more information, call 828.456.4750.