Archived Arts & Entertainment
This must be the place: Ode to Vermont live music, ode to School Street jams
Tuesday, January 19, 2021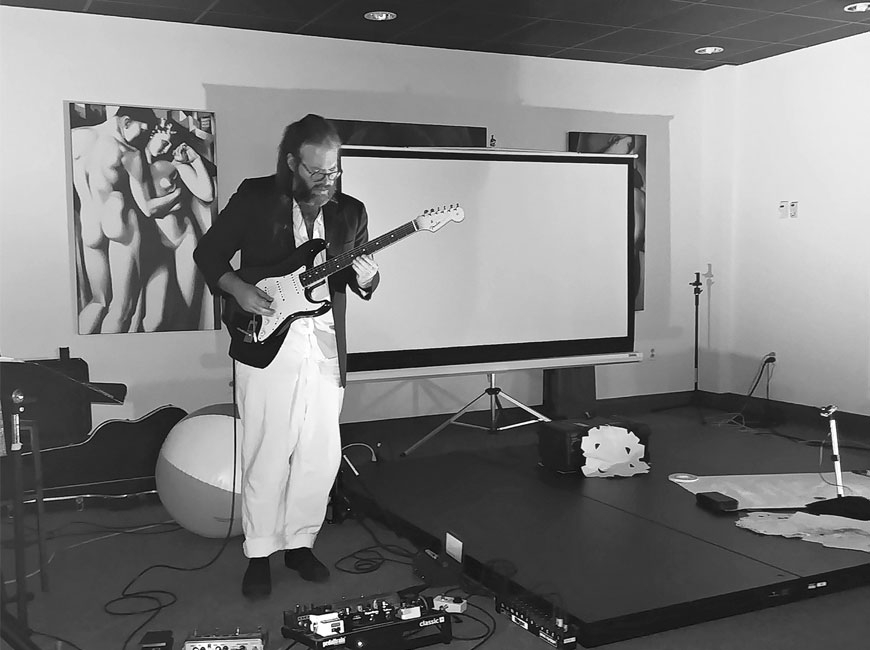 Tom Pearo. (photo: Garret K. Woodward)
I didn't grow up, nor have I ever lived, in the state of Vermont. That, and I'm not a musician, not professionally or in any sort of a talented way in my free time. And yet, I was recently asked by a member of the Vermont musical community to contribute to an uplifting video collage for 2021 and the message of hope for the uncertain future of live music and performers.
I was asked because of how much of the core of who I am, as a journalist and a music freak, was shaped by the music, onstage and off, spilling out of the city of Burlington, Vermont, and the surrounding areas. Raised just across Lake Champlain from Burlington, I emerged from the small Canadian Border town of Rouses Point, New York (then later Plattsburgh, New York).
Somewhere around the age of 10 (mid-1990s), my mother took me to my first real deal concert (that I was cognizant of). It was the fiery Cajun act BeauSoleil at the majestic Flynn Theater in downtown Burlington. Being in the presence of live music — the spectacle of the musicians and audience as one energy and movement — immediately captivated my heart, soul, and imagination.
By the time I entered middle school, all I wanted to do was listen to music, talk about music and, most importantly, see music live. In eighth grade, I begged my parents to bring me to concerts across the lake in Burlington.
This was the late 1990s, with mainstream radio still saturated with grunge, punk and alternative rock, which led to seeing acts like Green Day, Third Eye Blind and Smash Mouth at Memorial Auditorium in The Queen City before the millennium arrived.
Now in high school (and with a driver's license), I would disappear every weekend into Burlington with my riffraff cronies (which included my lifelong friend Tom Pearo, now an acclaimed Vermont musician in his own right), either catching shows at Higher Ground or Nectar's, buskers on Church Street or simply listening to whoever was plucking some strings in nearby Battery Park.
In those moments of curious wonder and teenage shenanigans, there usually was a crappy joint being passed around in the park or along the shoreline of Lake Champlain, the conversation always hovering around new albums from iconic Vermont groups like Phish, Strangefolk or Seth Yacovone Band.
The weekend before we all started our junior year, I was 16 and borrowed my parents' minivan to head to my first music festival: Strangefolk's annual "Garden of Eden" gathering at the Addison County Field Days in New Haven, Vermont.
There they were, right in front of us: Strangefolk. Seeing one of my all-time favorite bands live was an epiphany of sorts, to actually witness and partake in the songs radiating at you in real time became a feeling that I've continued to chase with a reckless abandon to this very day.
College rolled around and I found myself attending Quinnipiac University in Connecticut. Every Christmas and spring break, I'd come home to Plattsburgh, only to turn right around and bolt down the road for Burlington, hoping to catch whatever concert was on the schedule for those few days back in the North Country.
If there was no gig at Club Metronome, Red Square or The Monkey House, we'd all pig-pile into Tom's School Street apartment and stay up until dawn: this roomful of musicians and music freaks, sipping beers, jamming out, listening to vinyl records, laughter and sincere melodic friendship.
And it was during the spring break of my junior year when I had to find a summer internship for my communications degree. Initially, the dream was to become an MTV VJ and take over Carson Daly's job on "Total Request Live."
But, in the midst of trying to find an internship, I crossed paths with Mike McKinley at a show while home on break. The publisher of the (now-defunct) State of Mind Music Magazine in Burlington, he saw something in me and offered me an internship right on the spot.
That first day on the job for State of Mind, I ended up hanging out in a café in downtown Burlington, enjoying a beverage with Mike Gordon, the renowned bassist of Phish. Sitting there and talking with one of my musical heroes shifted the entire trajectory of my life: I wanted to be a music journalist. My fate was forever (and happily) sealed.
The internship led to numerous interviews, show recaps and album reviews of Vermont bands, including an up-and-coming act named Grace Potter & The Nocturnals, whose storied live performances became known 'round the world.
That foundation in the Burlington and greater Vermont music scene was the platform by which I built my career, one article at a time. Due to financial struggles and such, State of Mind eventually faded into the rearview mirror, leaving me to look elsewhere for writing opportunities.
Cue my job at The Smoky Mountain News and current life in Western North Carolina, which is now approaching its ninth year. And even though I'm over a thousand miles away from Burlington, so many of those incredible Vermont musicians have found their way to Waynesville, either crashing on my floor or taking the stage around the corner from my humble abode.
Thus, here we are in the early stages of 2021. Last year demolished the music industry, with barely any live shows occurring anywhere on this planet: the silencing of the universal language, the ultimate connecting factor between human beings. A surreal state of affairs for us music freaks and musicians.
This new calendar on the kitchen wall is currently empty. But, this time around, it's empty with possibilities to eventually fill those boxes with performance dates on each page. And I can't wait. See you in the front row, my friends.
Life is beautiful, grasp for it, y'all.