Archived News
First responders vaccinated in Haywood County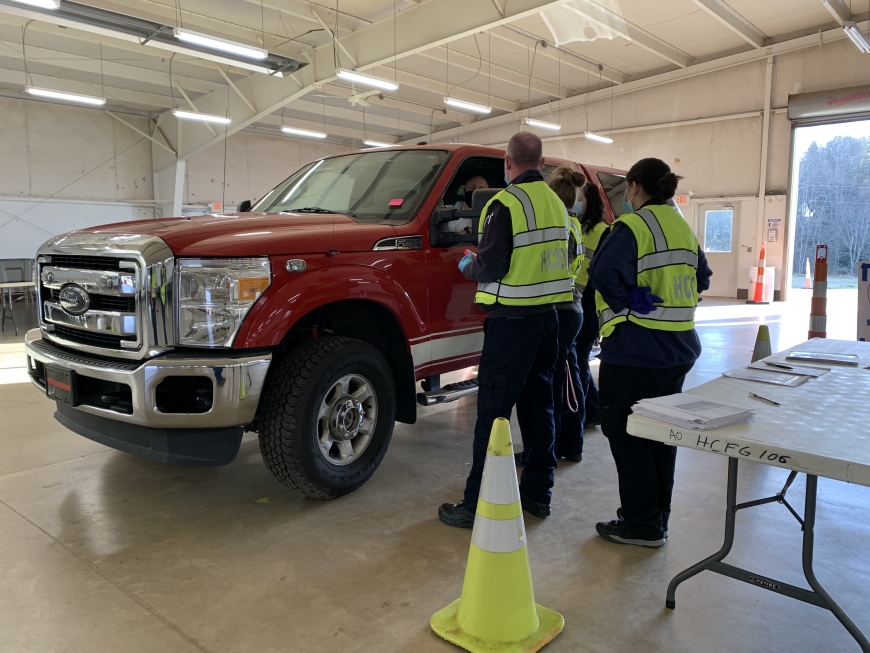 Over 80 firefighters, EMS, and rescue squad personnel who are frontline care providers were vaccinated Wednesday afternoon at a drive-through clinic organized by Haywood County Emergency Services in partnership with Haywood Health and Human Services.
"Vaccinating first responders in Haywood County protects the community in two ways — those with immunity following vaccination will prevent inadvertent spread of COVID-19 when responding to people's homes and it prevents situations where departments become understaffed with members out sick or quarantined with COVID-19," said Emergency Services Director Greg Shuping.
Wednesday's clinic had the added benefit of providing a test of plans for future mass vaccination efforts, using a similar but, scaled-up model of drive-through vaccination.
"We have prepared a plan that we believe will work for vaccinating hundreds of people per day when enough doses are available to do so, and today's smaller-scale test helped us exercise those plans and work out any issues before we move into larger events like this for the public," said Travis Donaldson, deputy director.
Haywood Community College EMS students who are preparing to become full-fledged EMTs or Paramedics also participated in the clinic by administering the vaccinations under the supervision of instructors.
"This mini-clinic gave several students the opportunity to get some practical experience in skills that they need to qualify in before graduating, so it was a win-win for us. This experience was important because these students may be tasked with assisting in future vaccination efforts, as we work to vaccinate the larger population," said Krystal Shuler, EMS shift supervisor, and Haywood Community College EMS program director.
One of the students who assisted with vaccinations at this event has seen COVID-19 up close and in person, having both cared for COVID-19 patients in long term care facilities and having suffered the virus herself.
"I am excited to be here today, helping fellow first responders get vaccinated so we can cut down the risk of exposure to COVID-19 in our county. I have worked on a COVID-19 unit and I've seen multiple people pass away as a result of this virus, and hopefully, this vaccine helps us end this pandemic sooner. I'm more than ready to bring this to an end," said EMS student Danielle Cockerell.
Fire, EMS, and rescue squad members from all over the county received their first COVID-19 vaccine dose at this clinic, including members of Waynesville Fire Department, Saunook Volunteer Fire Department, Haywood Rescue Squad, Haywood Search and Rescue, Clyde Fire Department, Cruso Fire Department, North Canton Fire Department, Crabtree Fire Department, Junaluska Volunteer Fire Department, Center Pigeon Fire Rescue, Canton Fire Department, Jonathan Creek Fire Rescue, Evergreen Paper Emergency Response Team, Fines Creek Fire Department, Lake Logan Fire Department.
"I'm feeling pretty positive about the chance to get vaccinated today. Initially, I was a bit apprehensive, as I'm sure many of us are, but we don't need to wait any longer for it if it's available. I'm excited about this for our community and for our country," said Dean Coward, Saunook Fire Department, and Haywood Search and Rescue.