Archived Outdoors
Parking lot project concludes at Chimney Rock
Wednesday, December 23, 2020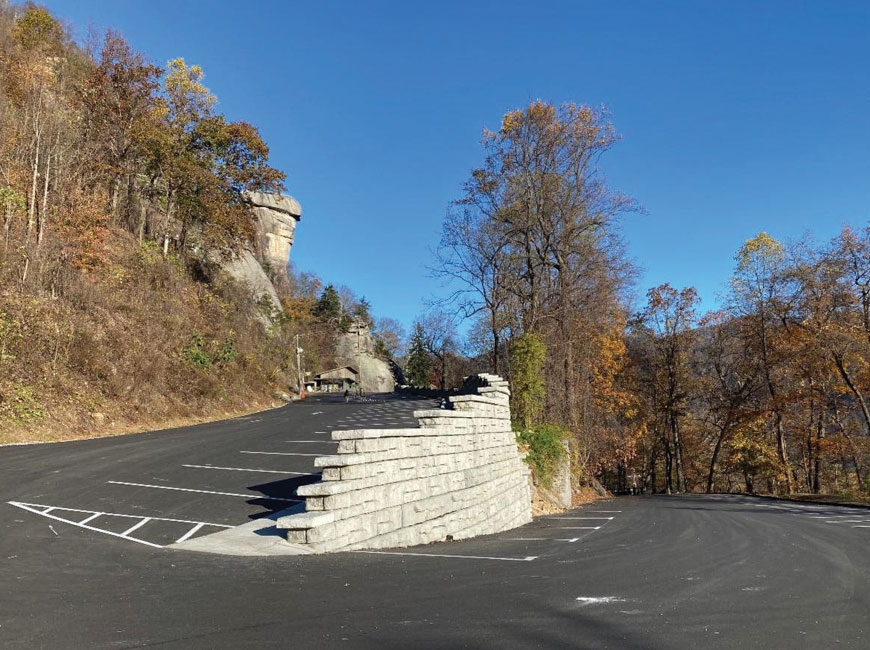 After 10 months of construction and nearly $3 million, a new parking lot and retaining wall is complete at Chimney Rock. Donated photo
A 10-month-long construction project to restore a retaining wall and expand a parking lot washed out during heavy rains in 2017 and 2018 is now complete at Chimney Rock State Park in Rutherford County.
Prior to the project's conclusion, guests had to be shuttled up the mountain rather than parking there themselves. The $2.98 million project involved digging down 26 feet and removing 24,300 cubic yards of dirt, rock and debris from the foundation of the original retaining wall, as well as what was left of the old retaining wall.
Once the space was cleared, contractor GLF Construction Corporation laid 400 linear feet of 24-36-inch pipe and added seven new storm drains. More than 900 dump truck loads brought in nearly 18,000 tons of gravel to rebuild the parking area, and pavers laid 1,400 tons of asphalt. A new 670-foot retaining wall was built using 1,600 interlocking blocks with a cobblestone finish. The wall is 40 feet high at its highest point.