Archived News
Help make a child's last wish come true
Tuesday, December 22, 2020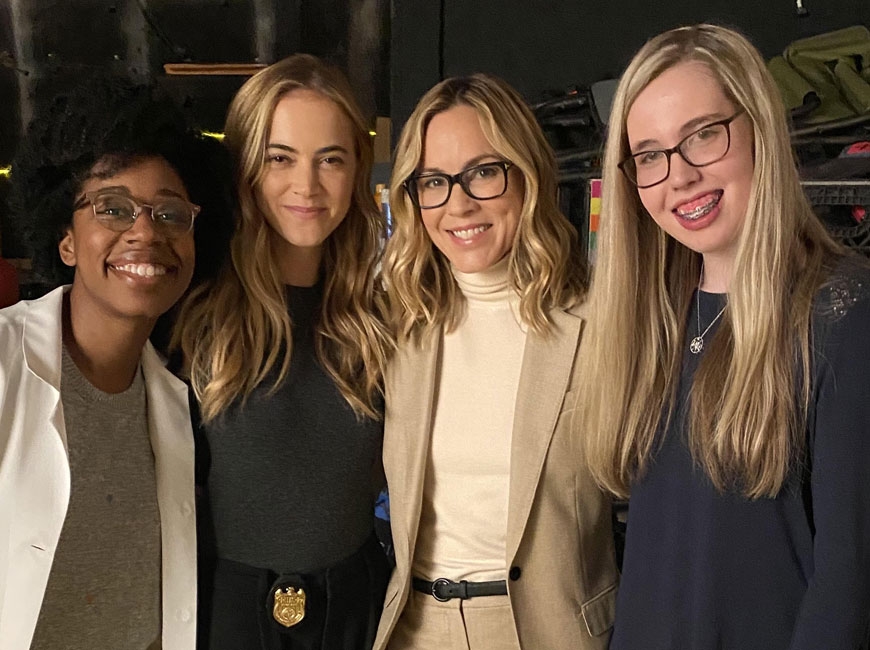 Thanks to Make A Wish Foundation, Amanda McLeod was flown to Hollywood to hang out with the cast and crew of NCIS. Donated photo
As Amanda McLeod celebrated her sweet 16 birthday last week, she wasn't thinking about herself or the rare auto-immune disease she lives with every day — she was thinking of all the other children in need this holiday season.
Instead of asking for gifts for herself, Amanda has made it her goal to raise at least $1,000 for Make A Wish Foundation of WNC by the end of the year.
"During the pandemic I've been thinking of how I can help others, and since my birthday is around Christmas, I thought I could use that to raise money for kids in need — they've had a hard year," she said.
Amanda knows all too well how difficult it can be to live with a rare and incurable disease and also how meaningful it is to have your wish granted by Make A Wish Foundation. When she was 12, she began having pain and swelling in her legs and feet. Amanda's mother Helen thought it was just puberty at first, but when the swelling wouldn't subside and she was tired all the time, they decided to see a doctor.
Amanda was then sent to Levine Children's Hospital in Charlotte where she was finally diagnosed with Dense Deposit Disease following a kidney biopsy. DDD is a rare kidney disease that mostly impacts children. DDD tends to worsen over time, and about half of affected people develop end-stage renal disease within 10 years after symptoms start.
There is no cure for the disease and limited treatments that are not yet approved by the Food and Drug Administration.
Amanda McLeod pictured with NCIS star Mark Harmon. Donated photo
"We were lucky enough to get approved for the treatment and now her condition has stabilized," Helen said. "She has IV infusions every two weeks. She's passed her 80th infusion so it's working. We can't complain — her kidney function is back to normal and she'll stay on the treatments indefinitely. We're in a support group with parents of others that have it and some of their children have been on the treatments for 10 years and are still doing well. It's not a harmful drug, but it just lowers the immune system."
Because of her condition, Amanda applied to Make A Wish Foundation last November. Her wish was to visit the filming location of her favorite TV show — NCIS.
"It's my favorite show ever. When I got sick and I came home after my diagnosis, it's the show I watched all the time because I was so tired all the time. There's 15 seasons on Netflix so I had plenty of episodes to keep me distracted," Amanda said.
Helen said she was amazed at how quickly the Foundation was able to grant Amanda's wish. They received a call in late December asking if they'd be able to fly out to Hollywood in 10 days.
"We said 'absolutely' and they arranged everything — we just had to show up," she said.
Amanda and Helen stayed in a hotel overlooking the Hollywood sign and were escorted from the hotel to the set by a stretch limousine that had just been used to deliver celebrities to the Grammy Awards, which was held the same week.
Amanda said the experience on set was incredible. She just couldn't believe she was hanging out with the cast members she'd been watching on screen for years.
"Once I got off the plane, I was just in total awe of everything," Amanda said. "Jimmy Kimmel Live was being filmed just across the street. The famous Chinese theatre was right there and we could see the Hollywood sign — it was just so exciting. I spent about seven hours on set with the cast. They took me everywhere. Mark Harmon (who pays NCIS Agent Gibbs) took me to stand in for him while they were checking the lighting and I got to do an interrogation with Agent Torres (played by Wilmer Valderrama) — it was so much fun."
Helen said she was impressed with how much time the cast and crew took to make Amanda's visit feel special.
"They'd done their research — the cast knew all about her. They wrote in her autograph book saying next time they'd play a game of Monopoly with her because that's her favorite game and they served her favorite meal (spaghetti) on set that day," she said.
Amanda said she wants other kids to be able to feel as special as she did that day her wish was granted. While her wish was granted quickly and before the COVID-19 Pandemic began shutting down the U.S., she knows other children weren't as fortunate this year. Many are still waiting for the pandemic to pass so their wishes can be granted.
"I want kids that are waiting on a wish to feel that kind of happiness and joy and feel like a kid again," she said. "When I was diagnosed, it changed how I looked at life and I didn't feel like a kid anymore, but getting my wish, I felt like a kid again — like there's nothing in the world that can stop me."
Like so many other children living with incurable diseases, the pandemic has forced Amanda to be extra cautious since her treatments leave her immune system more vulnerable to viruses and infections. She's adjusted well to remote learning at Pisgah High and tries to keep up with her friends through texting.
Amanda loves to sing and dance. There hasn't been much public singing lately, but she's been able to continue to dance at Music Works thanks to small classes, social distancing and wearing a mask. She was also thrilled to be able to have an outdoor COVID-safe birthday get together with a few of her friends this past Sunday for her birthday.
"It's been interesting, but I've gotten through it," she said. "I think in the beginning I was a little scared of it — I was a bit of a germaphobe and didn't want to do anything — but I've adjusted to it and I'm hoping next year is better."
To make a donation to Amanda's fundraiser for Make A Wish Foundation, click here.