Archived News
Dog Park Initiative by Vision Cashiers Moves Forward
Monday, December 21, 2020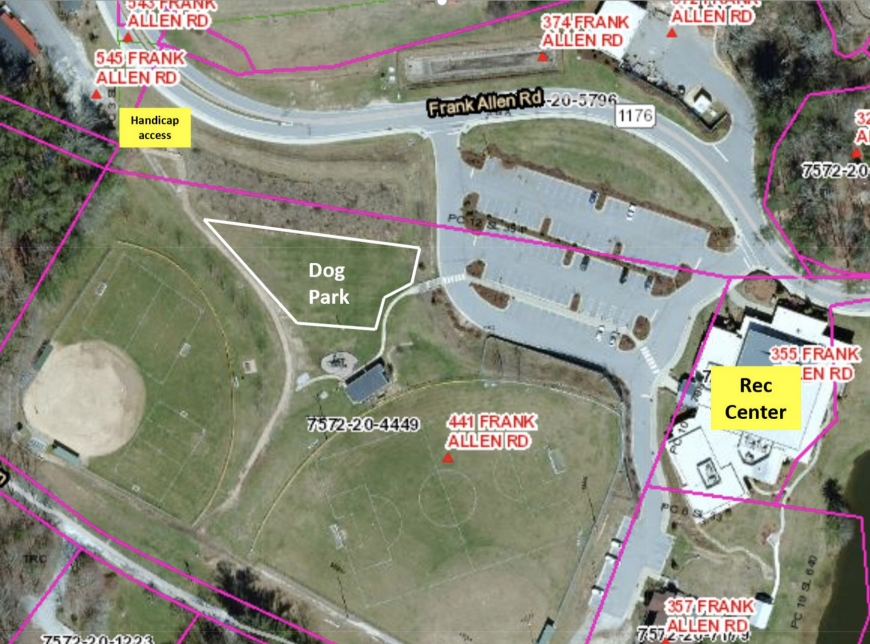 Vision Cashiers, a not-for-profit organization led by volunteers and devoted to improving the Cashiers community, recently announced it has received an endorsement by Jackson County to move forward with a public dog park — a first for the valley of Cashiers.
The Vision Cashiers Dog Park initiative — envisioned by volunteer Rand Kramer — will be located next to the Jackson County Recreation Center and will be a clean, beautiful, and safe recreational area for families and their four-legged friends.
"Our goal for the Cashiers Dog Park is to establish a fenced-in, off-leash dog park where canine citizens and their owners can exercise and socialize in a clean and safe environment while respecting people, property, and wildlife," said Kramer. "This is an important community need that is currently missing in our beloved Cashiers."
Kramer, who approached Vision Cashiers in the spring of 2020 about his dream of a dedicated and safe place for dogs to play, received good news from Jackson County recently regarding the dog park initiative. If Vision Cashiers raises the funds to build the dog park — approximately $50,000 — the county will dedicate land for the park next to the recreation center, as well as maintain the space.
"The Cashiers Dog Park has been very well received by the Jackson County Parks and Recreation department," said Paul Robshaw, co-founder of Vision Cashiers. "Thanks to Rand's hard work and design, the county quickly embraced our concept and is very supportive. If we can raise the initial costs to build the park, Jackson County will donate and maintain the land. This is a win-win collaboration between Cashiers and the county. We are excited to turn this dream into a reality for the residents of Cashiers and their four-legged friends."
The total cost of the Cashiers Dog Park is $50,000 and Vision Cashiers is soliciting donations from $100 to $1,000. To date, fundraising efforts have already raised $30,000 and Vision Cashiers has a goal to meet the $50,000 by Dec. 31. For anyone donating $100 and above, their tax-deductible contribution will be permanently recognized at the dog park entrance on a sign showcasing their name and dog(s) name.
"When you donate, you are improving the quality of life in Cashiers by bringing a dog park to our town for the enjoyment of our citizens and their dog companions. Donations of any amount, big or small, are gratefully accepted," said Kramer.
Rusty Ellis, director of the Jackson County Parks and Recreation Department, shares, "The Jackson County Parks and Recreation Department is pleased to partner with Vision Cashiers to develop an off-leash dog park where dogs and their owners have a safe, enjoyable, and well-maintained area for recreation and socialization. Given the leash laws in Jackson County, there aren't many places for dog owners to let their dogs run freely. The dog park will allow your dogs to roam freely without the constant tugging from their leashes, as well as provide dog owners with the ability to safely throw a Frisbee or ball without worrying about where their dog will wander off to next. We looked forward to making this Dog Park a reality for the Cashiers residents."
Dog lovers of Cashiers are encouraged to donate by visiting www.visioncashiers.com or by mailing a donation to P.O. Box 2302, Cashiers, NC, 28717.