Archived Opinion
The human component makes the difference
Wednesday, December 16, 2020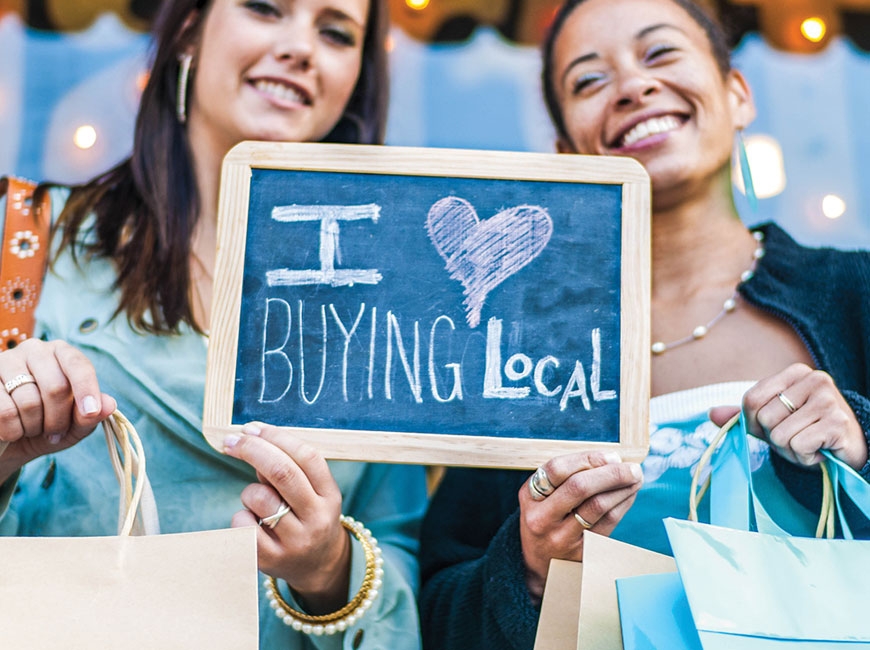 Apple was once a small business that was started in a garage by two college dropouts. It was the pipe dream of Steve Jobs and Steve Wozniak to make computers small enough to fit in people's homes or offices. We all know how the story ended, but it's important to remember how it began.
Small businesses in America are driven by pure grit. As Jobs said, "You need a lot of passion for what you're doing because it's so hard. Without passion, any rational person would give up."
The Smoky Mountain News works with numerous small businesses in editorial and advertising capacities. We observe their ebbs and flows and watch their determination to adjust and adapt. Our hearts ache when dreams don't manifest and they must shut their doors. Small businesses in our coverage area are near and dear to us. The owners are our good friends and business partners. Our newspaper, in fact, is considered a small business and could not survive without the support of local businesses.
As I've walked along Main Street in Waynesville during the pandemic, I've been awed at the grace and resiliency of the merchants. Every one of them feared for their livelihoods during 2020. The many unknowns kept them up at night.
Patricia Miller, owner of Affairs of the Heart at 120 Norh Main Street in Waynesville, has become a close friend of mine over the past two years. She's been a long time supporter and print advertiser of our newspaper. Starting in early 2019, we began working with her on digital advertising, including her Facebook page and website. As her project manager on these fronts, I'm in her store multiple times a week photographing new inventory, creating content calendars for Facebook and strategizing what customers want more of.
In the midst of conversations about photo selection and analytics, we talk about our personal lives, our stressors and joys. After owning the store for almost 25 years and being a veteran Main Street merchant, Patricia remains full of zest and continues searching for new and innovative ways to please her customers. She and her sister Roseann are at the store every day with smiles on their faces. On their occasional day off, previous Firefly owner Julie Katt runs the store. As a former small business owner herself, she makes a great member of the team.
I watched Affairs of the Heart rise to the occasion when the shutdown happened and the future of the business became precarious. They followed safety guidelines and got creative so they could stay open. They sold items via Facebook, through text messages and over the phone. They offered curbside pick-up and became one of the first places to sell cloth masks. As their customers adjusted to the new normal, Patricia and Roseann adjusted alongside them. If you talk to them today, they'll tell you it's been an interesting but good year for their business and they owe all of it to their customers' support.
Patricia's not the only small business owner who has inspired me lately. While Christmas shopping, I stopped in Smoky Mountain Dog Bakery. All three clerks welcomed me and asked if I needed anything. When I walked by the counter, I saw a beautiful blue merle Australian Shepherd relaxing beside the girl decorating dog treats. I commented on him and before I knew it, we're looking at puppy pictures on her phone. That's not an encounter that would happen at a big box store or when buying something on Amazon.
Down the street at Mast General, I perused a piece of camping equipment I was considering for a preteen's Christmas gift. Before I could turn around, a sales associate was beside me. He was full of knowledge and experience and guided me in the opposite direction I was considering, which turned out to be the much better choice.
As I walked to my car after visiting these three small businesses, I had a pep in my step. It's the human component that makes local establishments so vital and wonderful. There is no way to create that with an online transaction. This weekend is the last shopping weekend before Christmas. Consider going small for those last few gifts, stocking stuffers and surprises. When you shop small, not only does it put a smile on the merchant's face, it will put one on your face as well. I guarantee it.
(Susanna Shetley is an editor, writer and digital media specialist for The Smoky Mountain News, Smoky Mountain Living and Mountain South Media. This email address is being protected from spambots. You need JavaScript enabled to view it.)