Archived Reading Room
Folks and faith: two books about the South
Wednesday, December 16, 2020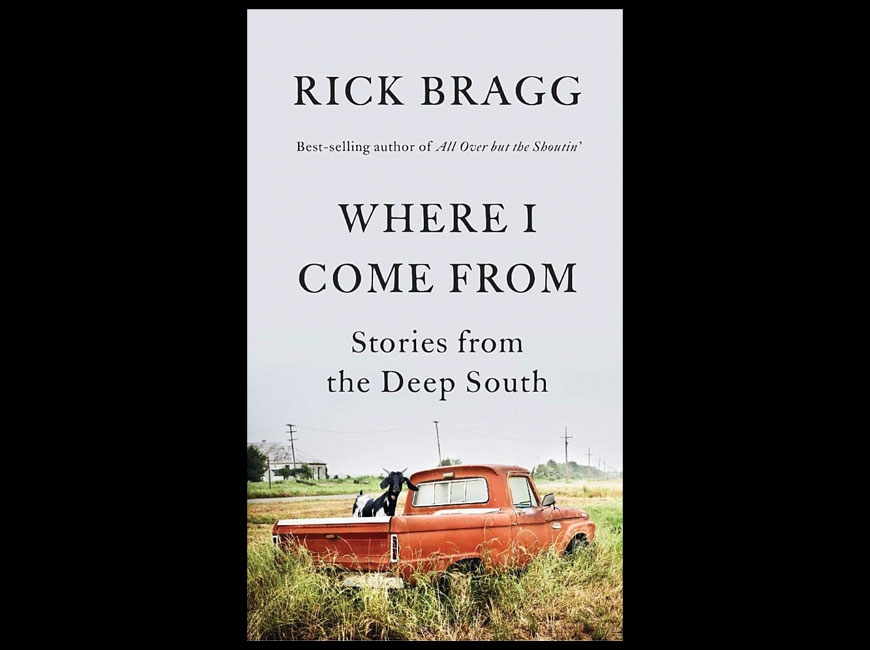 In his short essay, "Dear Santa (Again)," Rick Bragg writes, "For my big brother Sam, I would like you to send a cinder block. He can place it atop his foot, when he drives. I once wrote that all he needed to pass for an old woman behind the wheel was a pillbox hat and pearls, but have since decided that is insulting … to old women. Old women blow right past him."
That is just one small example of the wit and humor found in Bragg's Where I Come From: Stories from the Deep South (Alfred A. Knopf, 2020, 237 pages). In this collection are more than 70 short essays, nearly all of which first appeared in "Southern Living" and "Garden and Gun," reflections on the writer's relatives, his travels — "You Ain't Goin' Nowhere" about a "trip" to Hawaii made me burst out laughing — fishing, other writers, and of course, the South.
In his "Prologue," Bragg dedicates his book to his deceased but always-beloved Aunt Jo and tells us, "The stories in this collection are of the South's gentler, easier nature. It is a litany of great talkers, blue-green waters, deep casseroles, kitchen-sink permanents, lying fishermen, haunted mansions, and dogs that never die, things that make this place more than a dotted line on a map or a long-ago failed rebellion, even if only in some cold-weather dream."
During this tour of Southern folks and manners, Bragg pays homage to Pat Conroy, author of such books as The Water Is Wide, The Great Santini, and The Prince of Tides, and to Harper Lee of To Kill A Mockingbird fame. Bragg was friends with Conroy, and highly admired the reclusive Harper Lee, whom he once met. For those of us who love these writers, Bragg's accounts of them are wonderful gifts, making us appreciate them all the more. It is ironic that the week before I began reading this book, the school system in Burbank, California, banned the teaching of To Kill A Mockingbird.
Where I Come From is filled with so many amusements and riches that I scarcely know where to being in sharing them. In "Better Watch Out," for example, Santa Claus writes to Bragg, "This year alone, you said 87,853 bad words, and that was just driving through Atlanta. And don't think I have not been keeping up with your career, if you can call it that. All you've done for about twenty-five years is write a few books, and when you sign them your penmanship looks like that of a drunken monkey. Tighten up."
Some of these sketches focus on Bragg's mother, featured in Bragg's memoir All Over But The Shoutin'. Written for Mother's Day, the piece "Who's in Charge Here?" includes this exchange:
I asked her, in good faith, if she was eating well. "Yes," she lied.
"What are you eating?" I asked.
"A pineapple sandwich on white bread with mayonnaise," she replied.
"You've got to eat better," I said.
"Do you want one?" she asked.
"Sure," I answered.
If you're looking for a wise, humorous, and lovely book about the American South and about the human spirit in general, you'll find all those things and more in Where I Come From.
•••
Reading fiction can introduce us to people and beliefs we might otherwise never know. We step into a world very different from our own and meet men and women as alien to us as Martians.
About two months ago, I was sitting in a church-sponsored coffee shop on Main Street in Front Royal, Virginia. On the walls are pictures of Biblical scenes, Christian music plays on the sound system, and the café closes down on Sundays. Though it's not my favorite coffee shop in town, I like the quiet atmosphere for my work, and the chef puts together a delicious chicken salad croissant.
At a near-by table a woman was doing a book signing. She had few takers — the coronavirus has put a dent in business here — so I wandered over to her table, introduced myself, and ask if I might review her book. She readily agreed, and so here goes.
Set in the Shenandoah Valley, Come To The River by April Stinson Stubbs tells many stories, but focuses primarily on 29-year-old Abby, a home-health nurse, and on her twin sister, Andi, a promiscuous woman who drinks too much and has a habit of finding trouble before it finds her.
Enter Dr. Isaac Graham, a widower and parent of a little girl. He settles in the town to work in a community clinic and soon finds himself attracted to Abby. Come To The River is centered around that courtship and on Andi's journey back from the depths of addiction and depression.
So far, this plot sounds like many others, yes? So what makes Come To The River different from the novels so many of us read?
Faith.
In addition to Graham and Abby, we meet other members of the Living Waters Church. We encounter a woman who rises many times in the middle of the night to pray for troubled souls. We get to know people who daily walk by faith, who trust in a higher power, and who bring that faith alive in the concern and help they offer others.
The novel has some problems, particularly in its overabundance of characters. Some might say — I am not one of them — the story relies too heavily on coincidence, and on pages 42 and 77, when Abby and Isaac are visiting, the line "They shared their salvation stories and tidbits about their lives" is repeated.
These things aside, Come To The River introduces readers to true believers, Christians who, like others fervent in their faith, are often mocked in our contemporary culture. Having personally known some folks like these in Asheville and Waynesville, I can vouch for the authenticity of how Stubbs portrays them in her novel.
If you want to understand some of your neighbors better, you might read Come To The River.
(Jeff Minick reviews books and has written four of his own: two novels, Amanda Bell and Dust On Their Wings, and two works of nonfiction, Learning As I Go and Movies Make the Man. This email address is being protected from spambots. You need JavaScript enabled to view it.)