Archived News
Volunteers 'fill in the gaps' of the food security spectrum
Wednesday, December 16, 2020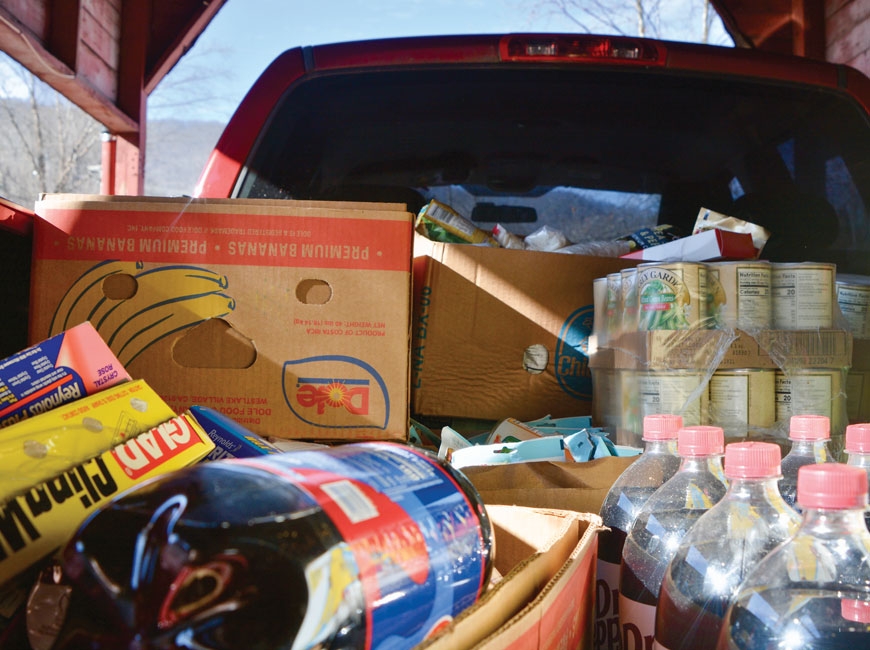 The back of Beverly Banks' big red truck is full of groceries donated to the Open Door, in Frog Level. Cory Vaillancourt photo
Passing modest, nondescript houses with swing sets and dog houses in their yards, the big red pickup truck lumbered up the winding mountain road, bed filled with bread, cereal boxes, canned goods and the like. Negotiating one final hairpin, it slowly creeps into the grassy driveway of Hannah Orlikowski.
"The outdoor pantry brings food for families in my neighborhood," Orlikowski said. "I'm a drop-off site here, and I deliver it to the families that need it in my neighborhood."
Behind the wheel of the big red truck sits Beverly Banks, a Haywood County native who's been actively working to provide meals to Haywood's hungry for nearly two decades — first in schools, then in outdoor pantries and now in drop-offs to neighborhoods like Orlikowski's, where a dangerous confluence of poverty, food insecurity and lack of transportation means many, and many children, continue to struggle to get enough to eat each day.
Banks, a graduate of Tuscola High School, has a background in mental health and ran a group home for 10 years. She first got involved with food insecurity 18 years ago as a result of having a child in Haywood County's school system.
"When you see a need, the best way to address that need is to step up and start doing something about it," she said.
Her first step was to begin stocking indoor pantries in schools.
"We started that way and realized that there were a lot of other gaps," said Banks. "Then we started putting outdoor units up about four years ago. This started because there was a need and a gap that wasn't being filled by any of the other nonprofits or entities in the community."
Currently, there are three outdoor pantries in Haywood County, one in Maggie Valley on Soco Road and two along Pigeon Street just outside of Waynesville's bustling downtown commercial district.
The pantries are checked multiple times a day and a stocked as often as possible, usually daily. They're filled with non-perishables donated by area grocery stores, food banks or nonprofits, except in summer, when fresh produce is also often available.
Now, due to the Coronavirus Pandemic and Haywood County's historic lack of widely available on-demand public transportation, another gap has appeared — some people just can't get to any of the county's food pickup sites or outdoor pantries.
"If you have a neighborhood that has a lot of children in it, the chances are that those neighborhoods need a little bit more assistance. So what we started doing is just talking to our neighbors and going, 'Hey, do you know anybody in your neighborhood or a neighborhood who might need some assistance?' And we found that there were large neighborhoods that we could do neighborhood drops that that would serve as anywhere from say six to 15 or 20 families with one drop," she said.
A report from November 2019, showed that Western North Carolina's children are increasingly poor and hungry, and that was well before the pandemic wrought economic devastation on the region and the world. At that time, 22.5 percent of Haywood's children lived below the poverty line, and 23.1 percent were affected by food insecurity.
"We would like to increase our neighborhood drops," Banks said. "Those children are children and families that are being quarantined in their neighborhoods. They're doing their school work. They're staying where they're need to be. Their families are still having to work, but they've increased their food bill because their children are home all day long and not at school."
Haywood School Board member Ronnie Clark recently said that 52 percent of Haywood's students qualify for free or reduced-price lunches, so when they're not able to eat at school, many of these children — like the ones in Orlikowski's neighborhood — have little to look forward to other than visits from Banks' big red truck.
"Honestly, this is what tides them over on the weekends," Orlikowski said. "They might get meals from school during the week so really what we do is to make sure that that they're good throughout the weekend. It's kind of like just making sure that they're topped off."
Orlikowski said that of the 10 or so families she serves in her neighborhood, most have three or more children and that the main problem is reliable transportation. Often, there's only one car, and if someone's using it for work, others in the household can't get to food banks until after they're closed.
"I have a few families that come and tell me that they just can't make ends meet," she said. "In the United States, that's just unacceptable. I can't let families go without, and school aged children go without. I have four kids, and thinking about them going to school on an empty stomach, I just can't handle it. I can't. It's unacceptable."
Banks said she's watched gaps in the food security spectrum grow in Haywood County over the years, but another complicating factor as problematic as generational poverty and lack of transportation options also gets in the way sometimes.
"We have a lot of pride in this county," she said. "When we think that there's not a neighbor in need, then we really need to start looking at ourselves and start asking some questions. Just raising that awareness has changed the stigma that comes with it. The way I look at food is, we have plenty of food. I don't care where you work or what you do or what you don't do. If I have food available, I want to offer it to you and want you to know that you can at least get your nutrition, and that is really hard for people in this area to understand."
For Orlikowski, it's also a way of bringing the community together, more than anything.
"It kind of reminds me of my past," she said. "No one did without when we were little. Your neighbors kinda took care of you. Anything that you needed, your neighbors would give it to you. Everybody kind of raised each other's kids. It takes a community. It's really important, I believe, just making sure that everybody has what they need to succeed."
You can help
Haywood's Outdoor Pantries is looking for volunteer drivers to help stock the county's food pantries and drop-off sites. They're also looking for physical locations – especially in Canton and Clyde – where new pantries can be established to serve those populations more efficiently. If you're able to help, call Beverly Banks at 828.550.6884 or visit www.bit.ly/HaywoodOP to fill out a volunteer form. For more information on Haywood's Outdoor Pantries, check out www.facebook.com/MountainProjectsHaywoodPantryProject.