Archived News
WCU trustees approve fee increases
Wednesday, December 16, 2020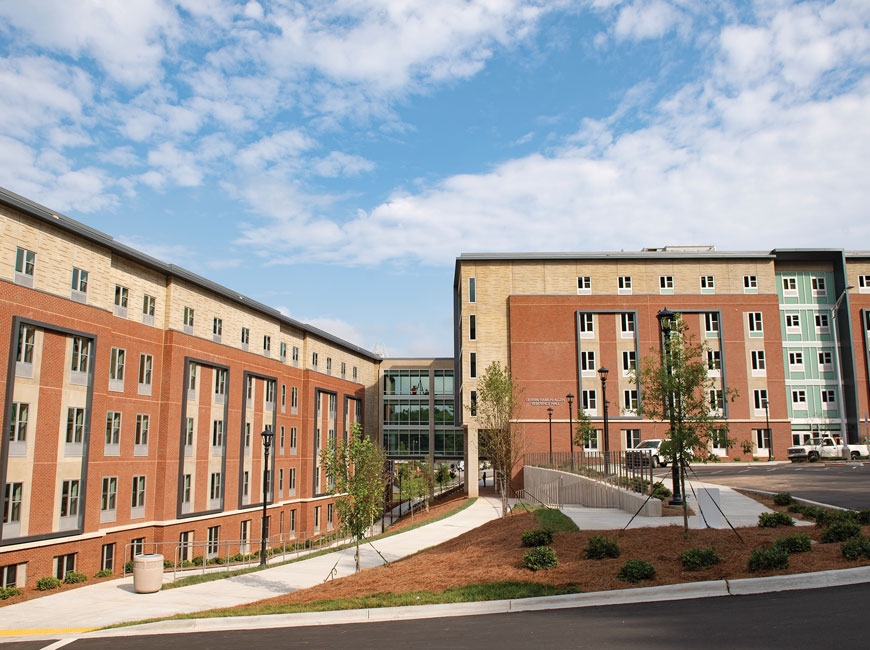 The Lavern Hamlin Allen Residence Hall is home to 600 students. WCU photo
The cost of attendance at Western Carolina University will increase by $152 in the 2021-2022 school year for on-campus, in-state undergraduates, if a proposed schedule of fees and rates adopted by the WCU Board of Trustees this month meets approval from the University of North Carolina Board of Governors.
The additional cost represents a 1.12 percent increase over the current academic year's total annual cost of $13,541 for an in-state undergraduate who lives on campus and uses the least expensive meal and housing options.
The largest component of that increase is the proposed 2.5 percent hike in on-campus housing rates, which for the cheapest option — a standard double room — amounts to a $116 increase, or a total price tag of $5,256 for the upcoming academic year. The top-tier on-campus housing choice, a private room in Balsam Hall or Blue Ridge Hall, would increase $178 to a total of $8,074 for the 2021-2022 school year. The increase is meant to defray rising utility and operational costs while also building reserves to renovate and replace older residence halls, including Scott and Walker Halls.
Students will also be required to pay an additional $36 for the health service fee, a total of $350. The 11.5 percent increase will be used to expand capacity for mental health and counseling services and to add an additional clinical health care professional.
"Over the last couple of years, we have seen an increase in student utilization of health and counseling services, and we continue to address the level of severity and ongoing treatment needs in mental health on our campus," said Kellie Angelo Monteith, associate vice chancellor for student affairs-health and wellness. "We expect the need for mental health services on behalf of students to intensify because of the stress that comes with trying to keep up with classes and other responsibilities while dealing with the disruption of a global pandemic."
The health services fee is a mandatory fee for all students. The $36 increase is the only proposed increase to the current slate of mandatory fees, which currently total $2,836 per year. However, trustees did also approve a 5.2 percent increase to the university's book rental surcharge, which would increase that fee from $306 to $322 per year.
Tuition itself is a small component of the total cost of attendance due to North Carolina's N.C. Promise Tuition Plan, which caps the cost of tuition at three UNC schools — including WCU — at $500 per semester for in-state undergraduates and $2,500 for out-of-state undergrads.
The action by the trustees comes after a series of meetings held by a campus tuition and fee committee, including two live-streamed open campus discussions with more than 2,600 views of the forums, a virtual meeting of the Student Government Association Senate and an online survey that prompted 766 responses.