Archived Arts & Entertainment
Keep love in your heart, keep those eyes ahead: The Top Albums of 2020
Tuesday, December 15, 2020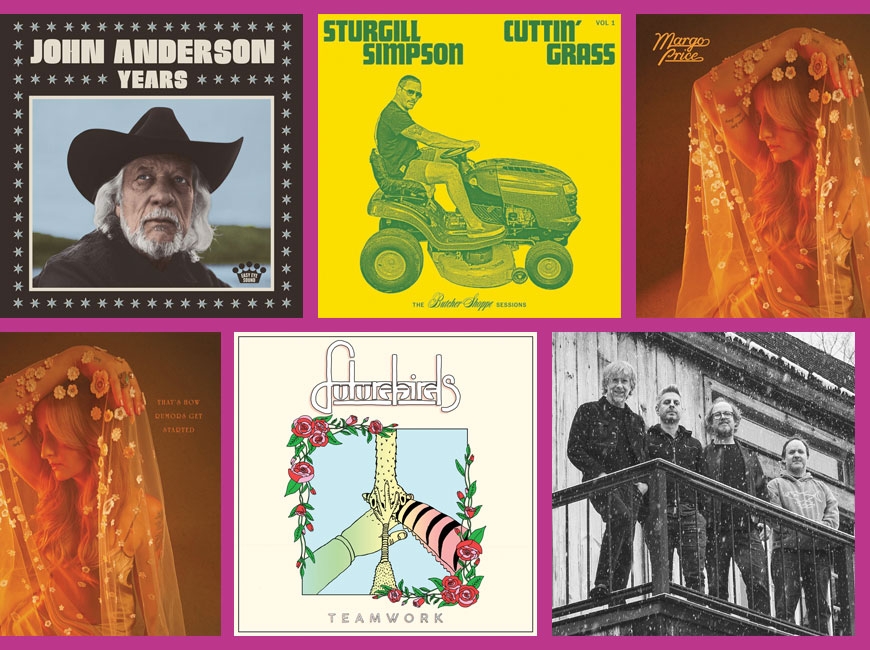 Margo Price: That's How Rumors Get Started
The modern-day "Queen of Nashville," Margo Price is a sheer force of nature, onstage and in the studio. Taking a page from her buddy, fellow country-rocker Sturgill Simpson (who also produced the album), Price takes her country/folk roots and turns the amps all the way up, literally and figuratively. It's a rollercoaster of sound and intent, with Price once again at the center of lyrical subjects many in Music City still ignore. For every "bless your heart" aimed at her from the industry elite, she reciprocates the sentiment with middle fingers held high, guns blazin'.
(Key Tracks: "Twinkle, Twinkle," "Letting Me Down," "That's How Rumors Get Started")
Futurebirds: Teamwork
Bringing forth its signature formula of rollicking psychedelic rock, sorrowful alt-country and shoegaze folk, the 'Birds came into the year swinging for the fences. A nonstop touring act for over a decade, the Athens, Georgia, quintet finely tunes new material on the road, in front of roaring crowds in dive bars and backyard stages from California to Carolina. Ultimately, "Teamwork" is a musical celebration of the solidified bond between the bandmates and its unabashedly loyal listeners — some 10 years in the making as one of the finest rock bands in recent memory.
(Key Tracks: "Picking Up Strangers," "Waiting On A Call," "My Broken Arm")
Sturgill Simpson: Cuttin' Grass Vol. 1 & 2
What started out as a challenge to his fan base earlier this year to raise funds for a handful of nonprofits has become a pickin'-n-grinnin' odyssey of sorts for Simpson. Known for his hardscrabble country albums (and a recent deep dive into hard rock/electronic music), Simpson corralled some of the finest bluegrass musicians and singers in Nashville (Sierra Hull, Tim O'Brien, Scott Vestal, etc.) and reworked numerous tunes from his back catalog. The result is two bluegrass records (released in less than two months) that will no doubt became a touchstone for current and future generations who will seek out Simpson and follow him down the rabbit hole that is the "high, lonesome sound."
(Key Tracks: "I Don't Mind," "All The Pretty Colors," "Turtles All The Way Down")
Phish: Sigma Oasis
For a longtime prog-rock act whose legend and lore resides in staggering, innovative live performances, Phish found itself off the road and stuck at home like the rest of us. But, for a band that's always taken lemons and made lemonade, the Vermont quartet offered up a whimsical album filled with optimism, compassion and, most importantly, human connection. If anything, Phish sent out its rock-n-roll signal into the cosmos (amid chaotic and confusing times) to let us know we're all in this together, and we'll be back together soon enough — something they've done time and again for almost 40 years.
(Key Tracks: "Everything's Right," "Mercury," "Sigma Oasis")
John Anderson: Years
In a move seemingly out of left field, classic country crooner John Anderson reappeared on the radar of Nashville after several years of avoiding the spotlight due to health issues. It all started with a phone call from rock star musician/producer Dan Auerbach (who was curious what Anderson was up to these days). That initial conversation turned into casual songwriting sessions, which led to tracking the numbers in the studio. Filled with tear-in-your-beer ballads and honky-tonk gems reflecting on a long and productive career, the record showcases one of the great country voices — this victory lap of sorts in a time when the music industry is rallying around and holding up its living legends for all to see and embrace, Anderson included.
(Key Tracks: "I'm Still Hangin' On," "Tuesday I'll Be Gone," "Chasing Down A Dream")