Archived News
Gov. Cooper presents grim coronavirus numbers, new restrictions
Tuesday, December 08, 2020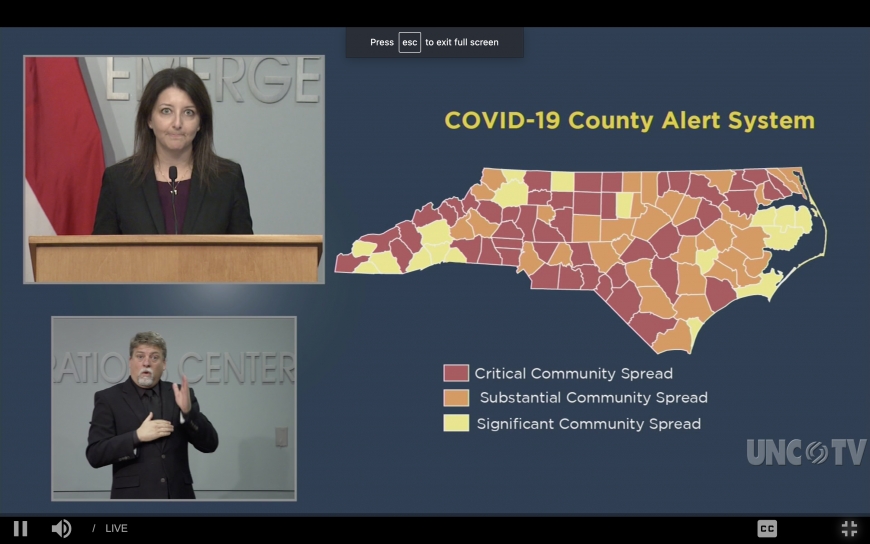 NCDHHS Secretary Dr. Mandi Cohen presents the state's increasing COVID-19 numbers during a Dec. 8 press conference.
UNC-TV photo
Calling the stakes dire and the situation "a matter of life and death," North Carolina Gov. Roy Cooper announced a new modified "stay at home" order and threatened additional restrictive measures if the startling increase in the state's coronavirus numbers doesn't subside.
"We continue to mourn with those who have lost loved ones," Cooper said during a Dec. 8 press conference, noting the 5,605 North Carolinians who have already died of COVID-19 since the pandemic began in March.
Cooper said that public health officials were "shocked" a month ago to see the state reach new levels in daily case counts – more than 3,000 a day. Now, some daily counts have topped 6,000. All-time daily highs for coronavirus cases were broken three times last week alone and more than 10 percent of coronavirus tests are now coming back positive.
Although testing, contact tracing and the supply of personal protective equipment have all been increasing, Dr. Mandi Cohen, Secretary of the North Carolina Department of Health and Human Services, said that all other metrics on the state's coronavirus dashboard were trending upwards "significantly."
Patients presenting to emergency rooms with COVID-like symptoms are now at the highest level since pandemic began, and the state's seven-day rolling case average has also increased dramatically.
Almost half of North Carolina's 100 counties (48) are experiencing "critical" levels of viral spread, and another 34 are experiencing "substantial" levels. Those classifications, Cohen noted, may not even include what's expected to be a large bump due to Thanksgiving travelers acquiring and/or transmitting the virus.
Effective Friday Dec. 11, North Carolina will enter into what Cooper called a "modified stay at home order" requiring people to remain at home between the hours of 10 p.m. and 5 a.m. Alcohol sales for on-site consumption must end by 9 p.m.
Cooper said that if numbers continue to increase, he wouldn't rule out issuing more restrictive measures related to businesses, but he also called upon President Donald Trump and Congress to provide more help to businesses affected by previous restrictions. Democrats passed another stimulus package back in May, but Sen. Mitch McConnell's Republican-controlled Senate refused to hear the bill, and even recessed for Thanksgiving without striking a deal.
The order also requires restaurants, bars, entertainment venues, personal care businesses and others to close at 10 p.m.
Travel to and from work is still permitted, as is travel to obtain food, medical care, fuel or social services and travel related to the care of a family member.
"We aren't putting these orders out there to get people in trouble," Cooper said, leaving enforcement up to local law enforcement officials. "We're putting them out to save lives."
Read the full text of Gov. Cooper's order at https://files.nc.gov/governor/documents/files/EO181-Modified-Stay-at-Home-Early-Closure-Order.pdf.