Archived News
Governor, tribe approve sports betting agreement
Friday, December 04, 2020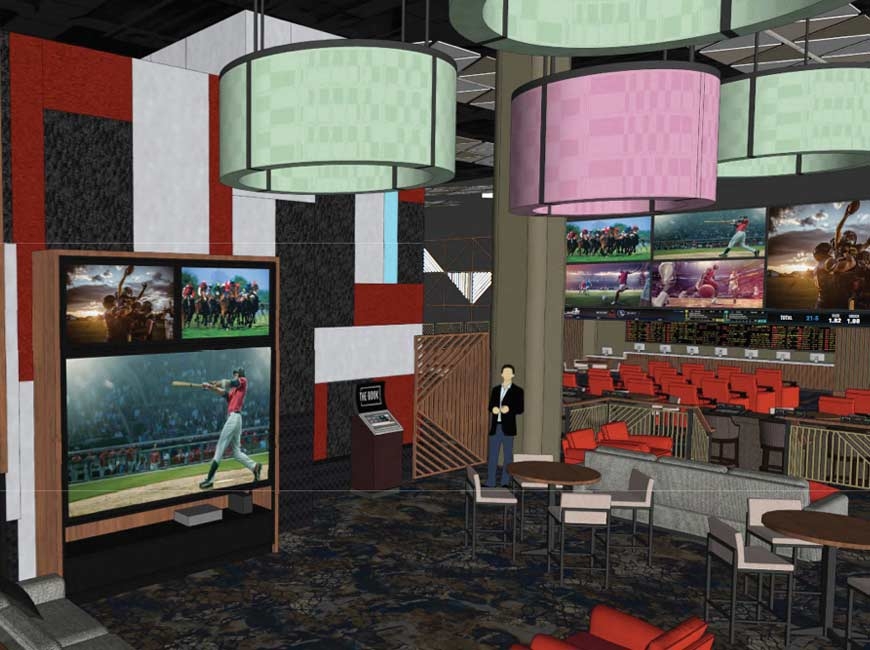 Screens will be key at The Book, the new sports betting lounges planned for casinos in Cherokee and Murphy. JCJ Architecture rendering
After a yearlong delay, the effort to bring sports betting to Harrah's Cherokee Casinos is finally moving forward following Gov. Roy Cooper's approval of a proposed amendment to the Eastern Band of Cherokee Indians' gaming compact. Tribal Council approved the amended compact by unanimous vote on Thursday, Dec. 3, a move that those present in the chamber greeted with enthusiastic applause.
The General Assembly passed legislation allowing the tribe to pursue sports betting in July 2019, and at the time the casino had expected that its new sports betting area, to be called The Book, would be open in both Cherokee and Murphy by late fall. However, it turned out that the tribe's gaming compact had to be amended before that could happen, and the tribe began working with Cooper's office on the document immediately after the law was ratified, delivering a proposed amendment to the governor on Oct. 14, 2019. State law gave Cooper 180 days to either approve or reject the compact, creating a mid-April deadline for action.
However, the deadline came and went without any word from the governor's office. Multiple emails sent from The Smoky Mountain News to Cooper's press office in May requesting an explanation for the delay were not returned. Principal Chief Richard Sneed said that COVID had an impact on the timeline but that the full delay was unnecessary.
"I had a very candid conversation with the governor about that fact that this was only supposed to take 180 days," Sneed told Tribal Council Dec. 3. "I don't think he was very happy with my comments, but that's just too bad. I feel like we were just kind of strung along with this for a year, and there was really no need for it. But thankfully it's done."
Sneed submitted an emergency resolution to Tribal Council and received its approval of the amended compact. Next, the document needs signatures from the offices of the governor, secretary of state and attorney general before being sent to the Department of the Interior's Bureau of Indian Affairs in Washington, D.C., which is required to advertise a 45-day public comment period before the document can go into effect.
"The only question I have is when will we be able to do the sports betting? When will it activate at the casino?" asked Representative Albert Rose, of Birdtown.
"If I were a real optimist, I would hope maybe by the end of January, maybe in time for the Super Bowl," replied Ann Davis, attorney for the Tribal Gaming Commercial Enterprise. "Don't hold your breath though, because we've got two issues with the Department of the Interior: COVID and administration change."
"So at least before March Madness I hope?" asked Rose.
"Absolutely — if we have a March Madness," said Davis.
EBCI Chief of Staff Ashleigh Stephens said that the amended compact is not available for release until all parties have signed it. However, Davis did provide some information as to what the agreement contains, noting that the new amended compact incorporates the amendments of 2011 and 2012 so as to get the entire agreement into a single document.
"The only thing that the governor has asked for monetarily is $191,000 a year to help defray any problem gaming or state costs involved in trying to regulate sports betting," Davis said. "It's estimated — and this is only an estimate — but it's estimated that we should have around $10 million gross revenues as a result of this, so $191,000 is a small price to pay."
That's a much better deal than that agreed to in the last compact amendment, completed in 2012. That agreement allowed the tribe to offer table gaming but required it to give a percentage of table gaming revenues to the state, starting at 4 percent and inching up to 8 percent by 2032.
Under the new agreement, sports betting can occur only on tribal lands and only for sporting events that take place outside the reservation. Initially, wagers will have to be placed on-site at the casino. However, eventually there will be an opportunity for some limited online betting on tribal lands that are off casino property.
"Once the geofencing software is available, we can geofence the reservation so that bets can be placed outside the casino, as long as they are placed on reservation lands," said Davis. "The only thing that has to happen is that the Certification Commission has to approve that software."
The Certification Commission was established in the 2012 compact and includes three members — one appointed by the principal chief and two appointed by the governor. Members serve five-year terms with an annual salary of $9,000 to $12,000 paid by the tribe, currently set at $10,200 for the chairman and $9,000 for the remaining members. The commission is responsible for testing and approving all video games offered at Cherokee casinos for compliance with state law.
Just prior to its vote approving the amended compact Dec. 3, Tribal Council unanimously confirmed Renissa McLaughlin as Sneed's new appointment to the commission. McLaughlin will fill a currently vacant term that expires Sept. 30, 2022.
"The Certification Commission plays a big role in this compact. It always has," said Davis. "It gets even more important now. One thing that the governor's office was really wanting was a lot of information being sent directly from the tribe to the governor. And that was a real obstacle for us. We did not want that to happen. So, all of our information about sports betting as far as any problems we're having, any irregularities, are going to this Certification Commission, of which we have one member. It becomes a really important role."