Archived Opinion
Thank you, pandemic, for slowing me down
Wednesday, December 02, 2020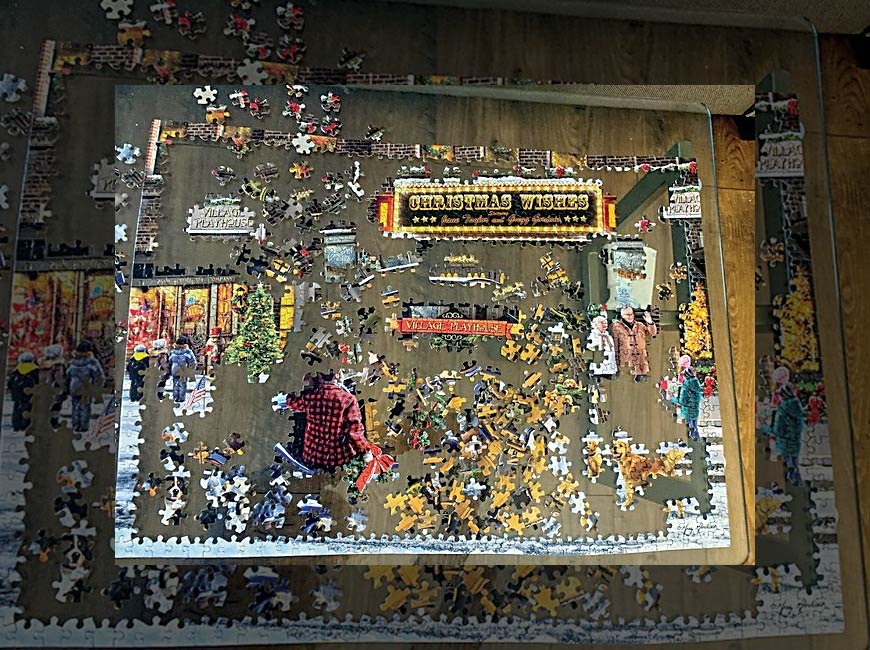 The pandemic forced me to slow down. I've always been a busy body, planning trips or parties, purchasing tickets for concerts or making reservations at a favorite restaurant. But with events canceled and social distancing a must, 2020 has been a very different year.
Through adulthood, I've learned I'm a person that needs down time, a gal who enjoys relaxing with a good book or journal. Yet, I've been terrible at offering myself these antidotes. I keep moving forward with goals, plans and long lists of tasks I need to accomplish. COVID-19 compelled me to stop and for that I am grateful.
In recent years we've traveled to Virginia to spend Thanksgiving with my sister's family. It's always a good time up there. They live in a beautiful home nestled in the rolling hills of Great Falls. We often hike, go on long runs, drink good wine, let the kids play and catch up on life. This year we decided to stay in town for a number of reasons.
My boyfriend and I bought a house together several months ago. We've been working hard renovating, painting, decorating and moving. To make it really feel like a home, we wanted to experience Thanksgiving in this new space. Together we have five kids so, just with us, we have seven people to feed. Four of the five kids are adolescents or teenagers and can eat a lot of food.
We went all out and cooked a full spread complete with a giant Butterball turkey, my great-grandmother's dressing, pumpkin pie and more. My grandmother taught my mom how to make this special dressing and my mom taught me. It's a family tradition, but I haven't made it in many years.
When I was a little girl, my mom would put a tray of biscuits and a skillet of cornbread in front of my sister and me and have us break every bit of bread into a big bowl. Later, when the turkey was almost finished, my mom would pour hot turkey broth into the bowl of bread, add chopped onion, salt and sage and continually stir and taste until the perfect flavor was achieved.
Last Thursday, I stood in my new kitchen breaking bread into a big bowl. Mid-day, we poured turkey broth in the bowl while my oldest son continually stirred. I added onions, salt and sage, poured the mixture into a baking dish and slid it into the oven. When I pulled out the finished product, perfectly brown on top, I felt my mom looking down, proud that the family recipe endures. Food makes us happy by offering a nostalgic affect. Making the dressing and eating it conjured a lifetime of Thanksgiving memories.
I also bought a 1,000-piece Christmas puzzle. Our goal is to finish the puzzle, mod podge it and frame it before Christmas. It's been decades since I've finished a large puzzle. I've always been too busy running here and there. Over the past several days, however, I've become obsessed with the happy feelings and relaxation sitting down to work on the puzzle produces. We want to continue this tradition going forward. A typical holiday season can feel frenzied and stressful, but a puzzle out on the table encourages the family to sit down and regroup. And while everyone is looking for this or that piece, conversations are had and memories made.
We also played football last week, not just once but twice. I'm an active person and love to run, bike, hike and what not, but I'm not very knowledgeable when it comes to traditional sports like football. Nonetheless, I went outside and tried to do my team proud and it ended up being really fun.
We decorated the new house, put up a tree and did some Christmas shopping. With the kids' encouragement we even wrapped gifts. This may be the earliest I've had a slew of gifts already wrapped under the tree. We crafted our yearly Advent wreath and enjoyed homemade quiche on Sunday morning after we said the first Advent prayer of the season. The theme was HOPE, which felt very timely.
The pandemic has produced stress on multiple levels, but I'm a person who tries to find the good among the mire. This Thanksgiving was mellow compared to years past, and I enjoyed it thoroughly. It made me realize I need to slow down more often and enjoy the simple pleasures of life such as cooking family recipes, doing puzzles and playing backyard football. When I'm old and gray, it's not the hustle bustle I'll remember, but the smiles and laughs from the small moments and special memories.
(Susanna Shetley is an editor, writer and social media specialist for The Smoky Mountain News, Smoky Mountain Living, and Mountain South Media. This email address is being protected from spambots. You need JavaScript enabled to view it.)