Archived News
Shining Rock ends partnership with TeamCFA
Tuesday, December 01, 2020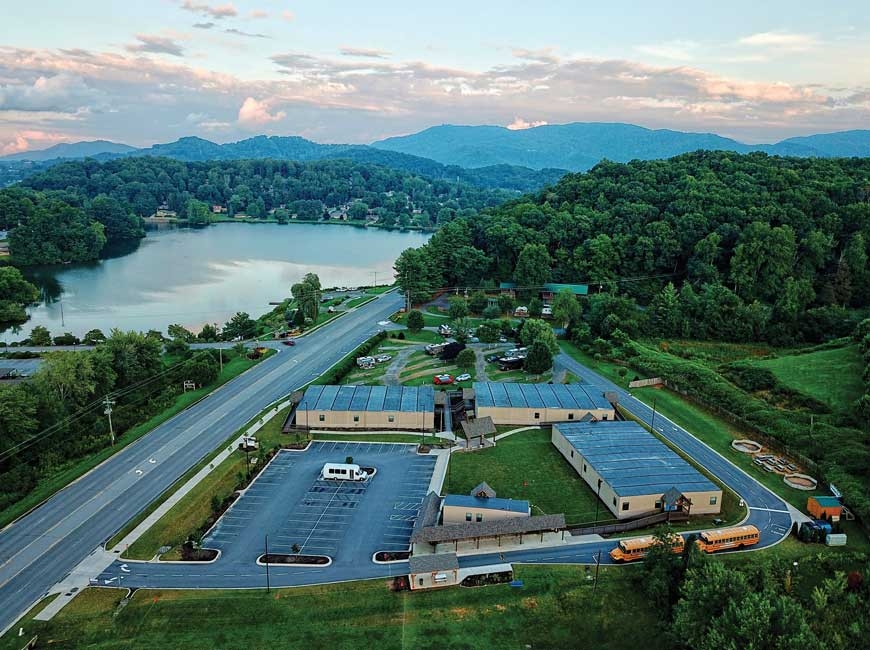 Shining Rock Classical Academy. A Shot Above photo
Shining Rock Classical Academy's Board of Directors recently voted to terminate its long-time partnership with TeamCFA, a national network of charter schools that provided SRCA with the initial funding it needed to get the school up and running.
The vote to terminate the partnership was 6 to 1 with Larry Wilkerson, the TeamCFA appointed board member, opposed.
"CFA was an important partner in helping to provide stability in the early years of Shining Rock and the group played a key role in the establishment of the school. Everyone involved in the early years of Shining Rock knows the significance that CFA had in the school," said SRCA Head of School Josh Morgan.
Morgan said the board has been discussing whether to continue the partnership since September when TeamCFA representatives approached the board about signing a new agreement with the organization.
"CFA wanted us to sign a legacy agreement because we've been with them for so long," he said. "That gave us an opportunity to look at the entire partnership. And the reason we needed to take action on it now is because we can opt out of the partnership, but they needed notice by December."
When the board began diving deeper into the benefits Team CFA could offer moving forward, Morgan said it just didn't make sense to continue. CFA has invested in SRCA through start-up loans — some of which was forgiven each year through grants — but moving forward Morgan said SRCA would only have the opportunity for grants if the school has matching funds.
SRCA still owes TeamCFA $1.2 million to pay off the mortgage on its modular classroom buildings on the Dellwood Road campus across from Lake Junaluska. The original nine-year loan from CFA was for $2.5 million with 7 percent interest. Morgan said TeamCFA has the right to call in that debt once the partnership officially dissolved at the end of June 2021. It's unknown whether that will happen, but Morgan said SRCA is already planning to consolidate that debt into the new school construction debt.
SRCA is in the process of constructing a new school close to the corner of Russ Avenue and Dellwood Road — not far from the current campus. The $15 million project will have capacity for 650 students. SRCA currently offers K-8 grade but the board has been discussing whether it's the right time to expand into high school in the new building when it's complete for the fall 2021 semester.
Aside from the financial reasons, Morgan said the board felt like SRCA had outgrown TeamCFA since the charter school began forming in 2014.
"The two organizations were closer together when we started, but now we've grown and evolved in different directions," he said. "For us, we want to make sure we're focused locally and supporting our county and our state in a proficient and effective way. CFA is a national organization, and in terms of academic support, they didn't offer support to fit our needs. There's other resources in the state that we fostered to provide that for our students."
TeamCFA has helped several new charter schools get established in North Carolina since the General Assembly changed the law that limited the number of charter schools in the state to 100.
Thomas Jefferson Classical Academy in Forest City, Lake Lure Classical Academy and Brevard Academy are TeamCFA affiliated schools, in addition to charters in Charlotte and Durham. According to an Oct. 16, 2019, article published in the Raleigh News & Observer, Bonnie Cone Classical Academy in Huntersville and Community Public Charter School in Stanley decided to part ways with CFA last fall after the organization lost several of its leadership and cut back on services.
CEO Tony Helton resigned from CFA to start a new education consulting firm while CFA's Chief of Staff Jill Burleson left to become communications director for the committee hosting the Republican National Convention in Charlotte in 2020.
Based on a number of published reports, TeamCFA could be on shaky financial ground following a major shift in 2017. TeamCFA was started by John Bryan, an Oregon businessman who wanted to support more school choice options and used his personal wealth and influence to do so. Bryan also formed the Challenge Foundation, which was basically the funding arm of TeamCFA. According to the N&O article, Bryan and the Challenge Foundation discontinued funding for TeamCFA in 2017. According to an audit of TeamCFA, the group from Bryan and the Challenge Foundation funded nearly 95 percent of CFA's annual revenue. NC Policy Watch also reported in February 2020 that TeamCFA receives $510,000 annually from the Charles Koch Foundation.
The Smoky Mountain News reached out to Larry Wilkerson for comment from TeamCFA regarding SRCA's split but he did not respond to an email before press time Tuesday. TeamCFA's website is not currently functioning.
Tracy Banker, legal counsel for Challenge Foundation Properties, presented the new legacy agreement to SRCA during a Sept. 23 meeting. According to the board's minutes, Banker said the new agreement would reflect changes within the CFA organization, mostly that CFA would not be offering any loans moving forward — only grants.
SRCA board member Frank Lay questioned whether the charter school would have to keep "A Challenge Foundation School" in its title under the agreement. His concern was that when parents do online research about the affiliate, they see the TeamCFA website is not functional, which doesn't give a good impression.
Banker said SRCA didn't have to keep the CFA name but should show some acknowledgement it's part of CFP. As for the website issue, Banker said she is trying to distance TeamCFA from CFP because they are separate entities and is talking with TeamCFA about taking down their website.
"They are still operational but on hiatus. They have a board but not a staff right now," she said. The next regularly scheduled Shining Rock Board meeting will be held digitally on Thursday, Dec. 17. A link to the meeting can be found on the school website, srca.cfacademy.school.