Archived Opinion
Shop local, be safe
Wednesday, November 25, 2020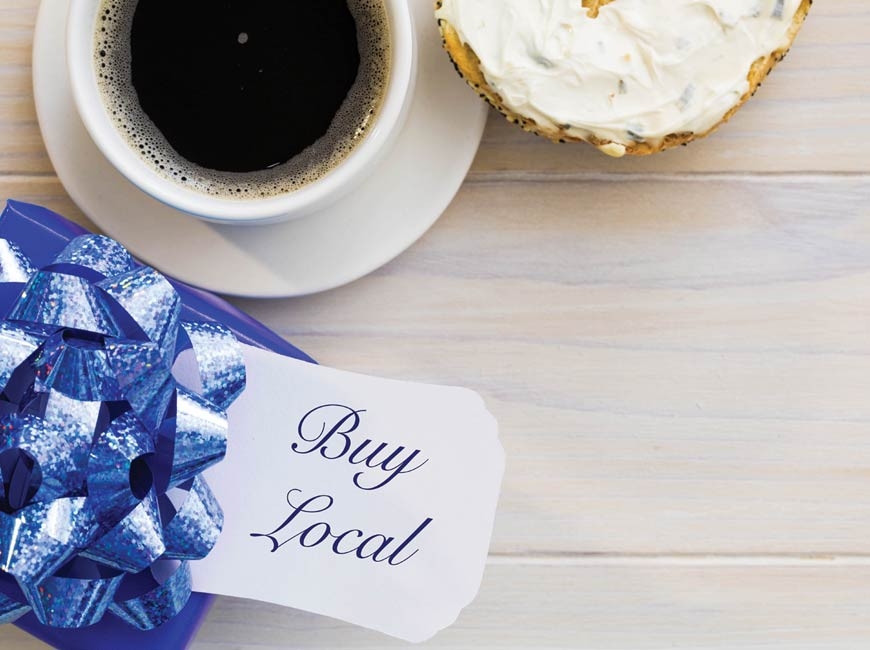 I'm semi-quarantining in the week leading up to Thanksgiving due to a potential exposure to COVID. At this very moment I'm working at my stand-up desk enjoying a homemade hot mocha made with freshly roasted Colombian coffee beans from Steamline Coffee Company. It's damn good coffee.
Steamline is new the roasting arm of Orchard Coffee, located in downtown Waynesville, and I bought a couple of 12-ounce bags over the weekend. For years, my wife Lori and I have bought fresh beans from local roasteries, usually Panacea Coffee or Smoky Mountain Roasters. When I heard that Cabell Tice at Orchard had started roasting, I couldn't wait to give his beans a try. We're fortunate that we have three local coffee roaster in the small town I call home. The caffeine addict in me is in heaven.
So, I'm sipping this fantastic hot drink, pondering what promises to be a very different Thanksgiving with our grown children, and fixating on the importance of shopping local. It's an annual exercise for me, worrying that too many people in Western North Carolina will forgo our local businesses as they prepare for their annual holiday shopping. This year, with the pandemic raging and online retailers sucking up local dollars at an unprecedented pace, it's even more important to visit our local stores.
It's gratifying that the shop local push has — over time — turned into a kind of movement, but I totally understand it. From the Shop Small Saturday (that's this Saturday, Nov. 28) that started 10 years ago to the "buy local" campaigns that have become commonplace, by now most Americans realize the value of spending their money with the small business owners they see around town every day. It makes economic sense, environmental sense and is just good for the town you live in.
According to Adobe Analytics, on almost every day in November online shopping increased by double digit percentages over 2019. Another research firm, Digital Commerce 360, projects a 43.3-percent year-over-year jump in online commerce from November-December 2019.
Convenience is what has traditionally been the catalyst for online shopping, but this year safety has become a factor. The pandemic has most of us fearful of crowds.
Which is even more reason to shop in one of our downtowns or one of our locally owned retailers. You won't face the huge, jostling crowds and even long lines that are a normal part of the holidays at the big box stores. And with COVID having already hurt many local businesses, they need your love — in the form of your cash — more than ever this year.
One more reality worth looking into this shopping season is that many of these small businesses have pivoted during the pandemic and upped their online game. Perhaps instead of visiting Amazon, you should check out the website of your local retailer and you might discover it's just as convenient.
My holiday shopping rituals have fallen into an annual pattern, one I look forward to each year. At some point — usually just few days before Dec. 25 — I'll visit Blue Ridge Books, Hazelwood Soap, wander down Main Street in Waynesville and buy jewelry, pottery or clothes, maybe more. I'll run into folks I know — including proprietors — catch up on small talk, perhaps grab some coffee or a beer. Sometime in that runup to Christmas, I might join my wife or my son and hit a few stores together as they finish up her list. Simple, easy, no pressure.
Enjoy the season, and support the locals. Cheers.
(Smoky Mountain News Publisher Scott McLeod can be reached at This email address is being protected from spambots. You need JavaScript enabled to view it..)
Shop small
For more information on Shop Small Business Saturday, you can watch Katy Gould, Haywood Community College Small Business Center, and Kim Czaja, Haywood Chamber of Commerce, on Facebook live as they share the dirt on Small Business Saturday.
The numbers
• Small businesses accounted for 65% of all new jobs over the past 17 years.
• Small businesses employ 77 million Americans.
• 89% of consumers agree that independent businesses contribute positively to local economies.
• Residential neighborhoods served by successful independent business districts gained, on average, 50% more in home values than their citywide markets.
• Independent retailers and restaurants return more than three times as much money per dollar of sales back to their communities than national chains.
• If just half the U.S. employed population spent $50 each month in locally owned independent businesses, it would generate $42.6 billion in revenue.
Sources: U.S. Small Business Administration; Intuit Small Business Innovation Study; U.S. Dept. of Labor.