Archived News
Tribe considers Indiana casino purchase
Tuesday, November 24, 2020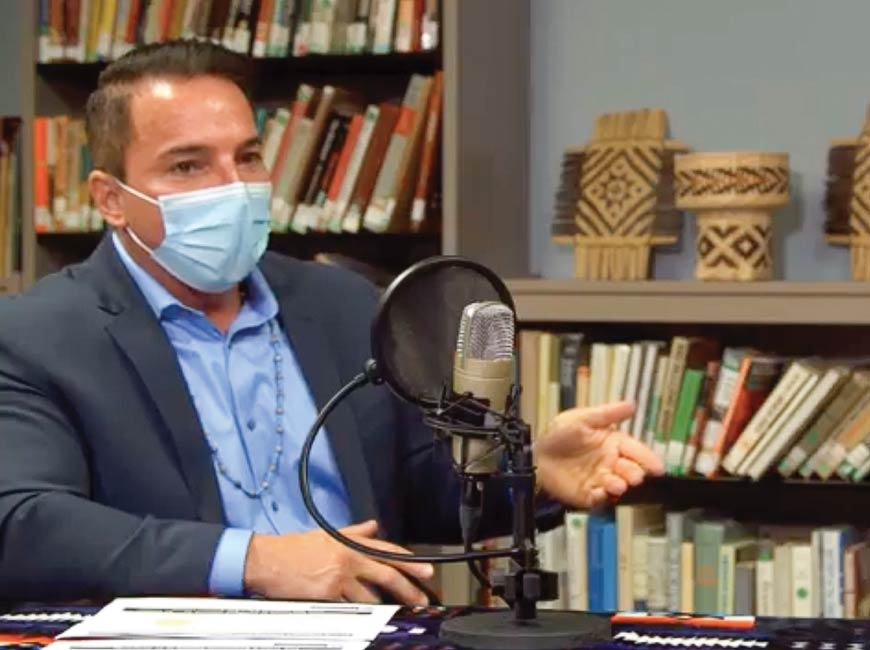 Principal Chief Richard Sneed discusses the potential purchase in a video his office released Nov. 5. EBCI photo
The Eastern Band of Cherokee Indians is hoping to close a deal to buy Caesars Southern Indiana Casino, with Tribal Council on Nov. 12 giving Principal Chief Richard Sneed the go-ahead to incur the costs necessary to pursue the purchase, to the tune of approximately $10.5 million.
"We're trying to be strategic and get into these other markets, because we know these threats are coming, and so the decisions we make now or don't make now will determine what the new normal is five years from now," Principal Chief Richard Sneed told tribal members in an explanatory video he posted Nov. 5.
Since 1997, the casino enterprise in Cherokee has enjoyed a complete monopoly over the region's casino industry, but now that monopoly is facing threats on multiple fronts. The Catawba Nation has broken ground on a casino in Kings Mountain, though the EBCI hopes to stop that project through an ongoing legal battle. However, there are solid plans to build a new casino just 130 miles away in Bristol, Virginia. Kentucky, Mississippi, Louisiana and Florida already allow commercial gaming, and Georgia, Tennessee and North Carolina are all considering doing likewise. In a few years, there could be casinos all over the Southeast.
If the tribe doesn't take action now to develop other sources of revenue, Sneed said, there might be three to seven years of status quo before the bottom drops out of the tribal coffers.
"There were wise people 20 years ago in our tribe who said, 'We need to diversify. Don't always count on per cap to be there, because it may not be there one day,'" Sneed said in the video. "Unfortunately, over the course of last 23 years, even though everybody who's run for office has said we need to diversify, it just didn't happen."
Expanding the footprint
The Indiana casino is up for sale as the result of a July merger between Eldorado Resorts and Caesars Entertainment — the same company that owns Harrah's, the tribe's casino management company. The merger created the nation's largest casino and entertainment company, and in some states the union put them afoul of antitrust laws, meaning that the company had to sell off some of its properties in those jurisdictions. The casino in Elizabeth, Indiana, is one of those properties.
"What we're purchasing is cash flow," Sneed told Tribal Council Nov. 12. "We're purchasing a business with a known amount of cash flow and a known return for the tribe."
The properties being sold as a result of the merger are highly profitable, Sneed said in the Nov. 5 video. The tribe could potentially have multiple purchase opportunities related to the merger.
"Looking toward the future, our approach would be to obviously continue to own and operate our two casinos — the resort and Valley River — to continue to develop and operate our convention business, but then also to create a regional portfolio with casinos in the commercial market, to where we have literally a presence all over the East, Southeast and even into the Midwest," Sneed said in the video.
If the tribe does that, he said, it will be less affected by competition from any one casino, and players will be able to spend their money with Cherokee-owned casinos even as they travel.
Council's Nov. 12 vote does not constitute a decision to buy the property. Rather, it constitutes a decision to expend funds to do the inspections and audits necessary to determine if the casino would be a wise investment, and then to pay any fees surrounding the potential purchase. The tribe and Caesars Entertainment have signed a letter of intent to work together exclusively for 45 days in order to come to an agreement about the potential transaction, with Dec. 1 as the approximate date for signing the agreement.
The tribe estimates that the cost of due diligence will be approximately $500,000 through Dec. 1. If a purchase agreement is signed with a closing date on or about July 1, 2021, the tribe will incur additional estimated costs of $10.11 million, including regulatory licensing fees, debt financing fees, insurance and other costs. The resolution also allows Sneed to increase the contract amount for attorney's fees with Brownstein, Hyatt, Farber and Schrek and to pay an estimated $150,000 for legal counsel to handle local issues in southern Indiana.
Several Tribal Council members expressed cautious optimism about the project.
"Unless we go through with it to the end, all of this amount will not be used," said Yellowhill Representative Tom Wahnetah. "It's not going to be paid up front or anything. It's going to be billed as due, as necessary. I think this is a good start to make sure we don't make a bad decision on this property."
"This is a major investment, and I think that part of what this is going to do is basically let us know if this is a good investment for the tribe for now, which I think is a good vetting process to have in place, and that's something I've been advocating for for a while," said Wolfetown Representative Chelsea Saunooke.
Sneed emphasized the comprehensiveness of the due diligence process ahead, telling Council that everything "top to bottom, inside and out" would be examined.
"Every last thing is going to be vetted before we sign on the dotted line," he said.
The resolution ultimately passed, with eight members in favor and three opposed — Painttown Representative Dike Sneed, Big Cove Representative Richard French and Wolfetown Representative Bo Crowe. Birdtown Representative Albert Rose abstained.
Forming an LLC
The decision followed a vote held earlier Nov. 12 to approve a resolution that outlined the form of a limited liability operating company the tribe is creating to develop future commercial gaming ventures.
The tribe has had its eye on commercial gaming ventures for some time as part of the ongoing discussion about diversification. Sneed said he expects a return on investment of 12 to 24 percent from such enterprises, which is double to quadruple the 6 to 8 percent typically earned from investment funds.
Sneed spearheaded the creation of Kituwah LLC in 2018 as part of his efforts to diversify the tribe's income streams, and while Kituwah has several major projects in process, a separate organization is needed to handle the complexities and tribe-to-state relationships inherent in the commercial gaming business. Unlike Kituwah, which is a fully tribal entity, the new LLC will be registered under state law, most likely in Delaware.
Council first discussed the LLC resolution during Annual Council Oct. 29, at that time deciding in a split vote to table the legislation for a work session. However, when it returned to the floor Nov. 12 it passed without discussion. French, Sneed, Crowe and Rose voted against it, and the remaining eight members raised their hands in favor.
Casino revenues make up about half of the tribal budget, and they also fund bi-annual per capita payments to tribal members. Unlike county governments, the tribe does not tax its citizens outside of the tribal levy paid by businesses on the Qualla Boundary, a charge akin to a sales tax. The tribe receives $13 to $16 million per year in levy receipts, but even that money is largely dependent on the casino.
"The bulk of that $15 million is from transactions that occur at the casino," Sneed said in the video.
Casino proceeds make life better for tribal members in countless ways. About $8 million per year goes toward higher education for tribal members, and the Cherokee Indian Hospital received a $16 million subsidy from the tribe last year to augment the federal funds it receives. Gyms, community centers, various social programs — it's all possible due to the casino.
"What we're looking for is longevity," said Sneed. "We're looking for sustainability rather than depending on revenue to come over every year to cover our costs. That's essentially living paycheck to paycheck."