Archived News
County applies for funds to renovate Clyde armory
Tuesday, November 24, 2020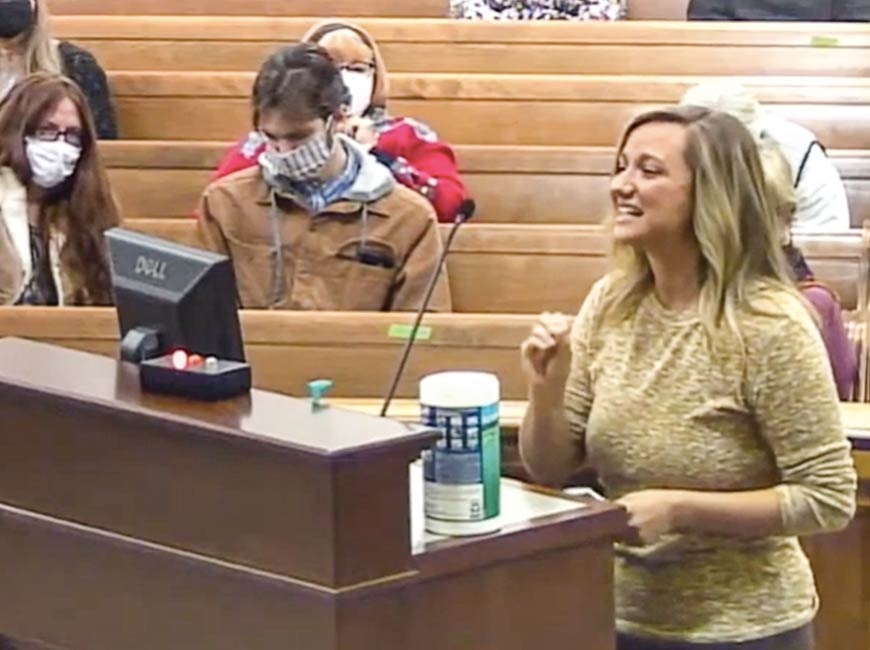 Haywood County resident Stephanie Parsons tells commissioners that mask and vaccine mandates are unconstitutional. Screenshot from meeting
Haywood County is applying for federal funds that would allow for a major renovation project at the Clyde armory building, which was gifted to the county a couple of years ago.
The commissioners approved the Community Development Block grant application during an October meeting following two public hearings, but constituents still had concerns about how the shelter would be used during the COVID-19 Pandemic. During the board's Nov. 16 meeting, commissioners had to spend a lot of time dispelling rumors that the armory would be used to contain people who were either exhibiting COVID-19 symptoms or those who refused to wear masks or get the forthcoming vaccination.
Melanie Williams asked commissioners to clarify after citing a report from WLOS that stated the renovated armory would be specifically used as a COVID shelter. With the Centers for Disease Control and Prevention (CDC) issuing protocols for a "shielding approach" to the virus, Williams said she was concerned the armory would be used to hold people exposed to or at-risk for COVID or those refusing to follow COVID protocols, similar to what other countries are doing.
"How can we feel protected when we're taking steps to do the same thing as other countries?" she asked.
Another resident Stephanie Parsons spoke about what she called a "plandemic" and the unconstitutionality of forcing people to wear masks and take a vaccine that hasn't received safety testing.
"Nothing will be injected into my body or my children's bodies that hasn't been tested," she said.
Joseph Thomas shared his frustrations about having to wear a mask and not being able to congregate at church.
"I'm not wearing a mask today because I'm not fearful. This is the image of God," he said pointing to his face. "And this would be covering up the image of God. The mask thing is an anti-Christ movement and this is the spiritual war we're in."
Commissioners have a policy of not having back and forth exchanges with constituents during meetings, but they felt like the misinformation regarding the grant application needed to be addressed.
Commission Chairman Kevin Ensley said the county was applying for over $700,000 in federal funds — a majority of it would go toward getting asbestos and led removed from the 15,000 square foot armory facility so that the county could utilize the building for several purposes. In addition to offering space for Haywood Community College trainings, county recreational opportunities and an EMS base, the building could also serve as an emergency shelter during natural disasters.
Right now, the county currently has two designated spaces for temporary emergency shelters — at the county Health and Human Services Building in Clyde and at a school facility. However, those spaces aren't sufficient, especially under COVID-19 social distancing requirements. The health department space can only hold 26 people and still meet COVID restrictions.
"If we have a heavy snow this winter and need to place people somewhere, we can't house that many people in current space because of COVID social distancing guidelines and we can't use the (armory) building right now because of asbestos and lead," said Commissioner Kirk Kirkpatrick.
County Manager Bryant Morehead said setting up an EMS base at the armory would also help reduce 911 response times in parts of the county by up to 4 minutes.
"This goes a long way to serving the community," he said. "The other part of it is to help keep people in their homes this winter."
In addition to funds to renovate the armory, the grant application also includes $75,000 to support Mountain Projects' plan to implement a funding pool to provide people with rental assistance and utility disconnection prevention.
"When we have flooding or hurricane events, we open these kinds of shelters. All we're doing with the armory is having a stand-alone emergency shelter building that gives us more capacity and more room," said David Francis, county program administrator. "It's not anything to do with COVID specifically. We're not hauling or taking people because they have COVID — that's far from the truth."
As the liaison to the health and human services board, Commission Brandon Rogers assured people that the county has never discussed making vaccines or masks mandatory.
"I believe it should be a choice," he said.
While he believes in personal choice, Ensley said he wished people would wear masks without having to mandate it. Ensley explained that he has Multiple Sclerosis and is on a treatment that knocks out part of his immune system, making him more vulnerable if he were to contract the virus.
"I believe wearing a mask is the best way to protect people and could help quell this a lot quicker than we have been," he said. "You do unto others as you'd have them do to you so it makes me feel like no one cares about my condition or my elderly parents."
As for masks being dangerous, Ensley said he didn't believe that given the fact that surgeons wear masks for hours during surgeries to prevent the spread of possible infection to their patients.
"We do live in a country where you don't have to and I don't think our citizens are going to stand for a mandate," he said. "I saw a pastor preaching one time and he said freedom is the ability to make choices, but liberty is the ability to make the right choices. I'd hope we would use liberty and make the right choice to wear a mask."
Williams, Parsons and others could be seen rolling their eyes and commenting to each other in the back of the courthouse as Ensley shared his thoughts on the pandemic and masks.
Meanwhile, health department officials warned commissioners that cases are on the rise and that Haywood could easily go from an "orange" county to a "red" county quickly. Mission Hospital is reporting its highest number of hospitalized COVID patients (54) since the pandemic began.
"We had 47 new cases just today. COVID is as hot in Haywood as it has been since this pandemic started," said Interim Haywood County Health Director Garron Bradish.
The health department has had to pull in staff from environmental health and DSS to manage the growing amount of contact tracing staff has to do when a new case is reported.