Archived Arts & Entertainment
Staying true to your roots: Lazy Hiker Brewing celebrates milestone, pushes ahead
Tuesday, November 24, 2020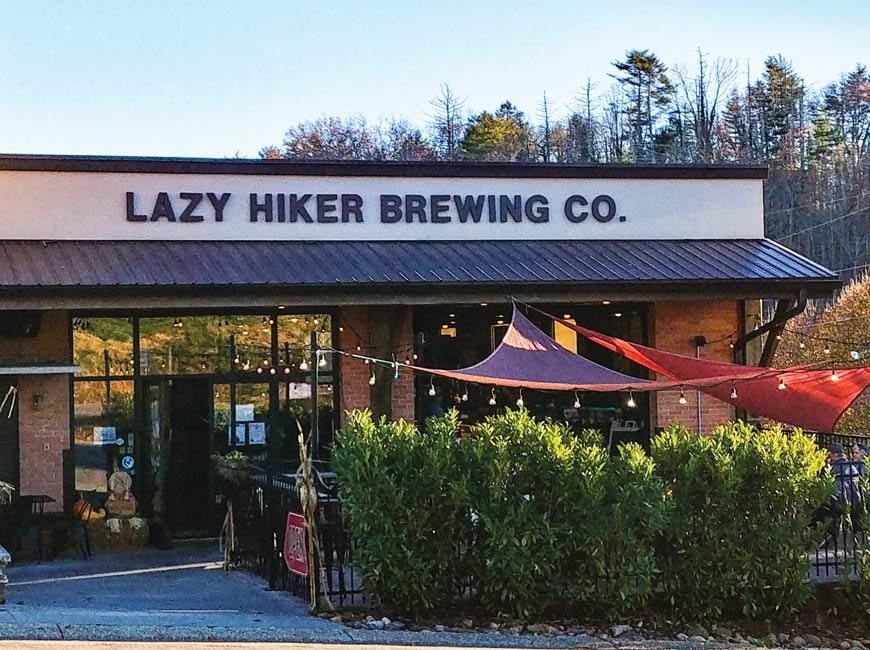 Lazy Hiker Brewing in Franklin.
It's an unusually warm and sunny day for late November in Macon County. The patio tables at Lazy Hiker Brewing in downtown Franklin are filled with locals and visitors alike, each enjoying the concoctions pouring out of from the large warehouse behind the taproom.
"We always want to make great beer. But, how do we tie it into the community? How do we get people to come here and make them want to come back?" said Timothy Sark, assistant brewer at Lazy Hiker. "Our big thing is all of those people going northbound or southbound on the Appalachian Trail. We want to cater to their tastes and what they're looking for in a craft ale."
What those rugged and determined AT hikers in the mountains surrounding Franklin are looking for is a craft beer that is not only flavorful and drinkable, but also crisp and refreshing after those endless miles of blood, sweat and tears.
While many breweries focus on hearty styles and tend to be heavy on the hops, Lazy Hiker remains a bastion for ales that you can easily sip and immerse yourself in amid your "carry in, carry out" backwoods journey.
"It's about seeing the joy on people's faces when they do the brewery tour and head into the taproom. It's a great feeling to know that craft beer is being brewed in Franklin," said Graham Norris, a Franklin native and head brewmaster at Lazy Hiker. "And for us, we've been able to continue to build on that, where now you're seeing our beers in bars, restaurants and grocery stores all over Western North Carolina."
Timothy Sark (left) and Graham Norris.
Coming into 2020, Lazy Hiker was gearing up to celebrate its fifth anniversary in operation. It's was, and remains, a milestone for the brewery, even more in the face of eventual shutdowns and restrictions in the current era of the coronavirus.
"Five years is a benchmark for any business, especially in craft beer," Sark said. "You can have a great place to drink beer, hang out and see live music. But, no matter what, the beer has to remain consistent. Your reputation is attached to every pint poured and keg sold. At Lazy Hiker, we know our band and what works — so, let's continue doing it and making it better each time."
During the 2019 calendar year, Lazy Hiker produced around 1,500 barrels on a robust 15-barrel brew house, which includes six 30-barrel fermenters, one 15-barrel fermenter and two brite tanks.
With its new in-house canning line, the ales are now available in 38 counties in North Carolina and 37 counties in Georgia. Last year, Lazy Hiker also opened a satellite taproom on Main Street in Sylva.
"We're a small company, but we're pretty tight-knit. We support each other, and that has allowed us to grow into what we do and want to do," said Norris, who has been the brew master since opening day.
But, beyond the brand and the brews, the core of Lazy Hiker is its family spirit. The same week the bars, breweries and restaurants shutdown in March, Sark also became the father of twin girls. Even with a newborn in each arm and a pandemic raging outside, his mind was at ease in regard to his line of work.
"Graham took the reins and said, 'We're good here at the brewery and the setup will be fine. Take time with your babies and your family,'" Sark said. "We brewed quite a bit before the shutdown to prepare for me being at home with my girls. Our company has always been 'family first' — that business model means a lot to us here."
The 'Trail Haze New England IPA.'
Finishing up their work duties for that day, Norris and Sark lock up the warehouse and head for the patio to enjoy the fruits of their labor. Sipping on Lazy Hiker's "Trail Haze New England IPA," the duo relaxed at the picnic table, soaking in the last of the sunshine as it faded somewhere behind the nearby mountain ridge that cradles the Appalachian Trail and all its explorers.
"You pour your heart and soul into these products and then you see someone drink that product and enjoy it — that's a pretty quick return on investment," Norris smiled. "It comes down to community, and how communities gather around the taps to be together and have a good time. This place brings people together and from that, the culture and camaraderie of the town evolves, too — it's a beautiful thing."