Archived News
Pandemic pushes people out of the city
Wednesday, November 18, 2020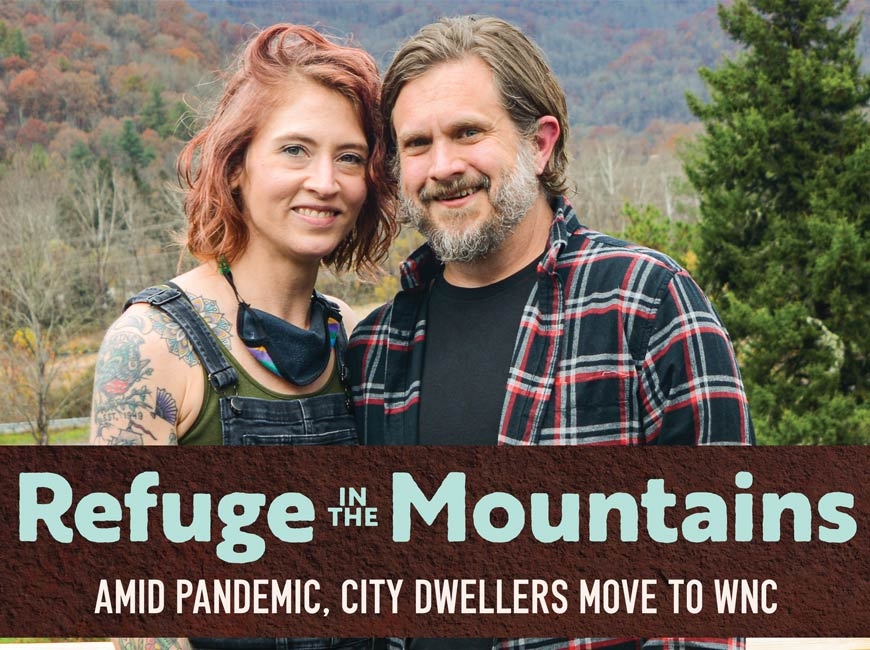 With the real estate market in Western North Carolina booming right now, it's clear the region is reaping the economic benefits of the urban exodus happening during the prolonged COVID-19 pandemic.
As the pandemic drags on and cases are once again on the rise, city dwellers are longing for more open space and fresh air. Mountain communities have been witnessing this rural retreat as the region's tourism numbers broke all kinds of records this summer and fall, but now that seasonal influx may be moving here for good.
According to Canopy MLS, which covers real estate listings in 13 western counties, home sales in September increased 23 percent over last year. Though the pandemic caused an initial slowdown in sales in early spring, year-to-date figures show sales during the first nine months of 2020 ahead of the first nine months of 2019 by 4.2 percent.
"Without a doubt, real estate agents across the region have been busy as the pandemic and record-low interest rates continue to drive sales in areas closer to Asheville and have increased interest throughout the region's growing second-home market," said Debbie Williams, a Canopy MLS Board of Directors member and executive vice president of Beverly-Hanks Associates. "And though buyers continue to be challenged by competition and price increases due to inventory, the recent rise in new listings is needed and will help with increased choice."
Low inventory was a problem in this area even before COVID-19 hit, but now that the demand is increasing, more people are choosing to list their properties. According to Canopy, new listings rose 6.5 percent year-over-year in September as sellers brought 1,384 properties to market, 84 more than a year ago. However — year-to-date figures show new listing activity still lags behind 2019 and is down 12.5 percent.
A smaller inventory means prices across the region continue to rise and sellers have the advantage over buyers right now. The median sales price ($315,000) rose 20.3 percent year-over-year, and the average sales price ($394,796) rose 29.8 percent year-over-year. Inventory declined 51.9 percent year-over-year, leaving 2,626 homes for sale — or 2.5 months of supply — in September. Properties averaged 73 days on market in September 2020, which is unchanged compared to September 2019.
In Haywood County, home sales increased 40 percent in September 2020 compared to September 2019 while inventory was down 55.4 percent over last year. Listings under $200,000 are moving especially quickly and buyers are realizing they need to put a house under contract almost immediately if they want a shot at getting it.
"Inventory will continue to pressure prices in the county for the foreseeable future. Both the median sales price ($280,000) and the average sales price ($336,799) rose year-over-year by 18.6 percent and 28.8 percent, respectfully," Canopy said in a press release. "The average list price in September rose 14.8 percent year-over-year to $351,995, and the list price to sales price measure was 95.3 percent in September. Days on market in September 2020 averaged 66 days versus 61 days in September 2019."
All these trends are in line with national reports that show people who are able are fleeing large urban areas amid COVID-19 and there are several reasons for it — wealthy people in the cities are choosing to escape the crowds by moving to their second homes in the mountains, people who are now working remotely are no longer bound to urban centers and are choosing to make a move, and people who have lost their jobs are trying to relocate to wherever jobs can be found.
Overall, around one-in-five U.S. adults (22 percent) say they either changed their residence due to the pandemic or know someone who did, according to a new Pew Research Center survey.
North Carolina is one of the growing hotspots for people to escape the pandemic.
Data compiled by moving company United Van Lines between March and August show that North Carolina is ranked No. 7 on the list of states that saw the biggest influx of new moves. The state saw a 60 percent inbound move rate during the pandemic.
"If we just look at the last few months, the top states to move to are not necessarily known for their major metropolitan areas, which shows potential trend to less populated areas," said Eily Cummings, spokeswoman for United Van Lines' parent company, UniGroup.
On the other hand, New York and New Jersey are the states that have seen the biggest exodus of residents. The data shows that just under half of those moving from New York went to cities in North Carolina, Florida, Texas and California.
Neal Hanks Jr., president of Beverly-Hanks, agreed that the pandemic has led an increased number of mobile, affluent consumers to establish residency in smaller metropolitan areas like WNC. When compared to the same period last year, luxury home sales skyrocketed from 38 to 109.
"The unprecedented increase likely represents a combination of delayed activity from earlier in the year and new demand for the quality of life found in our mountains," said Hanks.
The growth isn't just in the western part of the state though. An analysis done by Redfin.com ranked Charlotte as a top destination for homebuyers relocating from other metro areas. The latest migration analysis is based on a sample of more than 1.5 million Redfin.com users who searched for homes across 87 metro areas in the second quarter of 2020, excluding searches unlikely to precede an actual relocation or home purchase.
Wake County is a hub of activity because of all the economic development projects happening now that are attracting highly skilled job seekers from other cities.
According to Triangle Business Journal, North Carolina is also an attractive relocation option for big businesses in California and New York as they look for more ways to cut costs. For now, the migration to North Carolina is seen as a positive for the real estate market. But if the trend continues in WNC's rural communities, the region's lack of affordable housing, living wage jobs, broadband service and other critical infrastructure will be exacerbated without additional financial resources to meet the growing needs.