Archived News
Western Carolina University athletics returns to play
Wednesday, November 18, 2020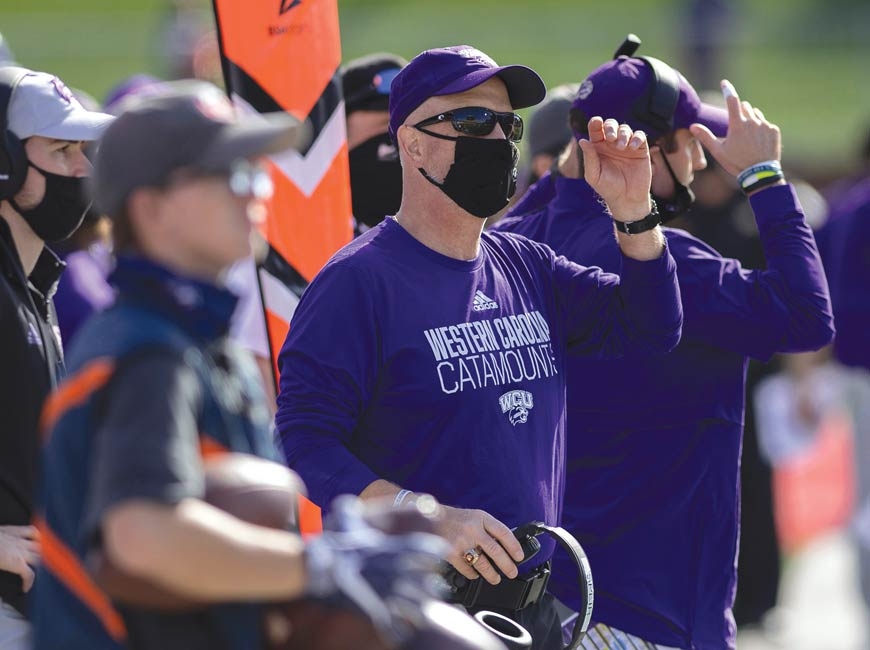 WCU head coach Mark Speir. WCU photo
By Todd Vinyard • Contributing writer | Each athletic season has its challenges, but the 2020-2021 season has more obstacles than usual as teams try to play on safely during a pandemic.
Western Carolina University Athletic Director Alex Gray was named the Catamounts athletic director on Feb. 28. The former member of the 2001-2004 WCU Baseball team then had to join the world in dealing with a pandemic. When would it be safe to return to play? How would travel be handled? How would the department face revenue challenges from not having fans at games? Those are all questions the new WCU athletic director and his staff had to jump right in to face in 2020.
While happy to see sports safely returning with cross country, golf, football and soon basketball, Gary and the WCU athletics staff know they must be careful in these uncertain times.
"We're happy to see teams and our student-athletes able to return to play, but there will be no sense of relief until the entire athletic season is over and we've done it safely," Gary said. "We can't let our guard down. We've got to follow protocols and do the things like washing hands, practicing social distancing and wearing a mask."
Western Carolina athletes are beginning to compete again while following strict safety guidelines. The football team began practicing in October for a season of three games with Liberty (Nov. 14), Eastern Kentucky (Nov. 21) and North Carolina (Dec. 5). All three games will be played on the road.
"We took our time planning the football season. We wanted to see other schools and conferences playing football and what it would look like to play and travel," Gary said.
The Catamounts will have a Southern Conference football spring season of eight contests starting on Feb. 20 that includes home games in Cullowhee. WCU football coach Mark Speir said the team has dealt with safety precautions like team meetings with coaches and others on Zoom during a position team meeting. The Zoom meetings didn't make it easy to build team chemistry and put in new systems from new coaches like defensive coordinator Andy McCollum.
"We've talked about how things are going to be different this year," Speir said. "They are different for all the teams and they have to deal with COVID just like we will. Just like on the football field when things go against you, you have to react and keep going. We're fortunate to be able to play again, and I appreciate all the efforts of our Chancellor Dr. Kelli Brown and our Athletic Director Alex Gary. Alex has done a great job in the whole situation, like setting up a Zoom call for our players and parents with medical doctors from the NCAA and doctors who helped the Big 10 return to play. It was really helpful to hear that information from those people involved."
WCU quarterback, Mark Wright. WCU photo
Speir and his team were able to take the field for the first time in 2020 in a tough task at undefeated Liberty. A 58-14 loss included using two quarterbacks Will Jones and Mark Wright. The Catamounts plan to play hard this fall season while giving plenty of players a chance to play.
"We are going to approach it like an NFL exhibition season," Speir said before the opening game with Liberty. "NFL teams go in wanting to win, but they also have an agenda of playing as many people as they can. Out of 109 players, we have 51 who are freshmen, so these games give us a chance to see what we have got and give players a chance to play. These games can help us in the future and the upcoming Southern Conference season."
A big part of helping this "NFL exhibition" type football season for Western Carolina and other sports competing relies on COVID-19 testing to make sure things are continuing safely. Building on an existing university partnership with Harris Regional Hospital is helping with the large amount of student-athlete testing WCU will need to do this season. The work could also benefit the community.
"Testing 75 to 150 student-athletes a week is a good example of how working through those logistics help us help the community because we are now able to offer this very same thing to local employers," Harris Regional Hospital and Swain Community Hospital CEO Steve Heatherly said in a press release from Catamount athletics. "If they have some critical mass of employees who just need to be tested, we now know how to do that. We've been able to broadly communicate that to the entire community, and we have a couple other of our community partners that are going to benefit from the fact that we had to walk through this process with Western Carolina University."
Testing will be a large part of being able to have a basketball season in Cullowhee. WCU is scheduled to open its basketball season starting Nov. 25 against UNC Wilmington. The Catamount women open the season on the same day against UNC Asheville.
By executive order from Gov. Roy Cooper in response to the COVID-19 pandemic, only student-athlete families will be able to attend basketball games in the Ramsey Center for the start of the 2020-21 season. According to WCU, families of student-athletes will receive up to two tickets per game and will adhere to public health guidance when attending games, including but not limited to mask-wearing, maintaining social distance between different parties and observance of North Carolina's executive orders as well as WCU's Catamount Cares community standards. Season tickets will not be offered and single-game tickets are currently not available. Should the North Carolina executive order change in regard to indoor attendance capacities during the season, the current directives could be adjusted.
This season, Western Carolina will release limited edition Catamount Cutouts available for purchase for the 2020-21 WCU basketball and volleyball season.
For $50, fans can send a photo of themselves, friends, relatives or even a pet showing their Catamount pride and be a part of gameday at the Ramsey Center.
Fans can find out more about the program by visiting catamountsports.com.
Revenue in these uncertain times is something WCU Athletics has also had to make plans for. They have launched the "Whee Are One" fundraising campaign to provide immediate-use funds toward expenditures associated with the cost to compete, practice and train during the 2020-21 academic year while WCU Athletics face the changes caused by the pandemic. Catamountsports.com explains that with the postponement of fall sports competition to the spring semester, this fund will help lead WCU Athletics through this time of budgetary uncertainty amidst anticipated revenue losses of $1 million plus.
It's all been part of a very unusual first year for Gary. His former connection to WCU as a student-athlete has helped him navigate it.
"It was helpful that I knew coming here this was a community that supports itself," Gary said. "People are always willing to help. It has been very fortunate to have people in the athletic department who have been here for a while and know who to contact to make things happen. All parts of the university, Jackson County health department, they have all been willing to help. The entire community has been great partners and that is what it takes to work through something this complicated."
Updates from WCU Athletics on COVID-19 can be found at https://catamountsports.com/feature/covid-19relatednews
Todd Vinyard is a former sports writer with newspapers in Louisiana, Mississippi, North Carolina and Tennessee now living in western North Carolina.