Archived News
Veteran retreat center opens in Macon
Tuesday, November 10, 2020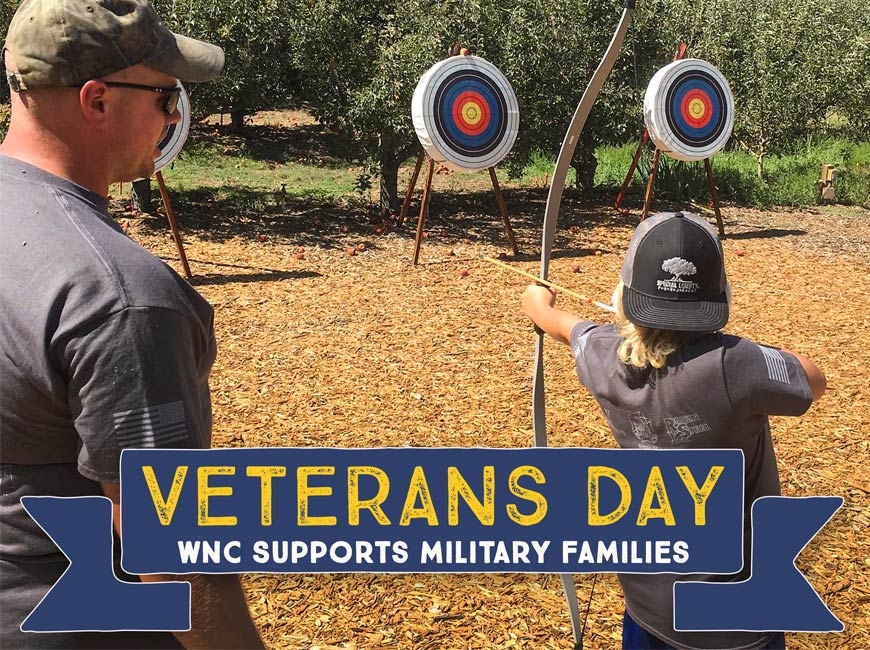 Jessica Merritt is counting down the days until her husband returns home from his final days of service in the U.S. Navy. After more than 20 years in the military and nine deployments, Cory Merritt will return home to his family for good in about two weeks, and this time he'll return to their new home in Western North Carolina.
As a military spouse and mother, Jessica knows what families experience when the spouse is deployed and you feel like a single parent for six months or even a year at a time. She's fortunate her spouse has returned each time, knowing so many soldiers don't make it.
These difficult experiences with stress, grief and trauma are the reasons why Jessica and Cory decided to form the Special Liberty Project five years ago when they were still stationed in California.
A veteran teaches a Gold Star child how to use power tools on a building project as part of Special Liberty Project's mentoring program.
"My husband and I met in high school and he enlisted before graduation. I went to the University of Arizona and then we were stationed in San Diego for 20 years. We started Special Liberty Project five years ago on the West Coast and it quickly grew into Arizona, but in the past year we've been intensely looking for property on the East Coast," Jessica said.
The dream of expanding the organization to include a new headquarters and retreat center on the East Coast led the Merritts to finding the perfect 26 acres of farmland on Onion Mountain.
"We found this property online in the Holly Springs area of Macon County and we had an offer in on the farm before we left California," she said. "It has everything we were looking for — for us personally and for all the experiences we provide for the families we serve."
Macon County is definitely the perfect place for providing a one-of-a-kind outdoor therapeutic experience for veterans and their family members. Special Liberty Project hosts events throughout the year that allow veterans to escape to nature in a number of ways, including trips for fishing, hunting, hiking, rock climbing, kayaking, horseback riding and more.
"These nature-centric experiences help foster camaraderie that tends to be lost after their time in the service," Jessica said. "These trips help strengthen their emotional health and strengthen their physical being as well."
The project also reaches out to Gold Star families — families who have lost a military spouse either during their service or lost to suicide following their years of service.
"In addition to reaching out to our local contacts at veteran services here in Macon County, we reached out to the local survival outreach services and discovered there's almost 200 Gold Star families in Western North Carolina," Jessica said. "We'll be providing services for them on a monthly basis as well as Gold Star families across the nation wanting to come here."
The barn at the new Special Liberty Project's retreat center in Macon County will be used to host events and fundraisers. Donated photo
The farm will host monthly retreats for military widows and their children. In addition to providing outdoor experiences, Jessica said Special Liberty Project will also focus on supporting the family's emotional health by teaching them new coping mechanisms like meditation and journaling. Families will also grow closer with other Gold Star families during the retreats by learning new homesteading skills like soapmaking, processing cheese, planting and harvesting vegetables, knitting, sewing and more.
Jessica said the nonprofit organization does have some staff on hand to offer these workshops, but she will also be looking for local vendors and crafters to assist on the farm.
"I think now more and more we're realizing the effects the military can have on the veterans and their families. They struggle and what we do helps them cope with their struggles. We want them to know they can find support here in each other and with our land," Jessica said.
There is also a mentoring program for Gold Star children — the kids get paired with a veteran mentor who can help fill the gap left by their parent who is no longer there to help them with homework and building projects or to take them fishing or camping.
"It was when he (Cory) was gone — that's when we started our Gold Star program because I noticed firsthand that my kids needed more in their life than what I could provide as a single mom basically," she said. "One thing I noticed when Cory was deployed is that everything lies on you — making dinner, cleaning, helping with homework and everything else — so we hosted an event where we did meal prepping with all the families. They could take meals home and put them in the freezer to have fresh healthy food."
Another opportunity the program provides is family photo sessions in nature for Gold Star families. When families lose a military family member, taking new family photos can be a painful experience, Jessica said, but bringing all these families together to fellowship outdoors and then taking their family photos can be uplifting.
COVID-19 has definitely impacted the way Special Liberty Project operates its events, but Jessica said the farm retreat center will allow for social distancing and programs will be smaller and more intimate. Beginning Nov. 21, the nonprofit will also begin hosting virtual retreat events for widows. Even though the pandemic has made in-person events more challenging, Jessica said the need for these kinds of services continues to grow.
Special Liberty Project founder Jessica Merritt speaks to a group of community members gathered at a recent ribbon-cutting ceremony in Macon County. Donated photo
"We grew very quickly in five years. We wanted to do four hunting events our first year and we had 12," she said. "We've grown in a very difficult time, but when COVID broke out, we saw the need was greater. Widows have a greater fear of dying and leaving their kids without a parent, so they took it very hard and they're feeling isolated and lonely, which leads to depression and leads to whole slew of negative emotions."
The suicide rate among veterans has increased during the COVID-19 pandemic as well, with 22 veterans taking their lives a day. Jessica said many of the spouses they serve are not "traditional" Gold Star families that lost their loved one during their service, but who lost their loved one to suicide following their service.
"We've been contacted by other organizations saying they need what we're doing, and we need to have more events," she said. "It's very real y and scary — we want to help. My heart goes out to these families. When you've been affected by suicide, you are at a higher risk personally of dying of suicide."
The programs and services Special Liberty Project provides are free for veterans and Gold Star families, which means the nonprofit relies heavily on corporate sponsors and private donations. While Jessica has many fundraisers in mind for the future at the farm in Macon County, those interested in supporting the organization now are encouraged to donate at www.speciallibertyproject.org.