Archived News
The after-action report: 50 fast facts from the Haywood election results
Tuesday, November 10, 2020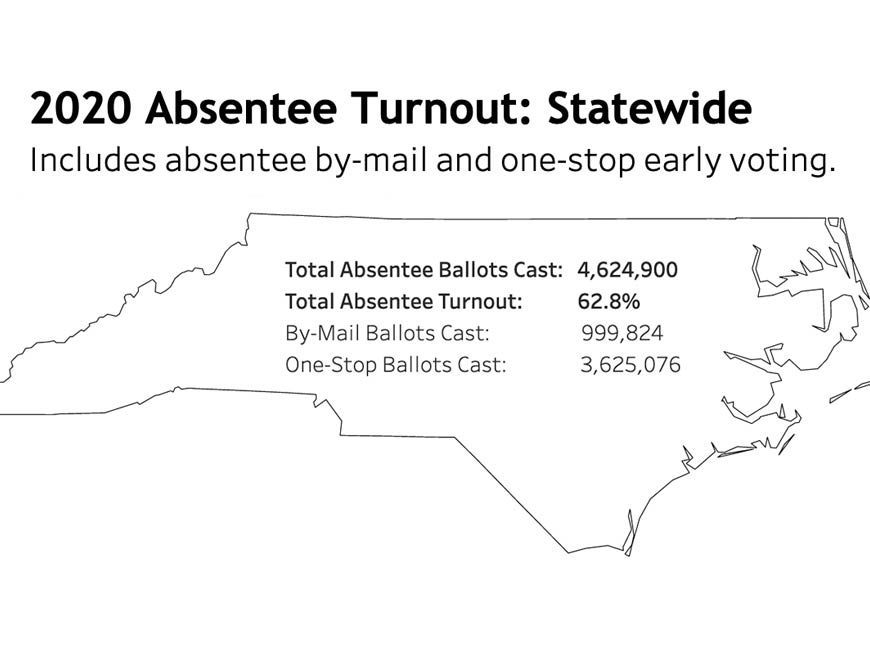 Turnout statistics provided by the NCSBE as of 5 a.m. on Tuesday, Nov. 10.
The results are in — well, sort of — and Republicans in Western North Carolina don't have much to complain about right now other than the reelection of Gov. Roy Cooper and the ultimate fate of President Donald Trump; they retained all western state legislative seats as well as their congressional seat and reclaimed a state House seat that's flipped back and forth several times in the past eight years.
The real story, though, is the massive voter turnout. Likely due to enhanced absentee voting availability necessitated by the Coronavirus Pandemic, North Carolina posted record numbers.
Although ballots are still being counted, the totals won't likely change much once they're finally certified on Nov. 24. If anything, they'll go up — more than 999,000 North Carolinians voted by mail this year, on top of 3.6 million one-stop votes. Including Election Day, 5.5 million North Carolinians voted, good for turnout of 74.6 percent.
That's your first fast fact, but that one's on the house. Here's 50 more.
President
As of press time, North Carolina hadn't yet been called for one candidate or the other, but it's a safe bet Trump prevails — in part, due to the huge surplus of votes he racked up in Western North Carolina. Trump won every North Carolina county west of Charlotte, except for Watauga (Boone) and Buncombe (Asheville).
1. Republican Presidential votes in Haywood County have increased 52.2 percent over the past four presidential elections from 2008 to 2020, and have increased in every election.
2. Democratic Presidential votes in Haywood County have increased 2.9 percent over the same period, reversing a downward trend that saw an 18 percent decline from 2008 through 2016.
3. Haywood County's population has grown about 7.6 percent over that same timeframe as the number of registered voters has grown 15.3 percent.
4. Trump won all 29 voting precincts in Haywood County this year. In 2016, he won 28 of 29 voting precincts in Haywood County, with Center Waynesville the only holdout.
5. Trump's top three precincts in terms of votes received were Ivy Hill, Jonathan Creek and Pigeon, the same as in 2016.
6. Between the three, Trump amassed a 2,839-vote lead over Biden — accounting for almost 30 percent of his margin of victory in the county.
7. The Ivy Hill precinct saw the most votes cast. Trump beat Biden 1,772 to 808 there.
8. The Big Creek precinct saw the least votes cast. Trump beat Biden 12 to 10 there. In 2016, Trump beat Clinton 12 to 4.
9. Biden's top three precincts in terms of votes received were Ivy Hill, Jonathan Creek and South Waynesville 1, just like Hillary Clinton in 2016.
10. Clinton lost all three.
11. So did Biden.
12. Libertarian presidential votes in Haywood County had seen a massive increase — 282 percent — from 2008 to 2016, growing from 235 (Bob Barr/Wayne Allen Root) to 898 (Gary Johnson/Bill Weld). This year Haywood County Libertarians took a step back, giving Jo Jorgensen/Spike Cohen just 329 votes, good for less than one percent of the county's totals.
13. Since 2008, Haywood County voter turnout has continued to be anything but predictable — Obama/McCain saw 71.9 percent of registered voters cast a ballot, Obama/Romney dipped to 65.8 percent, Trump/Clinton rose to 69.6 percent, and Trump/Biden showed an impressive 78.6 percent turnout.
N.C. Governor
It's no surprise that incumbent Democratic Gov. Roy Cooper didn't fare very well in WNC, or in Haywood County, but his increasing margins of victory across the North Carolina suggest that the westernmost counties are moving farther away from the rest of the state, ideologically speaking.
14. Then-Attorney General Roy Cooper lost Haywood County in 2016 by a margin of 54.6 to 42.3 percent, but won the statewide race against incumbent Gov. Pat McCrory by less than a quarter of a percent.
15. In 2020, Cooper lost Haywood by an even bigger margin, 58.1 percent to 40.5 percent, but won the state by an even larger margin — 51.5 percent to 47.1 percent.
16. Cooper won three of 29 Haywood County precincts in 2016 — Lake Junaluska, South Waynesville 1 and South Waynesville 2. In 2020 he won just one, the county's smallest — Big Creek, where he prevailed 12 to 10.
17. For the second straight presidential election, the Libertarian candidate for governor, Steven J. DiFiore, earned more votes in Haywood County than the Libertarian candidate for president, Jo Jorgensen (371 to 329).
N.C. 11
The 11th Congressional District was redrawn last year, leaving many to speculate that the inclusion of Asheville and the appearance of a solid Democratic candidate, Col. Moe Davis, could be enough to flip the seat blue. Instead, the contest was a blowout win by Hendersonville Republican Madison Cawthorn, who put up Mark Meadows-esque numbers en route to keeping the seat red.
18. Cawthorn won every county except for Buncombe in the 17-county district (actually, 16 counties and half of Rutherford County) while on his way to a 54.5 to 42.4 percent victory — a margin of more than 50,000 votes.
19. Cawthorn only lost 12 precincts outside of Buncombe County, including Haywood's Big Creek, where he lost 12 to 10. The district includes 304 precincts.
20. Meadows' best election was in 2016, when he earned 230,405 votes. This year, Cawthorn tallied 243,917 votes.
21. Cawthorn's percentage, 54.5, remains far below Meadows' best total of 64.1 percent in 2016 — but Meadows put up those numbers in a district that was ultimately thrown out by courts as a partisan gerrymander.
22. The entirety of Buncombe County, recently drawn into the 11th District, provided Davis with a 32,000-vote majority over Cawthorn.
23. Although Davis earned far more votes (189,529) than the post-2010 Democratic high set by Hayden Rogers (141,107) in 2012, Davis couldn't quite surpass Rogers' 42.6 percent share of the vote, falling short by two-tenths of a percent.
N.C. Senate District 50
When Rep. Kevin Corbin announced he'd run for the N.C. Senate seat held by Sen. Jim Davis, most people saw it as a slam-dunk for Republicans in a deeply red district. They were right.
24. Haywood County's first opportunity to vote for Corbin turned out pretty alright for him — he outperformed even President Trump, despite Haywood being his opponent's county of residence.
25. Corbin also topped Sen. Davis' best-ever percentage total in Haywood County — 59.5 percent, in 2016 during his second campaign against Waynesville Democrat, the late Jane Hipps. Corbin earned 63.1 percent this year.
25. Only four of 91 precincts in the seven-county district didn't go for Corbin — one in Jackson County, one in Swain County, another in Jackson County that reported a tie, and yes, Haywood County's Big Creek, where Corbin lost by a vote of 12 to 9.
26. Corbin's 66.65 percent vote total eclipses the best numbers put up by the seat's current occupant, Davis, over all four of his terms dating back to 2012. Davis' best was 62.5 percent in 2016, against Hipps.
N.C. House District 118
Democrats supposed this was a competitive seat during Michele Presnell's tenure, but they didn't do much to try to claim it once she announced her retirement. In an uncharacteristically quiet campaign for the 118th, first-term Haywood County Republican Commissioner Mark Pless soundly put Dem suppositions to rest.
29. Only 18 of Haywood's 29 precincts (and half of Ivy Hill) are in District 118, but 49.2 percent of the race's votes came from those Haywood precincts. In 2016, 47.7 percent of the race's votes came from those precincts.
30. Like Rep. Kevin Corbin, Pless also outperformed President Trump in Haywood County.
31. Pless lost only two of 42 precincts in his three-county district — one in Madison, and one in Haywood (Big Creek, 12 to 9).
32. Outgoing Rep. Michele Presnell won each of her four terms with increasing margins in almost every election (51.3 percent in both 2012 and 2014, 55.4 percent in 2016, and 57.2 in 2018.) Pless continued the trend and topped Presnell's best, with 63.6 percent this year.
N.C. House District 119
This race is always close, except when it's not. It's also always won by Waynesville Democrat Joe Sam Queen, except when it's not. There are, however, several consistencies in the electoral history of Queen and former Rep. Mike Clampitt that show how, exactly, Clampitt prevailed by the largest margin ever recorded between them.
33. In the fifth matchup between these two men over five elections dating back to 2012, the parity in their career totals is remarkable. Queen has won three elections, and Clampitt two. Add up all 160,435 votes cast in these five election cycles, and Clampitt leads by 53 votes.
34. Queen's average margin of victory over his three wins is 1,188 votes. Clampitt won in 2016 by just 277 votes. This year, he won by 3,339 — by far the greatest margin between the two candidates. Both of Clampitt's victories have come during an election when Donald Trump was a candidate for president.
35. In 2012, Clampitt won no counties, and lost the election. In 2014, Clampitt won Swain County, and lost the election. In 2016, Clampitt won Swain and Jackson counties, and won the election. In 2018, Clampitt won Swain County and lost the election. In 2020, Clampitt won Swain and Jackson counties, and for the very first time, Queen's home county of Haywood.
36. Big Creek is not part of the 119th District.
Haywood County Board of Commissioners
If you want to be a Haywood County commissioner, you better be a white Republican male, preferably from the eastern end of the county — at least, that's what results have told us over the past decade or so. With convincing wins on Election Day, Kevin Ensley and Brandon Rogers will return to a 4-to-1 Republican majority board.
37. In both of his bids for Haywood commission, Rogers has been the leading vote-getter, topping longtime commissioner and current Chairman Ensley.
38. Rogers finished first in every precinct except in South Waynesville, where Ensley beat him 788 to 781, and in Big Creek, where Democrats David Young (10) and Leah Hampton (9) gave Rogers (9) and Ensley (7) stiff competition.
39. Although Hampton (11,099) and Young (11,285) finished far off the leaders Ensley (21,292) and Rogers (23,020) they both mounted substantial absentee voter efforts, averaging about 3,300 votes for themselves, against an average of 2,100 for Rogers and Ensley.
40. With Hampton's loss, Haywood County will extend its streak of having exactly zero female commissioners to at least 14 years. Mary Ann Enloe was the last, leaving in 2008. Enloe was also only the second female commissioner ever (Rubye Bryson).
41. Commissioner Mark Pless' N.C. House race victory means he'll soon leave a vacancy on the board, which must be filled by commissioners with a person from the same party as Pless (Republican) after non-binding consultation with the Haywood County Republican Party. This ensures the second-ever, second straight Republican majority on the five-man board.
Voter turnout
Whether your candidates won or lost, there's at least one thing to be happy about — more voters participated in this election than in any in recent memory. That goes for the nation, the state, Haywood County and all points west.
42. Voter turnout in North Carolina increased from 68.98 percent in 2016 to 74.65 percent in 2020.
43. Every single county in the current iteration of the 11th Congressional District reported turnout well above 2016 levels. Cherokee County saw the biggest increase, 12.5 points above the previous presidential election, and Transylvania County saw the smallest increase, at 6.5 points.
44. Mitchell County had the highest turnout in the 11th Congressional District, with 80.99 percent of registered voters casting ballots. Swain County had the lowest, 70.18 percent — still up 11.33 points from 2016.
45. Haywood County has 46,445 registered voters. Less than 10,000 of them sat this one out — good for a 78.6 percent voter turnout rate, the highest since the NCSBE started reporting turnout in 2014. That year, 45.1 percent of Haywood's voters cast ballots.
Party registration
Haywood County appears to be at the forefront of the exodus of Democrats leaving the party. Halfway through this year, Democrats in Haywood County had lost their numerical superiority over both Republicans and unaffiliated voters. It's likely that next year, the same will happen on the state level.
46. Statewide party registration totals have been shifting away from Democrats, decreasing 3.8 percent since Election Day in 2016, just as Republicans registrations have increased 7.3 percent. Unaffiliated voter registrations have also grown over that time, by 18.5 percent.
47. Democrats cling to a small advantage in statewide registrations, with 2.6 million. Unaffiliated voters (2.5 million) still outnumber Republicans (2.2 million).
48. Sometime between Jan. 25 and Feb. 1, 2020, someone walked into the Haywood County Board of Elections and registered as an unaffiliated voter. In doing so, they dethroned Democrats as the largest classification of registered voters in Haywood County.
49. Sometime between July 4 and July 11, 2020, someone walked into the Haywood County Board of Elections and registered as a Republican voter. In doing so, they demoted Democrats to the third-largest classification of registered voters in Haywood County.
50. Per registration totals, on Election Day in Haywood County there were 15,872 unaffiliated, 15,811 Republicans, 14,394 Democrats, 314 Libertarians, 35 Constitution Party members and 19 Greens.