Archived Arts & Entertainment
See that love, rise like a river: A conversation with G. Love
Tuesday, November 10, 2020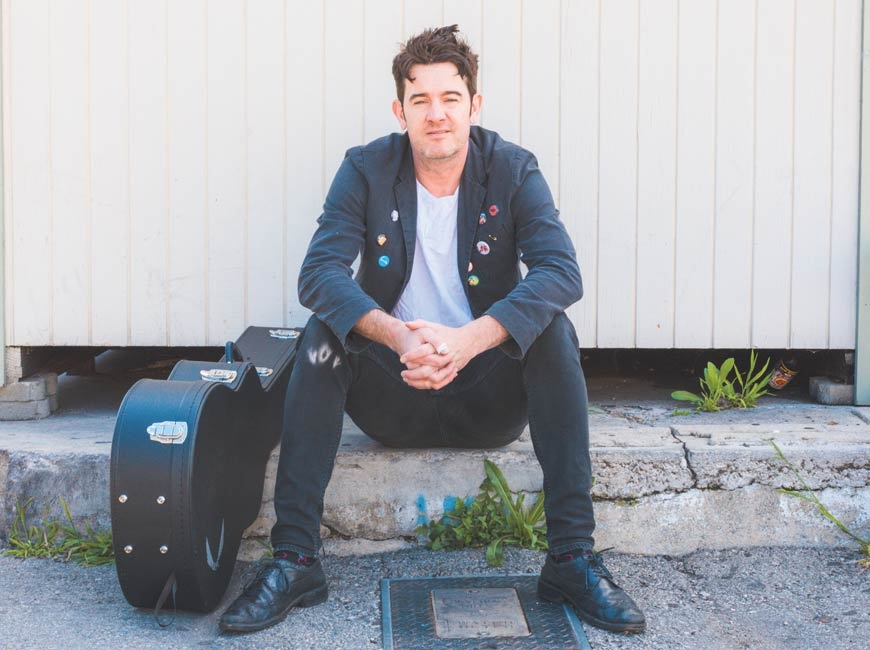 G. Love. (photo: Kaelan Barowsky)
For the better part of the last 30 years, G. Love (aka: Garrett Dutton) has been radiating his message of "peace, love and happiness" from behind a microphone atop stages across the country and around the world.
His unique blend of blues, folk, hip-hop and rock music was groundbreaking when Dutton and his band, Special Sauce, first appeared on the northeast music scene in the early 1990s. Raised in Philadelphia, Pennsylvania, and coming of age as a young, hungry performer in Boston, Massachusetts, Dutton is now regarded as a touchstone for multiple generations of music lovers.
In essence, he's become this melodic bridge that connects the 1940s blues, 1950s rock-n-roll, 1960s folk, 1970s soul, and 1980s hip-hop, onward into a 21st century landscape of unlimited sonic possibilities — something Dutton has been on the cutting edge of since day one.
The Smoky Mountain News recently caught up with G. Love while he was working on his homestead in the countryside of Eastern Massachusetts, within earshot of the mighty Atlantic Ocean.
Smoky Mountain News: I know 2020 has been crazy for everybody, but how are you doing?
Garrett Dutton: We're doing really well. I'm just in the yard right now doing my chores because we've got some chickens and goats. [Laughs]. In the springtime, we got off tour and we were kind of hunkering down. So, we got 12 chickens. Along the way, we had a private gig at someone else's little farm and they had a rooster, now we got dumped with the rooster. He's a mean one. [Laughs].
Then we got three goats — Molly, Truffle, and Honey. We got a puppy. And we had a baby, little Garrett, last February before all this mess. So, all in all, despite the business side of things [in the music industry], it has really been [this] happy personal time.
SMN: With what you've been up to on your property and in your personal life, you're really trying to seek out silver linings in all of this…
GD: Yeah. I mean, that's it, man. This whole thing has been about trying to find silver linings. This whole thing's been about trying to be fluid and find different ways of approaching whatever business you're in or just lifestyle. Different ways of approaching things because we all got to work, we all got to eat.
And you can't just like sit around, especially in the music business. It's really tough. For me, I can go do private socially distant [solo] shows at people's houses. I can show up at a small pop-up show or a house party and keep my music going, keep food on the table.
Even in my small world [of G. Love & Special Sauce], we're a small business. We got two guys in the office, three crew guys and [three band members]. [When the music industry shutdown], everyone was out of work, you know what I mean? Some of the guys are finding different ways to keep income rolling in and some of the guys are struggling. It's really interesting like that across the board.
SMN: You've been touring rigorously for almost 30 years, somewhere around 100 to 150 shows each year. With the shutdown, what surprised you the most?
GD: If you're a family person, it's been nice to actually catch your breath, [all of us musicians and performers] that have been grinding it for years. And no matter whether you're having a moment or not [in the music industry], it's like the Neil Young song, "Everybody Knows This Is Nowhere."
After you've been doing this for 10, 20 or 30 years, you realize, "Hey, we're basically just riding around in circles." You know, you're making money and you're making people happy. You're inspiring people with the music, and to be onstage every night is such a great gift.
But, you sacrifice a lot of just simple things — being at home and waking up in bed with your wife and your kids, driving your kids to school, and just being there. That's the biggest silver lining — being home with my family right now.
And I've got to tell you, it feels so good that it's scary. I mean, I can't imagine going back on a road so hard right now or anytime soon.
SMN: As a music journalist, people say to me, "You've traveled all over and had so many crazy experiences." Yes, I have. And I don't regret them. But, at the same time, I've missed a lot of birthday, anniversaries and weddings.
GD: Oh yeah. Right? Like how many weddings did you miss? Everyone's wedding. I felt so bad asking people to come to my wedding because I missed everybody else's wedding. [Laughs].
SMN: But, for someone like yourself who's been touring for so long, it probably really brings back this real justification of why you like performing…
GD: Yeah. My goal when performing and doing shows has always been to make people happy and inspire them. That's what I say to myself before I go onstage. That's what I'm trying to do. And that's a beautiful thing — that's still how I feel.
I always love to play for people and I love that feeling of being onstage — just to feel the power of the music and the inspiration. It's a great gift to be able to give that to people, you know?
Want to go?
Acclaimed singer-songwriter G. Love will host an intimate solo performance at 7 p.m. Wednesday, Nov. 18, at the Salvage Station in Asheville.
The show will take place on the outside stage. All social distance and Covid safety protocol will be encouraged and enforced.
Tickets are $39.50. For more information and/or to purchase tickets, click on www.salvagestation.com.