Archived Outdoors
Congressmen push for red wolf conservation
Wednesday, November 04, 2020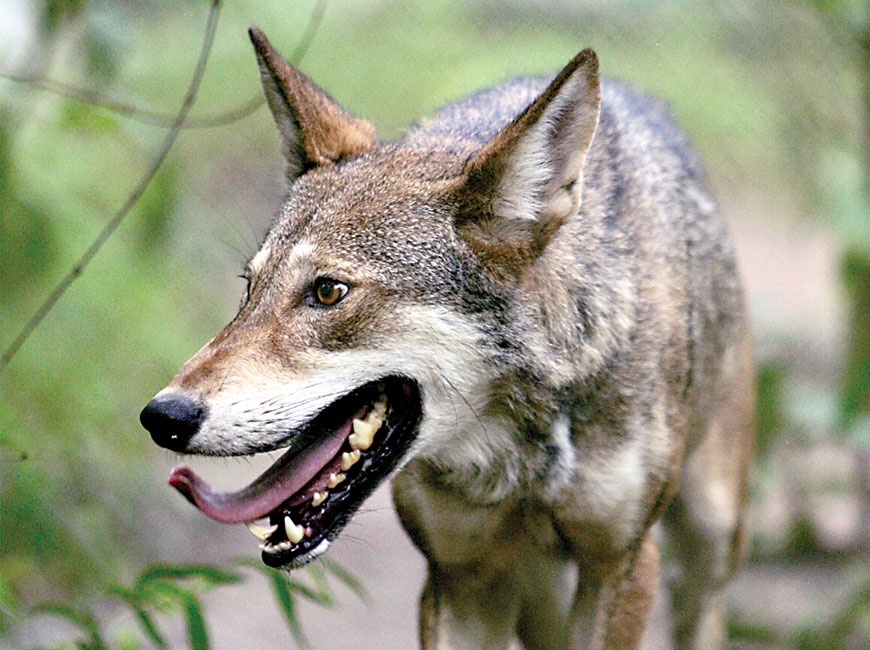 Red wolf. USFWS photo
An Oct. 27 letter signed by 24 Democratic U.S. Congressmen is asking federal agencies to take urgent action on behalf of the critically endangered American red wolf.
While the wild wolf population — located exclusively in five Eastern North Carolina counties — has consistently numbered over 100 wolves between 2002 and 2014, it is now down to only nine collared wolves in the wild, the letter said, adding that two recent reports indicate there may now be only seven collared wolves.
While the total wild population is estimated at 17 to 20 animals to include those without functional collars, that population is aging, said Ron Sutherland, chief scientist for the Wildlands Network. The wolves include a set of 3- and 4-year-olds and a set of 9- and 10-year-olds, but wolves live only 9 or 10 years in the wild at maximum and the number is more like 3 or 4 years when factoring in human-caused mortality.
"In other words, the handful of red wolves we have left are all either middle-aged or elderly, and the fate of the species in the wild hangs very much in the balance on their weary shoulders and paws," said Sutherland.
The red wolf reintroduction effort has been the subject of years of conflict between wildlife agencies and environmental groups. In 2016, the U.S. Fish and Wildlife Service halted reintroduction efforts to support the existing wild population. A proposed rule released in June 2018 would have severely restricted conservation efforts and allowed red wolves to be killed with no hunting restrictions outside of a small area of public land in Hyde and Dare counties. A final version of the rule, which generated widespread opposition, has yet to be released.
"For six years, the FWS has not released any captive wolves into the wild population and has not resumed its prior proactive management of coyotes to address hybridization risks in the Red Wolf Recovery Area," reads the representatives' letter. "Given that no red wolf reproduction has occurred in the wild for the past two breeding seasons, the continued inaction of the agency will precipitate the extinction of the red wolf in the wild. This is a clear violation of both the public trust and the Endangered Species Act."
The letter is addressed to U.S. Department of the Interior Secretary David Bernhardt, U.S. Fish and Wildlife Service Director Aurelia Skipwith and U.S. Fish and Wildlife Service Southeast Regional Director Leopoldo Miranda. It requests that the agency leaders take several specific actions to support the wild red wolf population. These include: introducing new wild breeding pairs "expeditiously," resuming release of captive pups into wild dens as soon as wild reproduction is established, restarting the coyote sterilization program and other strategies in the Red Wolf Adaptive Management Program, maintaining the current five-county recovery area and identifying additional lands for red wolf habitat, selecting new sites for additional red wolf reintroductions, engaging local communities to protect wild red wolves from gunshot mortalities and supporting targeted education efforts regarding the red wolf's characteristics and natural history.
The letter was written by Virginia Congressman A. Donald McEachin and co-authored by House Natural Resources Committee Chairman Raúl Grijalva of Arizona and Virginia Congressman Don Beyer. Signatories from North Carolina include District 12 Rep. Alma Adams, District 4 Rep. David Price, District 1 Rep. G.K. Butterfield.