Archived News
Cherokee approves $25 million for Sevier County development
Tuesday, November 03, 2020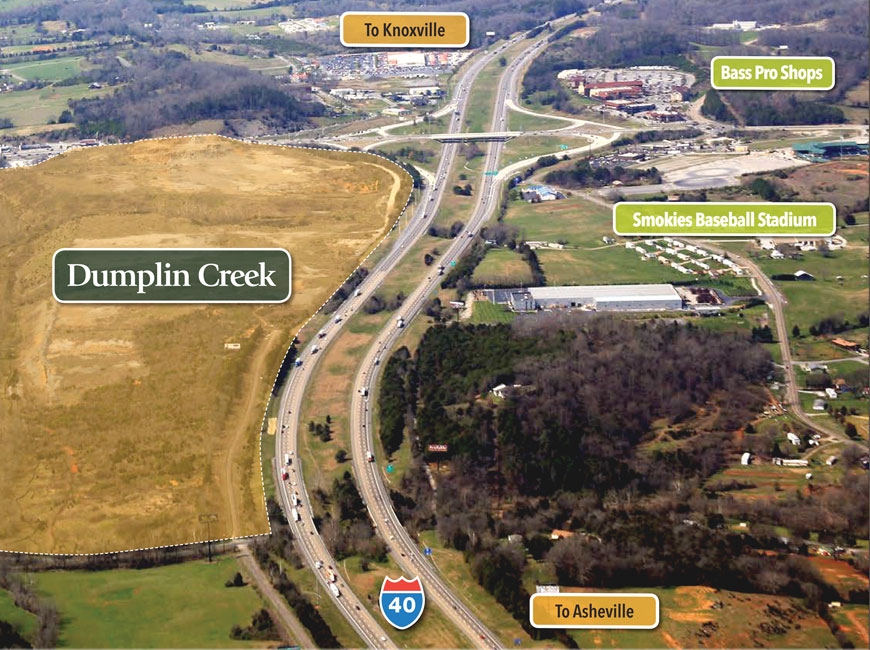 In 2019, the Eastern Band of Cherokee Indians purchased both the 198-acre Dumplin Creek property and a 122-acre tract on the other side of Interstate 40. EBCI image
After a 15-minute closed session discussion, Tribal Council voted unanimously Oct. 29 to allocate up to $25 million to develop the 197.5-acre property it purchased last year in Sevier County, Tennessee.
"What we can disclose is we have a letter of intent for a ground lease for a major retailer," Kituwah LLC Director Mark Hubble said after the closed session discussion. "And the return on this is 36 percent, and that's conservative, and it's immediate. That's about the safest return you can get."
Tribal Council purchased the property, located along Interstate 40 at Exit 407, in July 2019 for $13.5 million. The tribe also owns 122 acres on the other side of the highway, which it bought in February 2019 for $7.5 million. It charged its business arm Kituwah LLC with developing the properties in order to further diversify the tribe's income, and in September Kituwah announced that it would create a mixed-use development envisioned as an "experiential destination" on the 197.5-acre tract.
Last December, Tribal Council shot down Kituwah's first pitch for the property, which asked the tribe to allocate $30 million to bring in the story-themed resort Ancient Lore Villages and receive 40 percent ownership of the company. However, the current development effort has at least one link to the previous one. This time around, Kituwah hired Knoxville-based OE Experiences to help the tribe plan the development and seek out partners. That company was founded earlier this year by Matthew Cross, who at the time of the December vote was CEO of the company that would have developed Ancient Lore Villages.
The funding request approved last week was submitted as a walk-in resolution during Annual Council. It stated that Kituwah LLC had already received more than $4.7 million in economic development commitments from the county and state and that the tribe's $25 million would help cover infrastructure-related expenses such as engineering, roadwork, site work preparation, utilities, grading, electrical and professional fees. The Secretary of Treasury will decide the most appropriate fund from which to allocate the $25 million, the resolution said.
"Immediately upon the allocation of this round of funding, the value of the 407 project will increase to more than $52.5 million, representing a 36 percent increase in the value of not only this investment but on the initial cost of the purchase, all in less than one year," the resolution reads.
After the resolution was read into the record, Principal Chief Richard Sneed requested that the Council move into closed session.
"I think it's important that that Council be aware of potential lease opportunities, and the revenue that would be generated by that," Sneed said. "However, I don't think that's something that should be discussed on air."
Council accommodated that request and voted unanimously to move into closed session, returning to open session 16 minutes later.
"I'm sure I'll be back over here at some point for different projects," Hubble said as the body prepared to vote, "but it really doesn't get better than this."