Archived News
DA seeks death penalty in case involving infant's death
Monday, November 02, 2020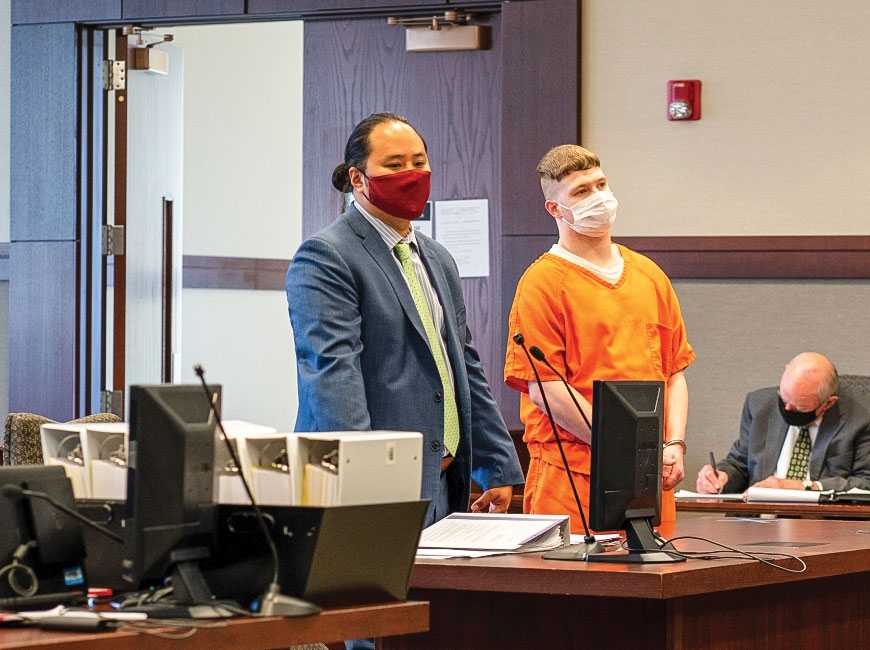 Defense attorney Joshua Nielsen of Waynesville (L) stands today (Friday, Oct. 29) beside Dylan Green, during a Rule 24 hearing in Haywood County Superior Court.
District Attorney Ashley Hornsby Welch's office intends to seek the death penalty against a Haywood County man accused of killing his girlfriend's 10-month-old child.
On Oct. 5, a grand jury indicted Dylan Green, 22, for the murder of Chloe Evans, building on two previous charges: felony intentional child abuse inflicting serious bodily harm and possession of methamphetamine.
Chloe died July 18, 2019, at Mission Hospital in Asheville. She had been staying at her mother and grandparent's home in Jonathan Valley. Green is not the child's biological father.
Today, Haywood County Superior Court Judge Athena Brooks presided over Green's Rule 24 hearing. This is a mandatory pre-trial procedure held to determine whether the death penalty will be sought.
Chief Assistant District Attorney Jeff Jones told the judge that the baby's murder meets the standard of "especially heinous, atrocious or cruel," one of 11 potential aggravating factors required in North Carolina for pursuit of the death penalty.
"Your honor, we believe there is ample evidence to proceed with the capital case," Jones said in court.
A defendant is presumed innocent until proven guilty in a court of law.