Archived News
Dem veep nominee Harris speaks in Asheville
Saturday, October 31, 2020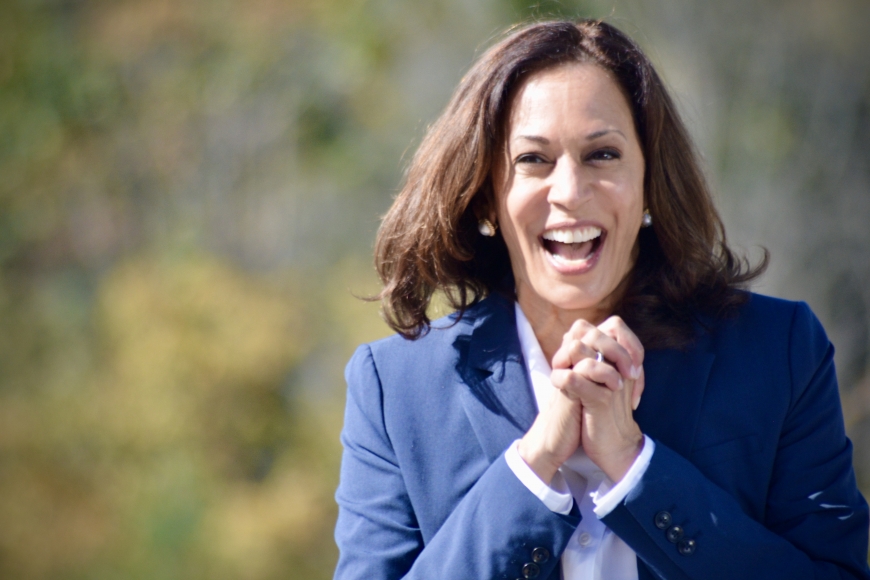 California Democratic senator and vice presidential nominee Kamala Harris spoke in Asheville on Oct. 22.
Cory Vaillancourt photo.
Democratic vice-presidential nominee/California Senator Kamala Harris visited Western North Carolina last week, reminding voters of the importance of getting to the polls on or before Nov. 3.
"We were supposed to be here last week and it was so important that we come so we recreated the schedule to be with you," Harris told a small crowd of masked Democratic supporters.
The Biden campaign has devoted plenty of resources to North Carolina in recent weeks. Presidential polls remain neck-and neck the state, and with just under a week remaining until Election Day, more than 3.2 million of North Carolinians have already voted.
Harris was forced to cancel a planned trip to Asheville and Charlotte on Oct. 14 after two staffers tested positive for COVID-19, but that didn't stop her from returning Oct. 21 to speak at an event at UNC-Asheville.
Asheville Mayor Esther Manheimer, who spoke before Harris appeared at the socially distanced outdoor event in a campus parking lot, revealed that she'd assembled a top-ten list of reasons for people to get out and vote.
"Number 1," she said, "electing the first woman vice president to these United States."
Harris was then introduced by UNC-Asheville student Alison Grace Sink.
"It is empowering to see people in power care about young people and to come visit," Sink told The Smoky Mountain News after the event. "I think it will have a crucial impact on young voters."
As of Oct. 27, more than 85 percent of North Carolinians aged 18 to 29 who have already voted are "first time or infrequent voters," according to NextGen North Carolina, a progressive advocacy group focusing on the youth vote. Generation Z and Millennials represent 24 percent of all votes cast in the state.
Piggybacking off Manheimer's remarks, Sink also said she thinks Harris' visit will have an impact on women voters as well.
"As a woman myself, I find it to be super inspiring and that it shows women have a place in politics," Sink said. "I believe it will be impactful for undecided women to see a woman on the presidential ticket."
Harris went on to disparage President Donald Trump's record on handling the Coronavirus pandemic, on supporting public schools, on rushing to confirm a replacement for Justice Ruth Bader Ginsburg and on health care.
"This is stranger than fiction," said Harris. "Have you ever heard that expression that fact is stranger than fiction? We're living it. We're living it, sister. And so what are we seeing? Right now, in the midst of a public health pandemic, Donald Trump and Bill Barr are in the United States Supreme Court trying to get rid of the Affordable Care Act."
For voters primarily concerned with health care, Harris said that Biden is the best candidate.
"This is why we need Joe Biden to be elected President of the United States," she said. "He will expand health care, bring down the cost of premiums, bring down the cost of prescription drugs, lower Medicare eligibility to age 60."
Before boarding her plane, Harris had a lot to say about North Carolina's role in the upcoming election, telling SMN on the tarmac at Asheville Regional Airport that the state remains crucial for a Biden/Harris victory.
"We need North Carolina and that's why I'm here, that's why he's been here," she said. "The people of North Carolina are very much going to be a very big part of deciding this election, so we're here to encourage the vote," Harris said. "Vote early. But also we've been here to listen to folks because we know the people of North Carolina want the kind of support they deserve from their president."
Western Carolina University student Madelyn Ricket contributed to this report.