Archived News
A Clear Contrast — The NC Agriculture Commissioner Race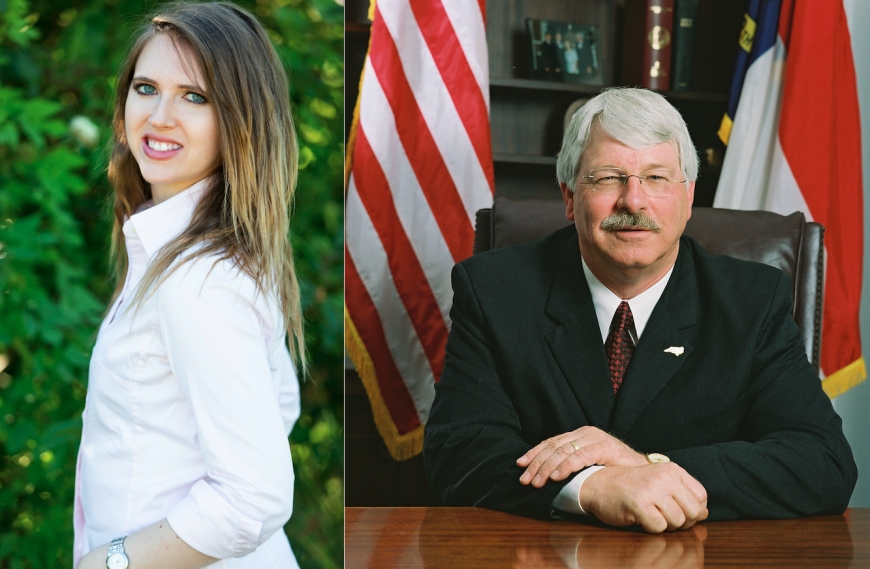 By Boyd Allsbrook
Agriculture has always been an integral part of the North Carolina culture and economy. Every year, farming and agribusiness bring in over 90 billion dollars—a sixth of the state's net income. Here, more than in most states, it matters who we elect to oversee this massive industry.
This year's Agriculture Commissioner election is more contentious than usual, due at least in part to the markedly distinct vibe each candidate brings to the table.
"We create a pretty clear contrast," said Jenna Wadsworth (D) of her Republican opponent, Steve Troxler. And they do; you'd be hard-pressed to find more different candidates.
Wadsworth doesn't fit the image of a typical North Carolina Famer: young, female, progressive and LGBT, a fresh face on the ballot. She first held public office (Wake County Soil and Water Supervisor) at age 21—before even having graduated from NC State with degrees in political science and women's/gender studies. "It helps illustrate the fact that young people aren't just the future. That we're capable of making meaningful change starting today," said Wadsworth.
Troxler, on the other hand, is the very picture of a traditional choice. His accent and appearance are almost stereotypical of the Agriculture Commissioner role, as are his credentials—decades of farming experience and an NC State major in conservation and ecology. Quick to capitalize on this, Troxler said, "This job does require that the position be held by a farmer. In fact, the statute says that the Board of Agriculture and the Commissioner of Agriculture shall be practicing farmers engaged in their profession."
It's not only in image that the two candidates differ drastically. Their respective approaches to policy clash most of the time.
Take for instance Jenna Wadsworth's big-ticket issue: the legalization of marijuana in North Carolina. She sees it as the next big thing in agriculture, 'the most exciting new crop' and an untapped goldmine for farmers. "I think it's a huge opportunity. Not only is it a huge economic opportunity for farmers, but most of the farmers I've talked to want to be able to participate in this market," she said, adding, "you know, the reality is that it's already legal in 33 states plus D.C. either medicinally, recreationally or a combination thereof. So it's not really a question of if it's gonna happen, it's more of a question of when it's gonna happen."
Troxler's position has remained consistent. "I am against the legalization of marijuana," he said. "I have worked very hard to make growing hemp in North Carolina legal, but the big difference is in the cannabis varieties. And I look at what's happened in parts of the country that have legalized it — it's been a total mess." In spite of his staunch opposition, Troxler maintained that ultimately, the decision is out of his hands. "The truth of the matter is that this all comes from the legislation. I have no real role in seeing whether we're gonna grow marijuana. If you're running for legislature I guess you could say 'yeah, I'm gonna do it.' But if you're running for this position, where you enforce the laws, it's a big difference."
Wadsworth, however, disagreed with the claim that it was a purely legislative issue.
"A lot of folks are like 'Jenna, you can't just make marijuana legal.' But the commissioner is able to lobby on behalf of the industry to get the legislature to pass a law that would make a meaningful difference to the industry. So I think it's a little ridiculous to say that there's no power to make this happen," said Wadsworth.
Wadsworth's other major focus is on conservation, climate change, and the environment.
"First of all," she said, "I know that climate change is real. That's a pretty big difference between me and my opponent."
She highlighted conversations about the climate with farmers of all political stripes. "Whether the farmers I've spoken to are Republicans, Democrats, independents, all of them know that something is happening. They may not feel like they have the political courage right now to say the words climate change, but they know that their harvest dates have changed. They know their yields are unpredictable," said Wadsworth.
According to Wadsworth, farmers have been feeling the consequences of a changing climate in an uptick of heavy storms and hurricanes. Citing her opponent's much-lauded programs to mitigate the effects of these disasters, Wadsworth said, "Farmers needed that money. They absolutely needed that money. But they needed that money because Steve Troxler sat on his hands and didn't use the tools and power available to him to mitigate the effects of these natural disasters on our agricultural industry." If elected, Jenna said she would open a separate department for the sole purpose of combating climate change.
When asked about the environment, Troxler highlighted his track record of conservation and disaster relief programs. "When I came into office in 2005 the mountains had just been flooded by tropical storms and a lot of the farms had been washed away," he said. "So we had a disaster program called Operation Brighter Day. It turned out to be a huge success and helped a lot of people."
He also emphasized his college major in environmental studies and how that influenced his farming career. "I took my education with me back to the farm and incorporated all kinds of conservation measures on my farm, including grass waterways, grass field borders, building ponds for sediment control. And for that, I was awarded the Conservation Guardian Award from the Guilford County Soil and Water Conservation District. I've gone to the legislation on several occasions to get money for the AgWRAP program through Soil and Water. For you in Western North Carolina, I headed up the Hemlock conservation program, which as been very successful. So I not only preach conservation, but I practice it. I do it every day. It's one thing that I know a lot about," said Troxler.
When asked about what he's most excited for in the coming years, Troxler talked about the continuation of ongoing projects like covid-19 relief for dairy farmers, conservation in forests and farmlands and federal aid awareness for small farmers. His promise is reliability, a guarantee that he'll continue working well for North Carolina farmers. "The western part of the state holds a special place in my heart," he said, "I'm proud of what we've done there, and I'm gonna continue to do what I've done there for 16 years."
Jenna Wadsworth is excited to shake things up. Her promise is expansion into new markets, mental health and economic aid for struggling farmers, and proactive tackling of the climate crisis. "I'm not going to just sit on my hands and be reactive and reactionary," she said, "not when I have the tools to enact meaningful and transformational change."