Archived News
Macon merchants adapt during pandemic to stay open
Wednesday, October 21, 2020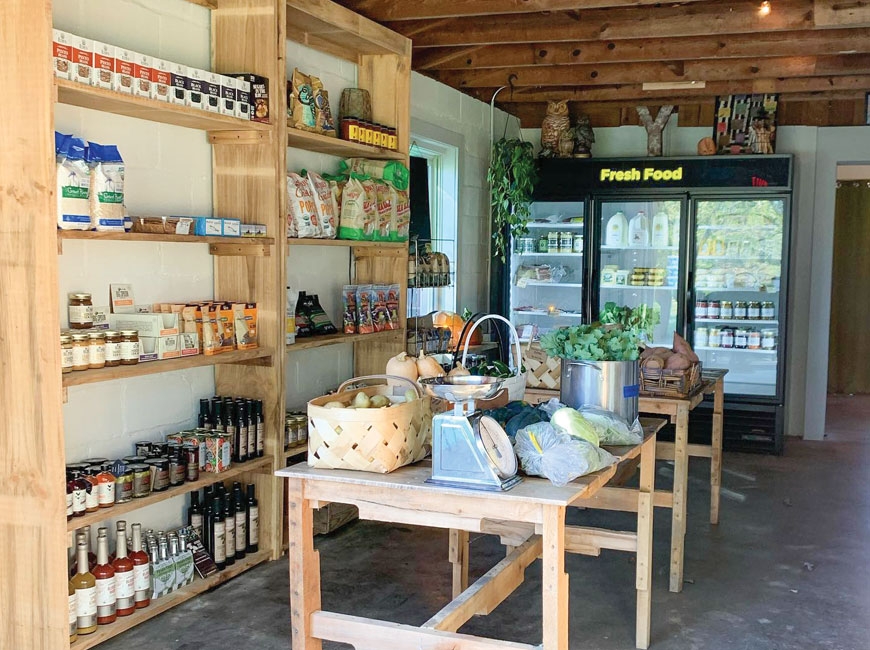 Yonder has pivoted from a farm-to-table restaurant to a fresh market grocery store during COVID-19. Donated photo
During the initial pandemic panic back in March, many merchants in Macon County closed up shop while they tried to reassess all their plans for 2020.
They had a choice to make — stay closed and hope it's over soon or roll with the punches and try to do their best to adapt to a changing world.
Gwen Taylor, owner of Dusty Pallet Art Gallery and president of the Streets of Franklin Heritage Association, said some of the more seasoned merchants with health concerns and those that rely on volunteers for staffing chose to stay closed throughout the pandemic, but others have remained open and have adapted to a new way of operating.
"It started out slow with COVID and a lot of us had to close down during the initial onset of it, but we've gotten very resourceful to stay open," she said.
One of Macon's draws is its seasonal festivals and events that bring people to Downtown Franklin, but those events haven't been able to continue during the pandemic. Taylor said merchants still wanted to be able to welcome visitors to downtown so they started planning special weekend events where they allowed craft vendors to set up their goods along the sidewalks outside of their shops.
"We knew a lot of our craft vendors couldn't go to their summer and fall festivals, so we opened the sidewalks in front of our stores for them — it turned out well for them and it brings people into the merchants' stores as well," she said.
These special weekend events will continue through the end of October. Taylor also said she has a DJ that comes out on the weekend to provide music, and the merchants have worked with the town to make sure the downtown area is well decorated for the season.
"We worked with the town to design the gazebo area and the town employees came out and did a fantastic job decorating. So many people are coming downtown just to take pictures that we normally wouldn't see so that's been great," she said. "We're looking forward to a good fourth quarter — maybe not as great as it normally would be but we're planning for Christmas already."
Mayor Bob Scott said bars and restaurants had been hit the hardest by the pandemic.
"Even our pool hall hasn't been able to open. It wasn't the type of pool hall that I hung around in my misspent youth, this is a pretty nice pool hall, and they haven't been able to reopen, because of restrictions. They have a bar in it," he said. "Now our breweries seem to be overrun with people. I don't see much difference in what I used to see before COVID. I found this weekend was absolutely packed with people. Franklin, it was standing room only. Our merchants had some specials going on, and it was just loaded with people."
Yonder is one restaurant that had to make a major change if they wanted to find a way to stay in business. As the only farm-to-table restaurant in Franklin, owners Hannah and Alan Edwards said the restaurant had high demand with a line to get in every Thursday through Sunday when they were open before COVID-19. Then Gov. Roy Cooper ordered restaurants to close all dining-in service.
"We immediately pivoted to doing a curbside pickup online pre-ordering system for groceries when COVID hit and that went really well. We had about 90 people that participated in that because it was a safe way to shop and they trusted Alan and I to provide them with high quality products that were local, sustainable and organic," she said.
In addition to COVID restrictions, the Edwards then lost their rented restaurant space.
"We got kicked out of our space but we decided to keep our online shopping platform going, and then we decided to rehab an older cinderblock building on some land we bought last year so we could have a physical grocery store as well," she said. "And we hope we can incorporate a restaurant on the property down the road."
The grocery store located at 151 Hillcrest Drive has been open for two weeks now and is doing well with plenty of open-air space to shop.
"It's not how we planned our year — we were a very successful restaurant with a lot going for us and we got blindsided by all of this and went through the stages of grief, but in all honestly we hit the ground running to not lose our livelihood," she said. "We've embraced it and we're thankful for what we do have and we'll move forward from here."
Staff Writer Hannah McLeod contributed to this story.