Archived News
Cherokee businesses feel pandemic impact
Wednesday, October 21, 2020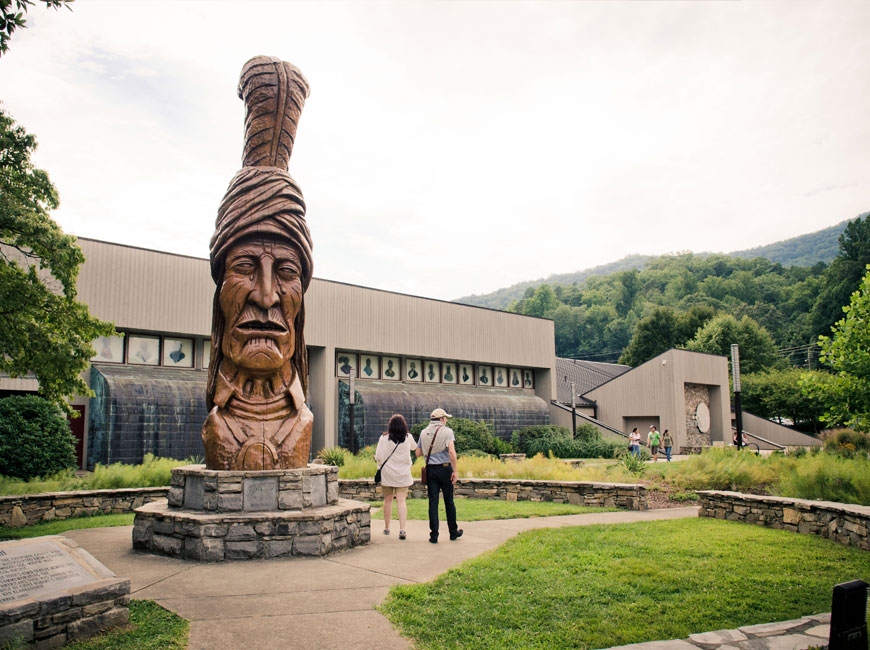 With the economic powerhouse that is Harrah's Cherokee Casino Resort surfacing as one of the pandemic era's most-impacted local businesses, it stands to reason that the future of Cherokee's business community would be among the region's most uncertain.
Due to capacity restrictions and social distancing, between June and September the casino welcomed only about 44 percent of the 1 million-plus guests it drew during the same time period last year. And while occupancy rates at its hotel were similar to those recorded last year — more than 99 percent — due to renovations in the Mountain Tower the resort had only 73 percent the number of rooms available that it did last year.
However, Cherokee has another blockbuster attraction at its disposal — the Great Smoky Mountains National Park, which in 2019 attracted a grand total of 12.55 million visitors. With COVID-19 restrictions spurring heightened interest in the outdoors, the park is recording another record-breaking year, with June and August visitation proving the highest on record and July the third-highest. While the Oconaluftee entrance accessed through Cherokee has actually posted a decrease in summer visitation over last year — total visitation between June and August was 5.7 percent lower than last year — it still recorded a whopping 796,861 total visits in that time period.
September and October figures are not yet available, but if observations from Cherokee business owners are any guide, they're likely to reveal even stronger numbers.
"Our season has picked up, especially the fall," said Natalie Dillard, manager at Rivers Edge Motel. "Business was slow in June, July. However the park is so overpopulated right now we've had so much overflow from just traffic."
Rivers Edge, as well as its sister establishment Econo Lodge of Cherokee, closed completely from March 23 to May 15, missing out on the typical spring break traffic. For the first month or so after reopening the motels were limited to 50 percent capacity at a time when they'd normally be full. Now, they're back to full capacity and have been booked up throughout October.
"October is a good month for us, and business has definitely improved since June," said Dillard. "People are starting to come back big time."
That doesn't mean that the business isn't still feeling the effects of the spring closure, or of the ongoing pandemic. Rates are $20 to $30 lower than last year, and stricter sanitation requirements required them to hire additional housekeepers. However, said Dillard, overall the outlook is positive.
"If things continue the way they are improving, we're not nervous at all for the future," she said.
Like Dillard, Qualla Arts and Crafts Manager Vicki Cruz said the fall season has been extremely successful.
"Our September beat last September, and our numbers are still up there," she said. "We always look forward to October because it's going to be a good month, and this year it's panning out."
Overall sales for the year will likely be down from 2019, however. Between March 18 and June 18 the store was taking phone orders only.
"The first day that we opened, that was a little unnerving," she said. "But after the first day then you're just back on track."
Over at Santa's Land, the normal mid-May opening was delayed until the end of June. Since then, all rides have been open with visitors required to wear masks and maintain a 6-foot distance from others. Staff disinfect surfaces between each rider.
"Our summer months were about the same as far as visitation," said Operations Manager Linda Lyons. "We have seen somewhat of an increase in September and October visitation."
Kent Cranford, owner of Motion Makers Bicycle Shop, said that his store's Cherokee outpost has been doing "phenomenally well" and added that it's helped a lot that the store is co-located with outfitter Fire Mountain Outpost.
While things are looking up for many Cherokee businesses, restaurants are still struggling. The Chefs Stage Buffet at Harrah's is closed for the time being, as are the Pizza Inn and the Newfound Lodge Buffet.
Granny's Kitchen, a 36-year-old family business with an eternally popular buffet, remains open but has had a difficult year.
"This year it has been more about keeping all of our employees employed and working, and paying the bills — so not making money," said Dining Room Manager Lora Branning.
The restaurant closed when the pandemic hit, and when it reopened in May it was filling to-go orders only. The dining room opened at the end of June, but it's only allowed to operate at 50 percent capacity, a definite handicap for the typically bustling restaurant. In addition, staff must now be available to serve food from the previously self-serve buffet line. Granny's Kitchen is taking many other precautions to prevent transmission of the virus, and so far none of its staff have tested positive.
"We're doing all we can," said Branning.