Archived News
Wallace, Young seek open seat on Macon commission
Wednesday, October 21, 2020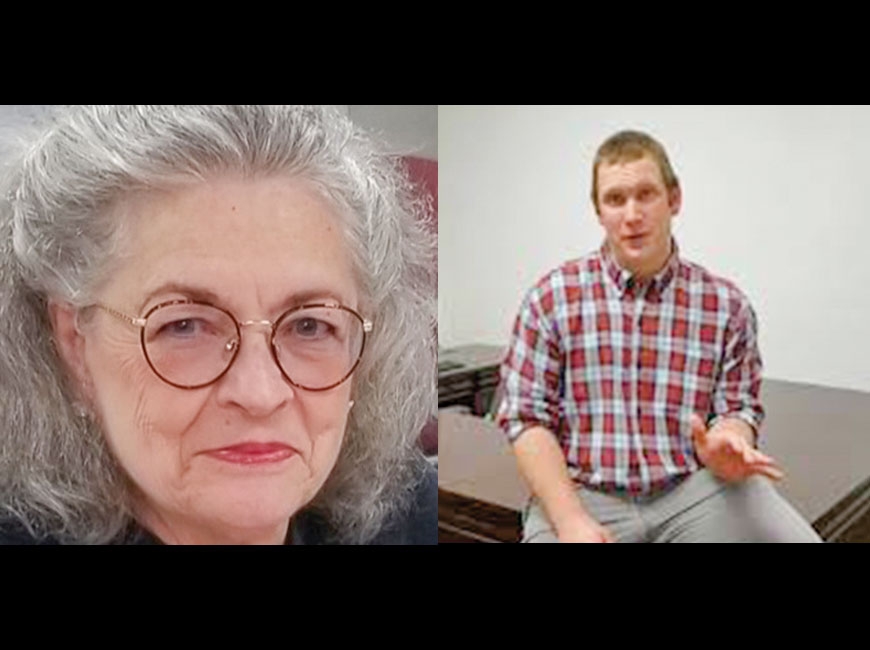 Betty Cloer Wallace (left) and Josh Young.
After being the top vote-getters during the primary election, Democrat Betty Cloer Wallace and Republican Josh Young are seeking the open District 2 Macon County Commissioner seat this November.
Voters have two very different candidates to choose from though both have expressed their passion for their hometown and a strong desire to make life better for their fellow Maconians. Both candidates are from Macon County and have been active members in the community in various capacities. However, Wallace has decades of experience in the political realm while Young is taking his first shot at public office. Despite her experience and credentials, Wallace wasn't able to secure a seat on the commission when she ran in 2018.
"My half-century of experience and credentials in public service administration has been a lifetime of preparation for serving as a Macon County Commissioner. I want to work toward practical and sustainable change, to upend the status quo voting bloc and authoritarianism that has controlled our board of commissioners for many years, to give a greater voice to our citizens in our local government, and to help create a more moderate and balanced governmental representation of residents as per gender, community, and financial wherewithal," Wallace said. "We must change our current social and economic trajectory if we want to slow down the exodus of our young families, take care of our elderly and disabled citizens, and move forward as a viable and economically competitive county."
Young, who did not respond to The Smoky Mountain News' candidate questionnaire, has touted himself as a "normal guy" just wanting to make his community a better place to live so his five children can grow up and raise families in Macon instead of having to leave for better opportunities.
"I'm just a normal person out in the community. I love Macon County and that's why I'm here," he told voters during a candidate event back in February.
When asked what her top priorities are if elected, Wallace said she wants to work on economic development — she wants Macon County to offer more diverse jobs that pay a living wage with benefits and the opportunity for career building and retirement. She wants the county to continue working to expand high-speed broadband internet access through joint ventures by local government and private providers. Lastly, Wallace wants to improve health care access for residents by recruiting independent specialty medical services and urgent care clinics to supplement the services offered at Angel Medical Center — now owned by HCA Healthcare.
"Our planning boards and Economic Development Commission should be revitalized to include recruitment of health care professionals and specialty medical services as well as business and industry," she said.
As someone who spent eight years as a utility lineman before starting his own business, Young has posted a number of short Facebook videos explaining several real-life examples of how county operations could be improved whether it's commissioners advocating for a better DOT improvement plan for roads or changes to tipping fees and solid waste management practices.
"Previous commissioners have done a heck of a job with the budget, they've done an awesome job with the numbers, but I'm overly concerned with the amount of vacant building and empty shopping centers. You drive around and I worry about the appearance along (U.S.) 441. I know some are privately owned but still I wanna put a little pressure on somebody to help put businesses in these buildings," he said in February. "I believe in transparency. I believe in small government. With less regulation, I believe people can get out there and spread their wings and go to work in the community."
Wallace doesn't think the commissioners have done enough to address the most pressing issues in the county, including broadband, economic development and infrastructure.
"By every significant measure, they have perpetuated the status quo in piecemeal fashion. I wish they had worked harder for broadband internet access countywide, conducted a comprehensive facilities needs study that included the public schools and a civic center, and worked toward analyzing our overlapping county and municipal services from a financial perspective as well as for operational efficiency and reduction of confusion by the public in regard to taxation, law enforcement, water and sewerage management, zoning, licensure, permitting, and extra-territorial jurisdiction," she said.
Wallace would also like to see more attention given to developing areas outside of the Downtown Franklin corridor. She said a long-range plan for development is needed for the bypass and other major arteries leading into Franklin — namely the Sylva Road and Georgia Road, and to a lesser extent the Highlands and Bryson City Roads.
"Unfortunately, our tendency is toward tourism and consumerism rather than production, and it is not sustainable," she said.
Wallace said she would also like to see more transparency and cooperation among the county and town advisory boards, including planning boards, the Economic Development Commission and the Tourism Development Council and the Tourism Development Authority.
"Better public information and communication regarding the Economic Development Commission, TDA and TDC tourism groups, Chamber of Commerce, and town and county planning boards would be helpful," she said. "We have a scatter-gun approach among our Economic Development Commission, town and county planning boards, tourism groups, and Chamber of Commerce, so much so that our taxpayers cannot decipher the overlapping factors."
Like Young, Wallace also wants to see empty storefronts and buildings occupied by a wide-range of industries to give residents living-wage opportunities. She said the county's current demographics aren't appealing for companies looking to expand or relocate here. With a poverty rate of 30 percent, a median household income of $39,000, a growing homeless population, a lack of affordable housing and a lack of broadband internet access, prospective businesses and industries have a lot to consider aside from our potential workforce.
"Industry scouts considering our current data are not impressed with our 'welfare queen' numbers, our crime statistics, and our 'dollar store' economy," she said. "Since Macon County has fallen into a downward economic spiral as a number of large industries have closed and as a succession of storefronts are boarded up, we should develop industrial recruitment presentations and packages, and aggressively contact a large number and range of businesses and micro-industries through industrial associations and commercial realtors to entice divisions and headquarters to locate here, as well as encouraging start-up enterprises among our local population."
Whichever candidate receives the most votes will fill the District 2 commissioner seat, which is being vacated by Republican Karl Gillespie. Gillespie chose not to run for a second term as commissioner so he could run to fill the District 120 House seat in Raleigh.
Macon County Commissioner Paul Higdon is also up for re-election this year, but after beating out his Democratic challenger in the primary election back in March, the Republican incumbent is unopposed in the general election.
Meet the candidates
Betty Cloer Wallace
• Age: 76
• Hometown: 6th generation Maconian
• Education: Ed.D. in Administration from University of Georgia; Ed.S. in Administration from Western Carolina University; M.A. in Education from University of North Carolina; B.S. in English and Art from California State University; Franklin High School.
• Professional background: Deputy Assistant State Superintendent, North Carolina Department of Public Instruction; Superintendent, Vance County Schools; Associate Superintendent, Macon County Schools; Director, Western Regional Education Center; U.S. Department of Education Fellow, Washington, D.C.; Associate Superintendent, Northwest Arctic Borough School District; Public Information and Telecommunications Coordinator, Alaska State Legislature, Barrow, Alaska; Adjunct Professor, Western Carolina University and Southwestern Community College.
• Political experience: Elected two terms State Secretary of North Carolina Democratic Party and served on State Executive Committee and State Executive Council
Josh Young
• Age: N/A
• Hometown: 5th generation Maconian
• Education: N/A
• Professional background: Owner of Young Tree Service
• Political experience: First time running for office