Archived Arts & Entertainment
This must be the place: Winter's cold, spring erases, and the calm away by the storm is chasing
Wednesday, October 14, 2020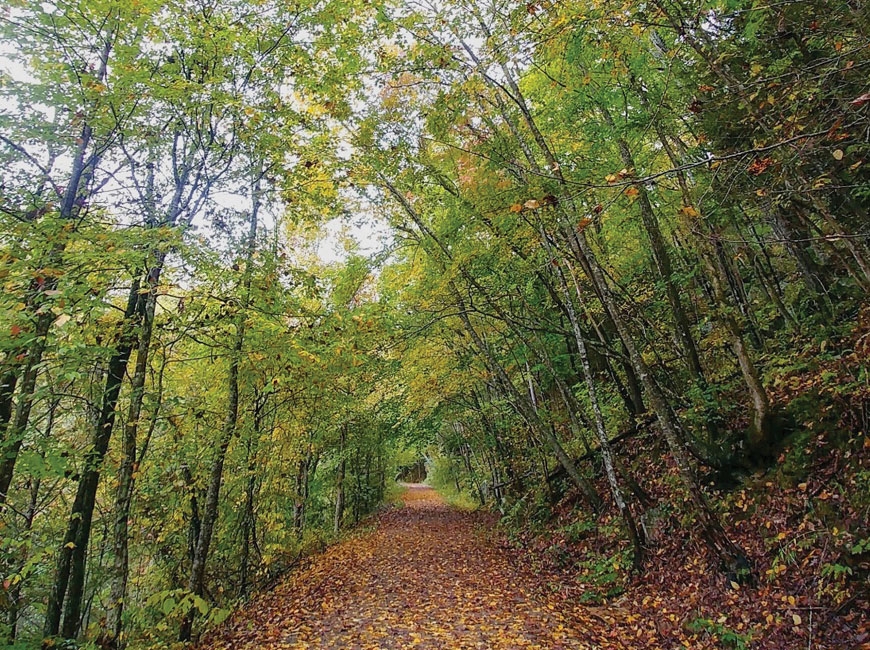 Pineville, Kentucky. (photo: Garret K. Woodward)
Awakening in the hotel room in downtown Pineville, Kentucky, it took me a moment to realize where I was this past Sunday morning. I found myself up in the small mountain town on Saturday night for a music showcase at the nearby Laurel Cove Amphitheater of emerging acts from just down the road in Lexington.
Lacing up my boots covered in some of that Kentucky mud from the downpour at the amphitheater the previous evening, I bounced down the creaky old inn stairs and out onto the town square, which was silent due to it being mid-morning with most folks still in church.
Cranking over the engine of the rusty, musty truck, it was back onto U.S. 25E towards the Cumberland Gap Tunnel and over the state line into Tennessee. But, instead of making my way southeast and back to my humble abode in Western North Carolina, it was a quick turn of the wheel down Route 33 to Knoxville.
It was now just past noon on Sunday. And there's only one thing to really do at a time like that: watch football and drink beers with your best friend. Although Andy had been informed that I would be in his vicinity that day, his phone was off and went straight to voicemail.
He was probably sleeping in after a long work day. No matter, we'd already made plans to meet at Schulz Brau Brewing in downtown Knoxville for the 1 p.m. NFL kickoff, not to mention the endless German brats and liter glasses of craft ales.
Cruising down Route 33, I took my time meandering towards Knoxville. The foliage was bursting with color, the leaves trickling down onto the cold, wet pavement. I kept gazing out the window onto empty farm fields and by old barns, ancient tree lines and manmade bodies of water, all serene and picturesque amid the rural countryside of East Tennessee.
In that space, my mind started to drift, as it does like clockwork when pushing down the gas pedal and soaking in whatever mesmerizing landscape rolls past my windshield. It was crazy to think that afternoon might be the last time I see Andy, my best friend of all cosmic time and space, before he becomes a father.
For the last couple years, he and his wife, Ashley, have been trying to have a child of their own. It's been a very rough road, and tough for me to watch my friends go through such hardship from over the ridge in Carolina.
But, here they are, within days of her due date, Andy circling around Knoxville, trying to remain as close to home as possible for when the moment happens that they need to rush to the hospital to welcome the new bundle of joy.
Andy and I met back in 2013 at the now-defunct Tipping Point Brewing in downtown Waynesville. It was trivia night, but I was glued to the TV watching hockey. I was sporting a Montreal Canadiens shirt and he had on a Pittsburgh Penguins hat. Apparently, we were the only hockey nuts in Haywood County and immediately became friends.
For the next year or two, we'd watch hockey and football on his giant TV and grill out at his place in Hazelwood. It was a semi-daily ritual of sorts, these two dudes, both from above the Mason-Dixon Line, trying to find footing in Western North Carolina. I'd lived in Waynesville for about a year and it was nice to finally have a real deal friend, especially being so far from home and all things familiar.
Eventually, Ashley and Andy crossed paths at a Halloween party in Knoxville. Love at first sight. I might have never believed it before, but they remain living proof of that magical interaction that forever changes the trajectory of your life. He soon moved to Knoxville and they began their lives together.
A few years later, I was asked to be the officiant for their spring 2017 wedding, something that remains one of the great honors of my life. And now, the next bountiful chapter of their lives is just hours or days away.
Throughout the pandemic and shutdown, it was, and remains, difficult not seeing them pretty much at all, especially since I live by myself and am used to that kind of social interaction on a regular basis.
Thus, it meant a lot to meet up with Andy at Schulz Brau for some brats and beers, conversation about nothing and everything and whatever lies in-between. In a world of madness and confusion, nothing grounds you more than a chat with your ole buddy over some cold suds.
Sitting in the courtyard of the brewery, it was sporadic glances at the big-screen to see the updated football scores and jovial banter. He showed me photos of the newly painted forest scene on the walls of the nursery and how far long Ashley was. It was wild to see the images of what will become their new reality.
But, mostly, it was just surreal to think of time and how quickly it passes. It felt like yesterday when we first crossed paths and became friends back in Waynesville. Skip ahead some seven years and he's going to be a dad, and a damn good one, too. All of those memories squeezed within those two anchor points: game-day tailgating, Fourth of July celebrations, holiday dinners, hiking, fishing, road trips, etc.
And, in that moment, all I could do was shake my head in awe, to be sincerely grateful to partake in those endless memories that are held closely, more so as the years (and the planet) seem to move faster and faster. One always needs be reminded of what's really important in the grand scheme of things: friendship. Oh, and German beer and brats for good measure, too.
Life is beautiful, grasp for it, y'all.