Archived News
WNC tourism numbers show quick recovery
Wednesday, October 14, 2020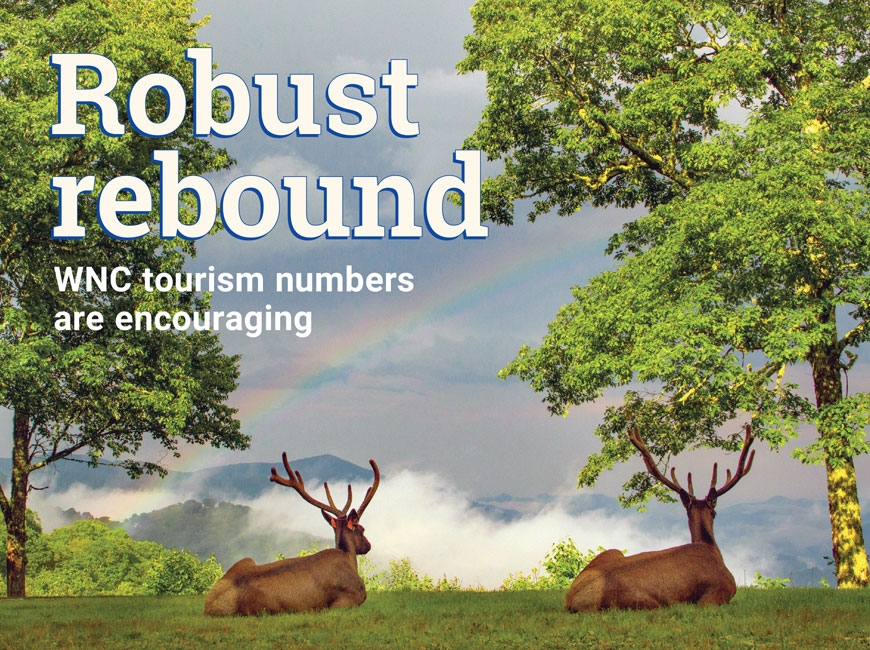 Susan Macon/Macon Green Photo
When North Carolina Gov. Roy Cooper gave the order to close bars and restaurants back on March 17, that was only the beginning of a series of blows the Coronavirus Pandemic would inflict upon the state's leisure and hospitality industry.
Soon after, hotels and major attractions also closed; coupled with travel restrictions to and from other countries, states and counties, all of a sudden there was nowhere to go, and nothing to do.
But it was about much more than skipping the annual family vacation, or missing out on a weekend trip to see your favorite band in a new city — leisure and hospitality is one of North Carolina's biggest economic engines, especially in the mountainous west.
During calendar year 2019, visitors pumped more than $26.7 billon into the state's economy, up more than 5 percent from 2018, according to the N.C. Department of Commerce.
That spending, in turn, drives employment. Department of Commerce stats say that more than 520,000 North Carolinians were employed in the leisure and hospitality sector of the economy in 2019. In our western counties of Haywood, Jackson, Macon and Swain, there were almost 13,000 employed in that sector.
SEE ALSO:
As 2020's shutdowns progressed through early spring, local businesses, state legislators and municipal governments took their best guess as to how badly tourism would be affected, especially since sales tax collections and per-night room occupancy taxes are closely tied to spending by tourists.
Data collected by various state agencies with regard to room occupancy taxes and sales tax collections are robust, apples-to-apples sets collected over many years, providing a reliable barometer of economic activity within seasonal and historic contexts.
There's typically a two- or three-month lag in reporting of the data to allow time for collection, processing and publication, so numbers through June or July — when Gov. Cooper's "dimmer switch" approach to reopening provided some businesses a little light at the end of the tunnel – are just now becoming available.
Those numbers detail not only the extent of the damage to the leisure and hospitality sector, but also the rebound that's ensued. Room occupancy data reported by county tourism development authorities show generally good news, suggesting that the pandemic wasn't as bad as it could have been, businesswise.
Sales tax data show pretty much the same thing, with collections in Haywood, Jackson, Macon and Swain counties for March through July of 2020 actually topping numbers for those same months during pre-pandemic 2019.
That's not to say that the economic effects of the Coronavirus Pandemic are over. Many lives have been destroyed, and many businesses will never reopen; next week, The Smoky Mountain News will explore the economic devastation visited on some local businesses as a result of prolonged shutdowns, but for now, here's a county-by-county explanation of how one of Western North Carolina's most important industries has fared thus far.
Sales tax collections up compared to last year
In North Carolina, sales tax is charged on a variety of items – everything from food to hotel rooms – and collected by the seller, who then remits the funds to the state. Detailed data on collections are compiled by the North Carolina Department of Revenue and tracked by the county where the tax was collected, providing a good indicator of local spending on common items. Tourists also pay these taxes when they visit, so their presence or absence is noted in cold, hard numbers. The most recent data provided by the NCDOR, though July, shows how the mountain counties of Haywood, Jackson, Macon and Swain weathered pandemic shutdowns through the months of March, April, May, June and July of this year. The sales tax rate in these counties is and has been 7 percent, except for Macon County, where it's 6.75 percent. Here are the relevant takeaways, based on a comparison to the same five months in 2019:
• March was unaffected by the pandemic, for the most part, even though shutdowns began occurring halfway through the month.
• The downward slide in sales tax collections began in April, except in Jackson County.
• All four counties hit rock-bottom in May.
• The rebound began in June, except in Macon County.
• All four counties were back in the black by July.
• July showed huge increases – double-digit – in all four counties.
• The rebound shows gains above and beyond the losses incurred during the dark days of May, except in Macon County.
• The rebound also shows Haywood, Jackson and Swain counties to be ahead of where they were in 2019. Macon County was off by 4.8 percent, year-over-year.