Archived News
Haywood tourism emerges from pandemic nearly unscathed
Wednesday, October 14, 2020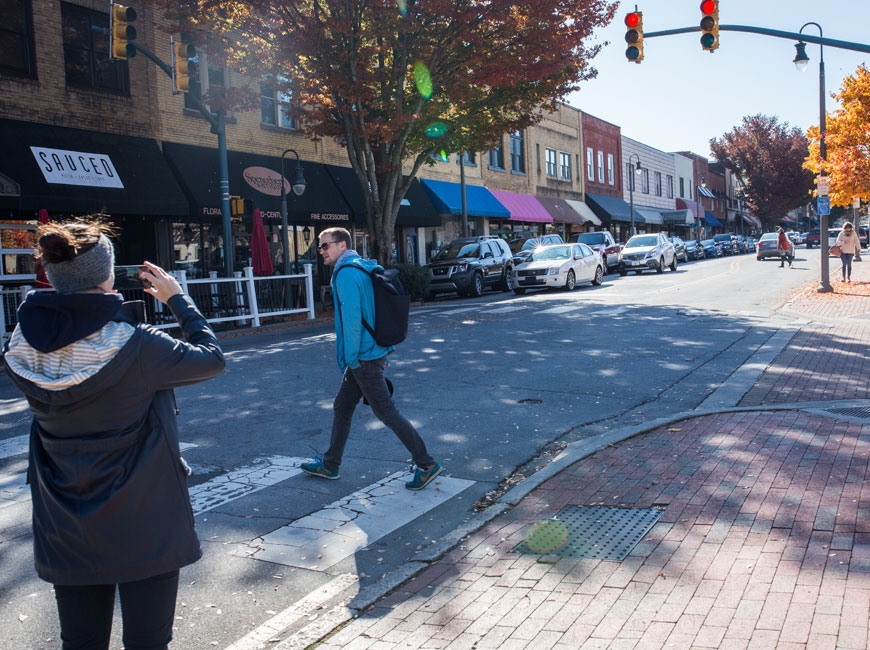 During the summer and fall of 2019, room occupancy tax data collected by Haywood County's Tourism Development Authority suggested that the county was on track for another strong year, perhaps its best ever.
"I think we had some new events that contributed to that," said Lynn Collins, executive director of the Haywood TDA. "Overall, we were having a really good year. Color season went into November, and we had a good January and February for ski season. And then …"
And then, the Coronavirus Pandemic hit.
But as it turns out, not even a global public health crisis could stop the juggernaut that is Haywood County's tourism industry. Year-end data — from July 2019 through June 2020, provided by the Haywood TDA — show that through June, collections were off by just 2 percent from normal yearly estimates made long before the pandemic emerged.
"The whole of Western North Carolina experienced that," Collins said. "I think because of the type of destination that Western North Carolina is, people felt comfortable coming here."
Like many other county-level TDAs, Haywood clamped down on spending and revised its pre-COVID projections downward for March, April, May and June as pandemic-related shutdowns became more common. For example, March had originally been projected to bring in more than $58,000 in room occupancy taxes, but that estimate was subsequently lowered to $21,000.
Receipts for the month indicated collections of $27,000 — far below that $58,000 pre-COVID estimate, but well above worst-case pandemic projections.
April was even more severe, with pre-COVID projections of around $68,000 revised down to just $3,500. That month outperformed COVID projections slightly, with $5,500 in collections.
May's pre-COVID projection of $104,000 was revised down to $16,000, but almost $59,000 was collected for the month.
June not only outperformed diminished projections of $36,000, but almost outperformed the original pre-COVID projection of $143,000, with $136,000 in collections.
Those numbers, coupled with stronger than usual collections last summer and fall, mean that at the end of the fiscal year on June 30, yearly collections fell short of pre-COVID estimates by just $27,000 out of more than $1.1 million.
Within the five Haywood County zip codes that are tracked for room occupancy the results were mixed, but only Lake Junaluska had a severe downturn, collecting $35,000 for the year against pre-COVID projections of $46,000.
Canton actually beat pre-COVID projections of $27,000 by collecting $30,000 for the year.
The two biggest zip codes, Maggie Valley and Waynesville, were both close to pre-COVID collection estimates as well; Maggie reported $180,907 in collections against $181,828 in pre-COVID projections, and Waynesville showed $118,612 in collections versus $119,763 in pre-COVID projections.
But as has been the story for the past few years now, it was once again Clyde's zip code that posted the most impressive numbers, surpassing pre-COVID projections of $10,908 by collecting $15,588.
Part of that success has to do with geography. Centrally located, the town of Clyde is small and has few lodging accommodations per se, but its surrounding area has seen strong growth in the development of unique, niche dwellings on sprawling parcels — as opposed to the multi-unit mom-and-pop or chain hotels in Maggie Valley and Waynesville.
"Far and away, 'vacation rentals' had the lead," Collins said, referring to the category into which many of Clyde's accommodations fall. "For instance, in May it was 70 percent. In May of last year, it was like 29 percent."
Collins said that the new fiscal year — which began on July 1 — is already off to a record-breaking start; projections still take into account the potential for coronavirus-related downturns through June of 2021, but the $173,533 collected in July was well above the COVID-influenced $91,000 projection, and well above July's 2019 collections of $155,000.
"I went back and checked the historical chart that I have, and it's the biggest collection ever," Collins said.
That's right — as the Coronavirus Pandemic continued to affect jobs, wages, travel, meetings, conventions, weddings, bars, restaurants and concerts across the world, the nation, the state and the county, Haywood logged its best tourism month in history, helping to ease the economic sting while laying a strong foundation for future visits by people who didn't come to Haywood County for any of those reasons.
"The most interesting thing to me is we got people here who are not the traditional market that we see. These people were new and had not been here before," Collins said. "We know for a fact that people came here to work remotely, because we got a lot of phone calls about that. We got people who came here to let their kids do virtual school, because we got calls about that."