Archived Reading Room
Digging into history: a visit to Jamestown
Wednesday, October 07, 2020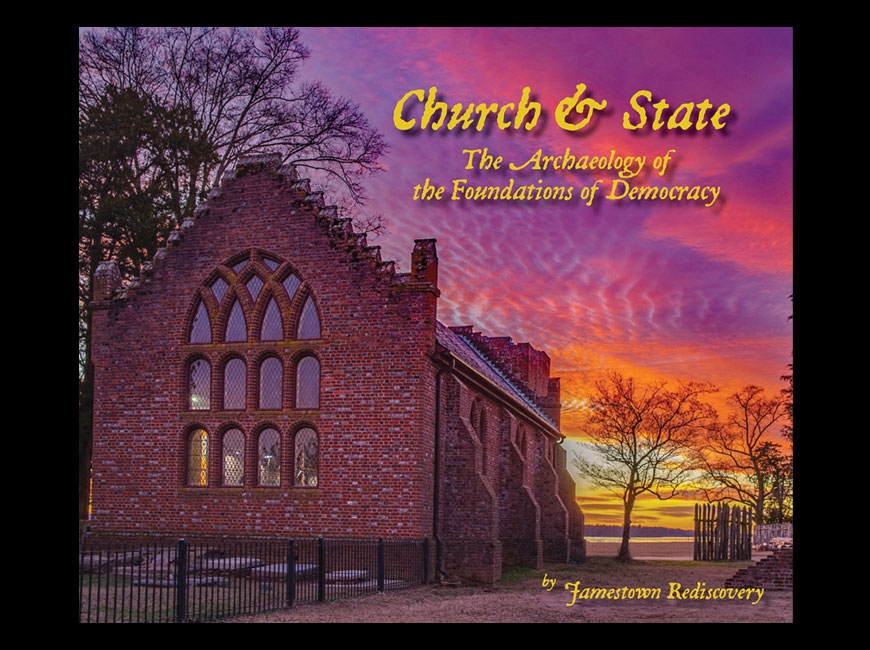 Right after Labor Day, my friend John and I traveled to Virginia's Historic Triangle: Jamestown, Williamsburg, and Yorktown. A paper for which I write had commissioned me to do some pieces on each place, and though I had visited there earlier in my life, that was long ago.
Those three days I spent living in the seventeenth and eighteenth centuries left me buoyant and in love again with America. The two museums I visited in Jamestown, the time I spent shambling around Williamsburg, and the guided tour I took of Yorktown: all reminded me, as did the docents, of the complicated history of our country, of the many individuals — black and white, Native Americans, and other peoples, men and women — who have over the centuries built our country. The living also inspired me — the guides, the sweet clerk at the Griffin Hotel, the waitresses and waiters in various restaurants like Ken's Deli, the Cheese Shop and Culture Café in Williamsburg, and the Mobjack Bay Coffee Roasters and Petite Café in Yorktown, and the other tourists I met. All were cheerful, upbeat, and in several cases, went above and beyond in being helpful and friendly.
At Jamestown, I was fortunate enough to interview Dave Givens, Head Archaeologist of that historic site. For well over an hour, he spoke with John and me, and then led us in the rain to the ruins of the church, pointing out sites along the way where digging into the past would soon resume. Here was a man passionate about his work and whose team, Jamestown Rediscovery, has added much to the vast collection of objects and human remains taken from this soil.
Which brings me to my weekly review.
Jamestown Rediscovery has recently issued Church & State: The Archaeology of the Foundations of Democracy (Jamestown Rediscovery Foundation and Preservation Virginia, 2020, 102 pages, $19.95). In this beautiful collection of reader-friendly prose and vivid photographs, Dave Givens and his associates reveal the meticulous work and the use of technology that go into the ongoing recovery of items from our past. Here we meet not only archaeologists, but also scientists, physicians, forensics experts, geneticists, and genealogists who from buttons, breastplates, shards of pottery, the foundations of buildings, and human remains bring the past more vividly alive than ever before.
From the skeleton of a male colonist examined in Church & State, for example, the team deduced the following: "knees and feet together and hands over the pelvis suggest this individual was shrouded; this individual has robust arms and legs; coffin staining and nail patterns indicate that the coffin was hexagonal-shaped and had a gabled lid; tooth analysis suggests this individual repeatedly held needles and an awl in his mouth. Could he have been a tailor by trade?"
The Rediscovery Team, including other forensic anthropologists and photographers, knows that "every skeleton has a unique bone biography. Critical information gained in the field can provide information about age, sex, ancestry, stature, level of physical activity, and sometimes injuries sustained in life. This forensic evidence, coupled with historical records, can often answer questions about the characteristics of an individual or even their identity."
In addition to such fascinating details, Church & State reminds us that here in Jamestown in 1617-1618 burgesses from the colony met in the choir of the church of the time. In that year and in that place "the foundations of our nation's democratic experiment were laid, including the right of individuals to enjoy and securely possess private property; the rule of law, enshrining the fundamental principle of our government, and all democratic governments, that no one is above the law; and finally, the establishment of representative government based on the maxim that governments of free people rely on the consent of the governed."
Church & State is a powerful reminder of our past, of the intertwined races and cultures in the American story, and a reminder, too, that we Americans are one people. As Dave Givens told me, "This place is our home, regardless of what race you are."
The same could be said for all of America. Whatever we think of our country — whether we cherish its ancient values and virtues, or whether we wish to make repairs — we should at least love and care for our home.
•••
Cold weather is coming on, and just as some of us relish hearty meals — stews and casseroles — after the salads and sandwiches of spring and summer, so too do some readers enjoy fat books to while away the dark evenings when Jack Frost rakes his icy fingers across the fields and forests of these mountains.
To compliment the colonial and Revolutionary War theme of this review, let me point book lovers to New England and the novels of Kenneth Roberts, many of which I read 30 years ago.
Though Roberts may be little remembered by many today, in the middle of the twentieth century his historical novels about the early history of our country were best sellers. Arundel, Northwest Passage, Lydia Bailey, Oliver Wiswell, Rabble in Arms, and more: all focused on the men and women of the eighteenth century.
What makes these novels particularly impressive is Roberts' ability to dig up, as do the archaeologists of Jamestown, the history of early America. He heavily researched the material found in all of these novels, and matched that material to entertaining characters, both fictional and real.
If you have high school students who enjoy reading and want to learn some history, I highly recommend these books.
(Jeff Minick reviews books and has written four of his own: two novels, Amanda Bell and Dust On Their Wings, and two works of nonfiction, Learning As I Go and Movies Make the Man. This email address is being protected from spambots. You need JavaScript enabled to view it..)