Archived Arts & Entertainment
This must be the place: You've got to get up to get down
Wednesday, October 07, 2020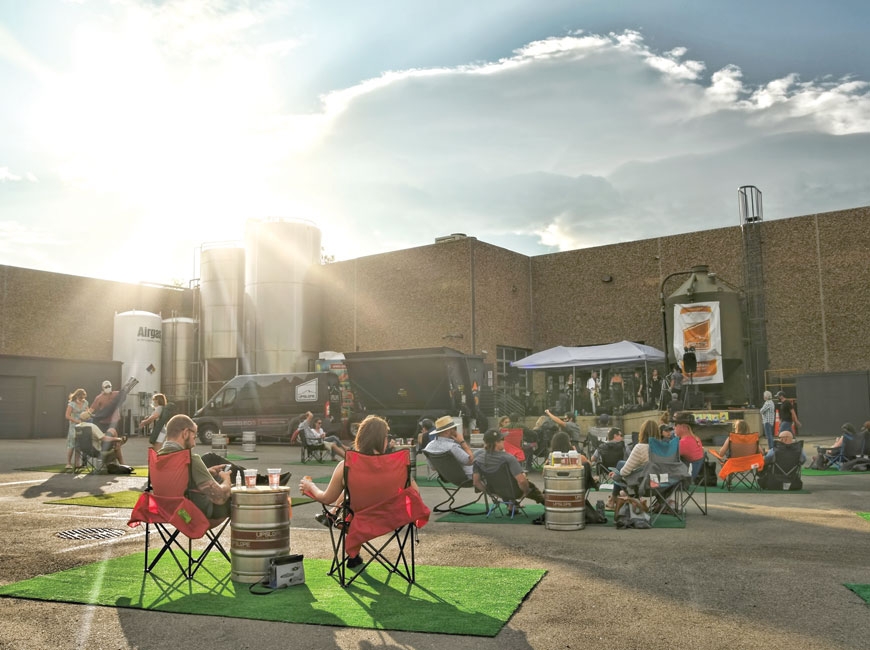 Upslope Brewing in Boulder, Colorado. (photos: Andrew Wyatt)
Approaching the backside parking lot of Upslope Brewing Company in Boulder, Colorado one recent evening, I was immediately greeted by the new normal when it comes to live music.
With 25 marked off spaces set up in the vacant lot facing the loading dock, we were told what the house rules and state mandates were for social distancing in a public setting. Six feet apart. Masks on. Only mingle with those you arrived with. Wash your hands if using the port-o-potty.
One by one we were walked by a staff member to our pre-assigned space, sat down and applied the free hand sanitizer sitting on top of the makeshift keg table at each spot. To order a craft beer, scan the QR code on the keg table, choose your beverage and await your fulfillment.
For many in attendance, this was their first live music experience since March, before "all of this" and the daily existence of unknowns and limitations of what one can and cannot do in society, all in the name of consideration and public health.
Going through their sound check, The Pamlico Sound erupted from the loading dock stage. An endless array of joyous faces, howling instruments and colorful vibrations, the ensemble dusted off six months' worth of seeing live music on a TV or computer screen. This was happening, and in real time. And dammit, that sensation and unfolding scene before our eyes was surely missed.
"I've been trying to spread positivity anyway I can," said Will Baumgartner (aka: "The Reverend EverReady"), front man for The Pamlico Sound, at the set break. "People right now? It's a combination of they're struggling and they're kind of learning things about themselves, these ways of adapting to unexpected situations and so on."
Their first performance since March, the band rolled through a mixture of classic covers and original numbers. It was a whirlwind blend of funk, soul and psychedelic rock, which remains at the core of influences for Baumgartner.
A native of Nags Head, North Carolina, Baumgartner grew up soaking in the sights and sounds that echoed from the nearby late-night bars and nightclubs. A resident of Colorado for the last 22 years, he continues to bring a true sense of southern hospitality to the western frontier.
Will Baumgartner.
"Our music is meant to create movement and connectivity," Baumgartner said. "People will usually dance a lot at our shows, but nobody really knows what to do in this current live music environment. I know they're having a good time because they're smiling, and maybe in the second set they'll dance in their space once they've had enough Upslope beer."
Not long into the second set, the primal urges that resides within each of us took over. Foots tapped wildly as bodies soon emerged from camping chairs and began to gyrate. It was a familiar feeling to move to a beat, this motion once cherished and radiated often, now a foggy memory of the "before times." In an odd way, it felt like we were getting away with something moving about in our space.
Throughout the night, Baumgartner & Co. radiated this sense of pure fun and rollicking freedom from behind the microphone. Powerhouse vocals pushing into the heavens. A horn section that tugged at our hopeful hearts and curious souls. They intrigued our deepest emotions of human connection and rhythm: the fundamental foundation of funk, soul and rock music.
"Where we stand right now is sort of unprecedented for most people," Baumgartner said. "But, at the same time, you sort of look within yourself for a universal thing that can carry us through the loneliness and disconnect we're all currently experiencing."
Ending the night with the iconic 1974 single "Tell Me Something Good" by Rufus & Chaka Khan (and written by Stevie Wonder), The Pamlico Sound succeeded in their mission to remind folks that we are — indeed — all in this together, and we'll get through this, so long as we never forget that simple, yet complex, notion.
"During 'all this,' I've seen people become more tender and considerate to each other, where they acknowledge each other as human beings who are hurting and are healing," Baumgartner said. "And I think people are thinking more in that way, and in turn are attracting more people to them. I just hope that it helps push us into a better space."
Following the show, attendees carefully exited the parking lot and cranked up the engines aimed for destinations unknown. Marked off spaces were cleaned up and sanitized. The warm sunshine of the early evening had now transitioned to darkness, a crisp breeze signaling the end of summer and the ushering in of fall.
Packing up their gear, The Pamlico Sound felt rejuvenated in their creative purpose and personal passion: the sacred act of live performance.
"There is a way through 'all of this,' which is being part of something bigger, but also being aware of your individual self, and how it all fits into the universe around us," Baumgartner said. "When I was onstage tonight, I know that my primary role in life hasn't been crushed — it's just thriving in a different way."
Life is beautiful, grasp for it, y'all.