Archived News
Gov. Cooper brings NC into Phase 3
Wednesday, September 30, 2020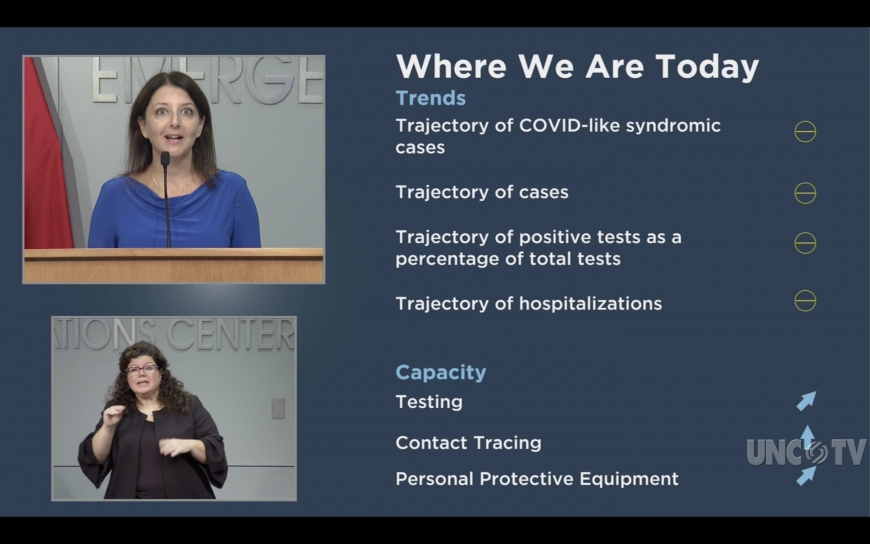 Continuing what he called the state's "dimmer switch" approach to reopening, Gov. Roy Cooper announced today that North Carolina will move into Phase 3 beginning on Monday, Oct. 5 at 5 p.m.
Several trends monitored by state health officials, including case trajectories, positive test rate and hospitalizations have remained steady while contract tracing efforts have increased, according to Dr. Mandy Cohen, secretary of the North Carolina Department of Health and Human Services.
Cohen said that North Carolina is now "protecting progress" in the fight against the disease, which has claimed more than 200,000 American lives this year.
At-risk populations are still safer at home, Cooper said, and face coverings remain mandatory for those over the age of 5, but Phase 3 means a number of modifications to mass gatherings outdoors.
Large outdoor venues with more than 10,000 seats can now operate at 7 percent capacity, which works out to 700 people. Smaller outdoor venues can operate at the lesser of 30 percent capacity or 100 people. Bars can open outdoors only, at 30 percent of outdoor capacity or 100 guests, whichever is less. Outdoor amusement parks can open at 30 percent occupancy.
"Every gathering carries the risk of spreading this disease," Cooper said, while advising people to take precautions against the coronavirus if they do venture forth to enjoy any of the state's outdoor entertainment establishments.
The limits on indoor gatherings – 25 people – will remain.
Cooper's Phase 3 announcement comes after what he called "Safer at home phase 2.5," which began on Friday, Sept. 4, at 5 p.m. Phase 3 will remain effective through Friday, Oct. 23. Further guidance from Cooper and state health officials is expected in the days before.
To read the full text of Gov. Cooper's Executive Order No. 169, which contains in-depth Phase 3 profvisions, visit https://files.nc.gov/governor/documents/files/EO169-Phase-3.pdf
To learn more about the most current state of coronavirus resources in North Carolina, visit https://www.nc.gov/covid19.