Archived Outdoors
Photo prompts concern about conditions at Max Patch
Thursday, September 24, 2020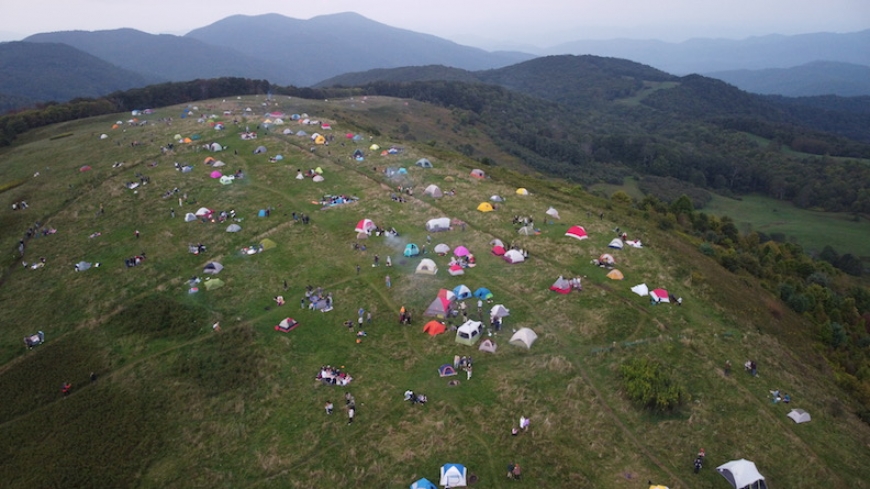 An updated and expanded version of this story is now available here.
A widely circulated drone photo showing Max Patch covered with more than 100 tents — along with pictures of large amounts of trash left by the campers — has gone viral over the past week, leading many to question what should be done to keep the iconic location from being loved to death.
The drone photo was taken by Asheville resident Mike Wurman, who visited the spot on the evening of Saturday, Sept. 19, along with his wife and his friend Sarah Jones Decker, who lives in Madison County.
"It's not just Max Patch. It's Black Balsam, it's Looking Glass Falls," said Jones Decker. "There are a lot of places like these that are being loved to death. I don't know what the answer is, but I know the conversation has been started. This is the tipping point for Max Patch."
Max Patch, located in Haywood County and along the Appalachian Trail, is popular for its 360-degree vistas and easy accessibility, lying just a quarter-mile walk from the road. However, visitation seems to have exploded of late — while the parking lot is only big enough for eight to 10 cars, Jones Decker said she counted 140 cars Sept. 19.
The U.S. Forest Service has been working for the past couple years on a plan to address crowding and overuse at Max Patch, but Max Patch isn't the only location in the Pisgah National Forest experiencing increases in visitation and left-behind litter.
"It is a widespread problem," Cathy Dowd, public affairs officer for the National Forests in North Carolina, "Wilson Creek on the Grandfather (District) is another spot that has a lot of litter and the Highway 276 corridor on the Pisgah. If you look at social media of other national forests, you'll see it's a nationwide issue."
However, Max Patch in particular has substantial attention on social media, which could be contributing to overuse. On Instagram, #maxpatch has more than 37,000 posts, while the also-popular #BlackBalsam has only 12,000. Add in the fact that Max Patch is a reasonably easy half-mile hike from the road and appears on many lists of best places to hike, and its popularity makes sense.
All visitors to public lands are asked to follow Leave No Trace principles, which can be found at lnt.org/why/7-principles.