Archived News
Future of Folkmoot Festival uncertain
Wednesday, September 23, 2020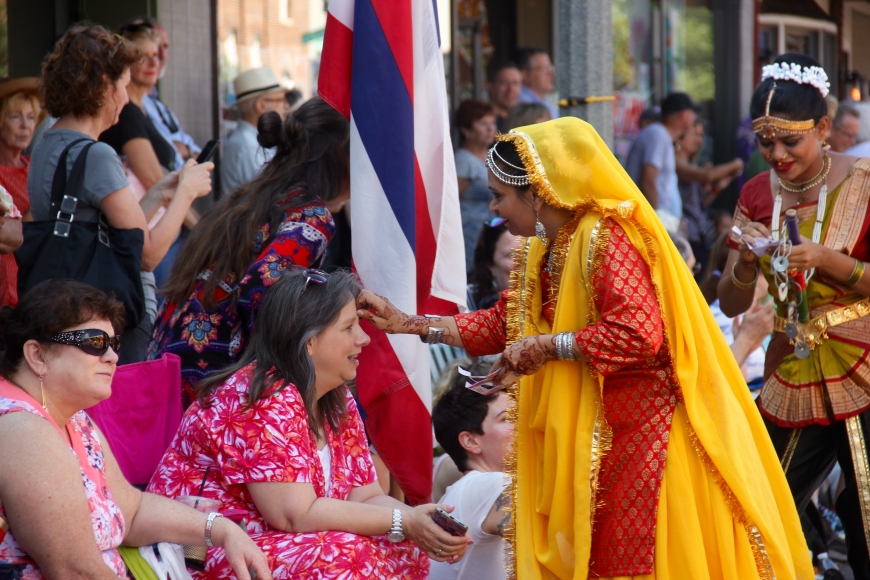 The Folkmoot International Festival has overcome many obstacles in its 36 years of existence, but it couldn't withstand the pressures of a global pandemic.
The nonprofit's board of directors made a tough call back in March to cancel the 2020 summer festival, which would have marked the 37th anniversary of a 10-day folk dance event that has taken place in Western North Carolina since 1983. During that time, more than 8,000 international performers from 125 countries have traveled to the Folkmoot home base in Waynesville to perform at venues from Cherokee to Hickory.
After considering the costs, complications and growing consequences of the public health crisis, the board made the call to cancel on March 25 — just a week after Gov. Roy Cooper issued stay at home orders and other COVID-19 restrictions.
There are a lot of logistics involved in planning and orchestrating a 10-day festival with numerous performances, a variety of venues and artists coming from around the world. Folkmoot Executive Director Angie Schwab said by the time the board had to cancel the festival, plans were already in motion.
"By March, we had all of our groups lined up and we were collecting their rosters, along with promotional information. Most were prepping to purchase their flights. Folkmoot hosts groups of 20 to 30 people, and if you estimate their airfares, that's upwards of $20,000 they had already invested in us. We were wondering at that time whether the festival was still possible, but international travel had already become more complicated," she said.
In April, Folkmoot switched gears and started contacting U.S. ethnic groups, thinking a meaningful early-fall event could still be possible. Schwab said the condensed Folkmoot festival would have been called "All Y'all" Festival and would be a combination of international and U.S.-based performers.
By May, it became clear that any kind of in-person festival wasn't going to be possible. Even with the main event and the back-up event canceled for 2020, Folkmoot is more than the summer festival. The organization has spent the last several years working toward expanding Folkmoot to offer year-round cultural programming and events for the community.
The goal was two-fold — to make the organization more sustainable throughout the year and to utilize the old Hazelwood School facility — now known as the Folkmoot Friendship Center.
"I was tasked with redeveloping the festival, building year-round programming and rehabilitating the building, with a very small staff. It was a huge challenge and our workers gave it their all," Schwab said.
She said staff continued to work on the year-round programming with hopes that events like the second annual Folkmalt Beer Festival and Mootenanny Appalachian heritage event could still happen in the fall.
In July, the Folkmoot board voted to cancel all other programs as well, including the All Y'all Festival scheduled for Aug. 29, the Folkmalt International Beer Festival scheduled for Sept. 26, Mootenanny musical festival scheduled for Oct. 10, and the Songwriters in the Round performances scheduled for September and November.
"Until the end of July those events seemed theoretically possible if we implemented proper Covid protocols. However, when efforts to fight the virus faltered on the state and national levels, it became clear that those events, too, were risky," Schwab said.
After a host of festival cancellations, many of the CIOFF (International Council of Organizations of Folklore Festivals and Folk Arts) partners started planning online festivals. Folkmoot has been streaming some of those events on its Facebook page, but the board of directors chose not to do their own online festival.
"Canceling groups involved emails, Facebook messages and What's App calls. Most organizations have started to focus on 2021 and 2022, but the online collaborations are catching some momentum," Schwab said. "We will try to keep people apprised. Many of the online events have gotten exponential attendance, but that doesn't mean the organizations are generating ticket sales."
Now with six months in the rearview since North Carolina began shutting down, it's clear the board made the right decision as COVID-19 restrictions are still in place. Not only would people not be able to gather for the festival, but international dance groups would not have been able to travel to the U.S.
"Folkmoot's mission is to celebrate diversity and foster cultural understanding through our festivals and programs," Schwab said in a press release at the time. "With the ongoing risk of COVID, we can't reasonably host any gatherings in the near future, and now we must prepare for the ramifications that come with no festival revenue. We are adjusting to this reality and will find other ways to represent our vision as an organization."
But with no festival and no ongoing programming for the remainder of 2020, Schwab wasn't sure what her future with Folkmoot would look like going forward. The board furloughed all Folkmoot employees and offered Schwab a part-time contract for the remainder of the year, but Schwab chose not to accept the contract to stay on as a part-time director. Her last day as director was Aug. 21 and she'll continue to do some contract work as needed.
The Folkmoot board hasn't made any formal decisions on whether there will be a festival next year. The planning process takes so much time that Schwab said at this point, it might be too late to have an international festival next year. However, that doesn't mean a multicultural festival still isn't possible.
If international groups are still unable to travel to the U.S. next year because of COVID-19 restrictions, the board could decide to book ethic groups that are already located in the U.S. It's been done before — a California-based group of dancers representing the Philippines participated in the Folkmoot Festival several years ago. A Scottish Highlands dance group that performed actually traveled from Canada.
"I'm sure Folkmoot will survive COVID," Schwab said. "The world is taking this situation one step at a time, and the Folkmoot board will have to do the same."
There's still the question of whether a scaled-back festival would generate enough ticket sales to make the effort worth all the work. Ticket sales have been declining over the past several years even before the pandemic and grant funding has been harder to come by since Folkmoot is such a well-established festival.
"The festival hasn't generated grant income during my tenure as director, except for specific work with Cherokee cultural partners. However, the festival generates ticket sales, sponsorship and Friends of Folkmoot contributions that support costs," Schwab said. "The new year-round programming and the building are the aspects of Folkmoot that have grant potential."
Over the last six months, Schwab said the staff worked on several grants that could support Folkmoot's COVID resiliency and upgrades to the building that would help to sustain the organization financially. Because Folkmoot had been building year-round programming for several years, the staff was in a rolling process of development and design and in a good position to pivot to online programming.
"At the time staff was furloughed, we had five grants in process that were due at the beginning of August," Schwab said. "We started year-round programs in 2015. The income from those programs and events helped pay for staffing and without the programs, we were in a financial bind. The year-round programs were helping to give new dimension to Folkmoot. We were developing a new identity and bringing new audiences to the organization. I thought we had made incredible progress in that regard."
Another challenge for Folkmoot has been trying to adjust to the changing landscape over the last decade. Before the internet age, being able to witness live international dance performances in rural Appalachia would have been a rare and treasured spectacle.
With the impact of globalization, 24-hour global news networks and the internet, a majority of Americans now have access to other cultures at their fingertips. Yet, Schwab said, something is lost in translation online. Watching a video on YouTube will never compare to the intimate interactions that Folkmoot brought to our region.
Not only do these groups bring their culture to Appalachia, but hopefully the hospitality afforded them during their visit gives them a piece of our culture to take home with them. Just as Americans have negative stereotypes of other countries, those countries have limited and sometimes negative stereotypes of us as well.
As the political climate has changed in the last few years, it's been a challenge to get international groups here. In July 2016, Folkmoot announced that two of the groups scheduled to appear — from Ghana and Romania — would not make it because the the United States Embassy said the Nkrabea Dance Ensemble was not eligible for a nonimmigrant visa to enter the U.S. because they hadn't "demonstrated that [they] have the ties that will compel [them] to return to [their] home country" after their scheduled appearances in North Carolina.
Knowing these kinds of issues would continue to happen, Folkmoot began overbooking groups assuming that a few may have to cancel at the last minute. Schwab said three groups had to cancel their trip to the festival last year because their visas weren't approved.
According to an economic impact study conducted by Tom Tveidt of SYNEVA Economics, Folkmoot USA had a $9.2 million impact on Western North Carolina in 2013. The study included the region but focused on Haywood County, showing that Folkmoot's overnight visitors spent $6.6 million during their visit. Outside day-trippers spent an additional $89,000 in Haywood County. The economic activity generated from Folkmoot supports 100 jobs in Haywood as well as $1 million in additional tax revenues.
While Folkmoot has had a major impact on summer tourism dollars flowing into the region, funding the festival each year has always been difficult. Relying on donations, grant funding and ticket sales is volatile, but somehow the organization has managed to pull it off.
Folkmoot has meant so much to so many different people — locally and internationally. Friendships, relationships and even marriages have formed out of Facebook. Schwab said she will take so many great memories with her.
"The rewards were the relationships, both local and international; a sense of accomplishment and of course a paycheck to do work that we loved. I will always remember the walk down Main Street in the parade of nations, feeling proud of our team and feeling appreciated by the community," she said. "I'll also remember the Candlelight Closings. There were lots of tears from everyone on those nights. Such a huge effort to make the international festivals happen and the sense of love, community and collaboration is palpable at the Closing. I'll miss that a lot, because I've never felt community like that before."