Archived Opinion
The power of music amidst the chaos
Wednesday, September 23, 2020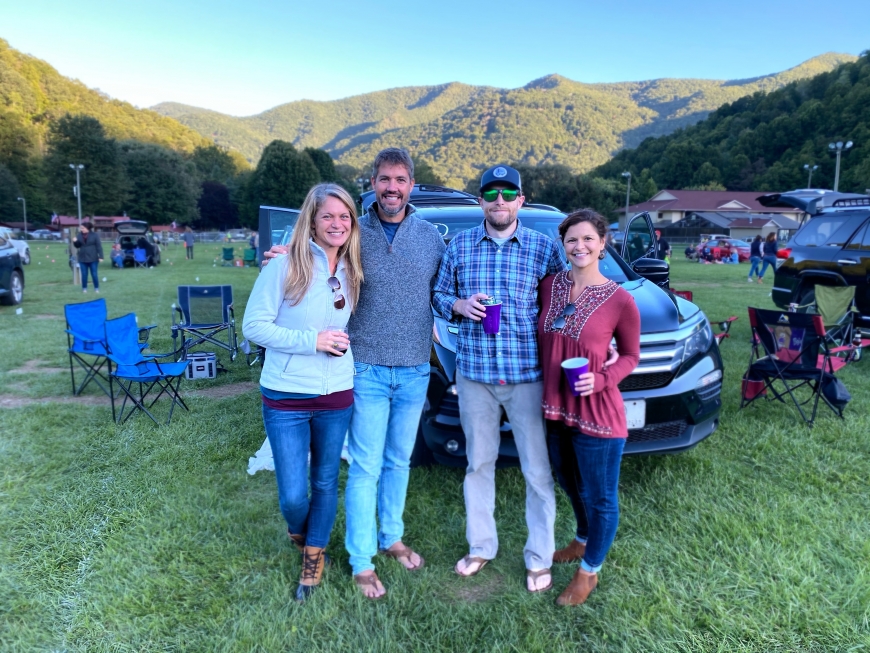 When I was a little girl we had a Victrola sitting atop the stairs in our split-level home. Occasionally my dad would gently lift the top, place a record on the turntable, wind the crank and set the needle so Hank Williams, Sr. or Johnny Cash could fill our living room with their distinctive voices. My dad would grab my sister or me and we would swing around and dance, the music part of our memories.
It wasn't just Hank and Johnny who offered a soundtrack to my childhood. It was also Waylon Jennings, Conway Twitty, Elvis Pressley, George Jones, Merle Haggard, Willie Nelson, Patsy Cline, Dolly Parton and others. Even though my sister and I had cassette tapes of Madonna, Michael Jackson and Whitney Houston, it was the classic country crowd that initiated my love of music.
In seventh grade I acquired an Elton John CD and became an avid fan. I was sure to be one of the only 12-year-olds in Western North Carolina to be obsessed with Elton. Then at a sleepover I met a new girl who'd just moved up from Natchez, Mississippi. Not only was she familiar with Elton John, but her parents, too, had brought her up to the likes of Waylon, Willie and the boys. She and I developed an instant best friendship that continues to this day.
As life evolved, I became interested in the disco and funk genres as well as musical scores from theatre and film. I also began attending live shows, both small and large. Whether it was Dave Matthews or a small local Asheville act, it was all fun.
During trying times, especially when my mom was sick and after she passed, I leaned on music for comfort. Whether it witnessed my tears or served to cheer the mood, I could not have survived emotionally without it. Some events in life are too fragile for words or human interaction, but music can offer the solace for which a heart yearns.
When I met my boyfriend, Matthew, three years ago, the two of us together started attending concerts in earnest. Some of our current favorite bands are CAAMP, Trampled by Turtles, Jason Isbell, Fruition and The Wood Brothers. Our goal for 2020 was to attend at least one show per month, if not more.
In January, we attended a Lumineers show with a group of friends. In February, we saw The Devil Makes Three at the Orange Peel. On March 7, we went to Asheville Music Hall and stood shoulder to shoulder with strangers to jam out to Fruition. One week later, life as we knew it shut down, along with live music.
We had a slew of concert tickets already purchased for the remainder of 2020. We even had tickets to see Trampled by Turtles and CAAMP at Red Rocks in Colorado. One by one shows were canceled, tickets refunded. The Red Rocks show has been postponed for exactly one year, but we'll see if it a happens.
For many folks like me, the lack of live music over the last seven months has been another challenging aspect of this pandemic. It's exciting to have a concert on the horizon and to routinely check venues and websites to view tour updates or purchase tickets. With no live music, life has felt a little wonky, so when we got the news that the Grey Eagle and Asheville Music Hall would be using Haywood County acreage for live concerts starting this month, you better believe we were stoked. The two music venues are using their booking connections to host drive-in concerts at the Maggie Valley Festival Grounds and Haywood County Fairgrounds.
Last weekend Sam Bush played in Maggie Valley. Each car had their own square of land where they could set up camping chairs and food. The groups were adequately social distanced to ensure safety. We gathered a small group of friends, made some appetizer dishes, grabbed wings and drinks, and set up our own little viewing area. We had an absolute blast. Hearing Sam's voice and his musical prowess, along with the rest of his band, was like medicine for the soul.
Both fairgrounds have line-ups scheduled through the end of October. Two of our favorite bands, Mandolin Orange and Mt. Joy, are both slated to play. And while it would have been nice for these drive-in concerts to have started back in May or June, I'll take what I can get.
Like so many experiences during the COVID-19 era, concert viewing has adapted to our new normal. I knew that somehow live music would find a way to resurrect itself, even if it looks very different than ever before.
I'm not a musician myself nor do I claim to be a musical expert, but I know how music has impacted me. Last weekend Sam Bush breathed life into every attendee at the festival grounds. It's going to take the human race time to recover from this pandemic. For us music lovers, that's going to happen one beat at a time.
(Susanna Shetley is a writer, editor and digital media specialist for The Smoky Mountain News, Smoky Mountain Living and Mountain South Media.
This email address is being protected from spambots. You need JavaScript enabled to view it.)