Archived News
War of words: Race to replace Mark Meadows takes an ugly turn
Wednesday, September 16, 2020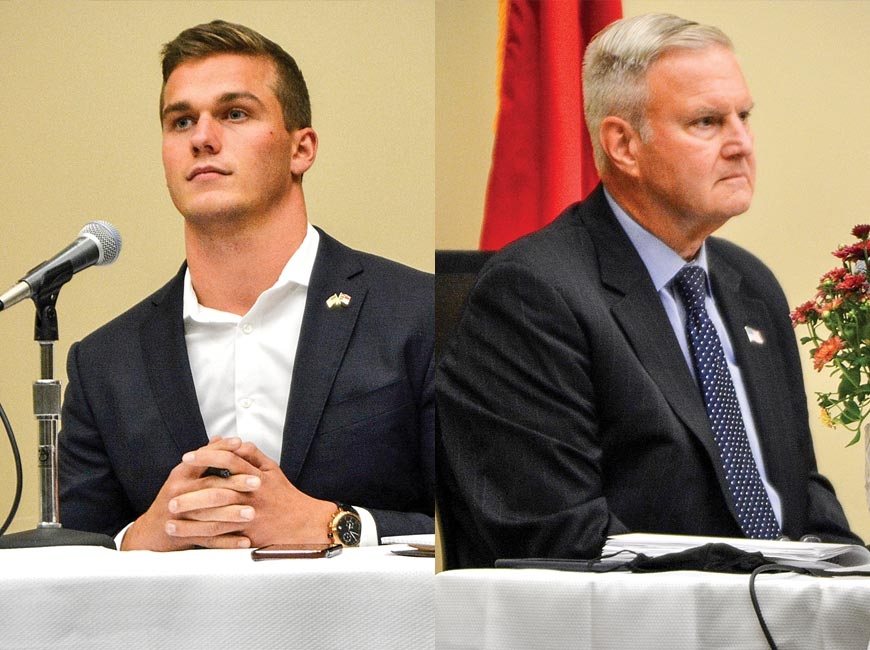 Madison Cawthorn (left) and Moe Davis.
The major party candidates seeking the NC11 congressional seat recently left vacant by former Rep. Mark Meadows spent much of the first two debates attacking each other and defending themselves against those attacks, but now that controversial tweets by one of them have resurfaced, there's even more focus on how the current partisan discord is turning modern political discourse into a war of words that can never be won.
On the evening of Sept. 11, 2019, retired U.S. Air Force Col. Moe Davis paraphrased former First Lady Michelle Obama's catchphrase, "When they go low, we go high," by issuing a scathing tweet directed at North Carolina's Republican establishment.
"Screw they go low, we go high bullsh*t. When @NCGOP extremists go low, we stomp their scrawny pasty necks with our heels and once you hear the sound of a crisp snap you grind your heel hard and twist it slowly side to side for good measure. He needs to know who whupped his ass."
Earlier that day, North Carolina House Republicans called a surprise vote to override Gov. Roy Cooper's budget veto. Many Democrats said they were misled about such a vote taking place.
The day before that, Republican Dan Bishop had prevailed in a hard-fought Special Election in North Carolina's Ninth Congressional District — an election necessitated by voter fraud on the part of Republicans in 2018.
"It was that combination of things," Davis said, that led to the graphic statement.
Davis' Republican opponent for the 11th Congressional District seat, Madison Cawthorn, said he found the tweet "disturbing" the first time he read it.
"It genuinely brought back memories of when I first broke my spine," said Cawthorn, who mobilizes by using a wheelchair after a car accident in 2014. "When I move my back just slightly, I can still feel where that break happened. For my opponent to advocate for breaking someone's neck, [that] would make them a quadriplegic. I think it's cruel, and it just shows that this is a man who does not know how to put himself in the shoes of people who are going through a life or situation that he hasn't been through himself."
Insisting the statement was metaphor, Davis has been unapologetic about his aggressive messaging.
"My intention in the tweet was to say, look, this 'We go high' crap is not cutting it," he said. "When we're playing against a North Carolina GOP that's made clear that they'll lie, cheat and steal to retain power — not just being metaphorical on that, I mean, they have a record of lying, cheating and stealing — Democrats have to fight back."
Davis has emphasized his point using the metaphor of a knife fight, saying that Republicans have been showing up with a machete while Democrats have been showing up with a quinoa salad.
"It's clear we're losing the messaging battle to the other side," Davis said. "You have to give [Republicans] credit, they're really effective at crafting messages that stick, and resonate. Our side is really good at writing 20-page position papers that nobody ever reads."
It's not the first time Davis has waxed metaphorical; according to a Cawthorn website, www.moetaxes.com, he's used similar phrasing a number of times.
"I'm a very aggressive guy," Cawthorn said. "I loved to wrestle with my friends and my brothers, loved being willing to step up and defend my family. There is a point for saying that you're setting an aggressive tone, but there's another point to where you take it to a gruesome level."
Davis certainly isn't the only political candidate or elected official ever to take an aggressive tone with his messaging. However, in today's highly-charged political climate it's no secret that such messaging emanates freely, from bottom to top.
President Donald Trump has made and continues to make statements that have raised eyebrows, despite First Lady Melania Trump's anti-bullying "be best" public awareness campaign.
President Trump has bragged about sexual assault, told police "don't be too nice" when taking suspects into custody, mused about shooting migrants below the waist to "slow them down" and exhorted rally goers in 2016 to "knock the hell" out of protestors, even promising to pay their legal fees.
"I'm not afraid to call somebody out when I believe they're wrong and I believe that kind of rhetoric is wrong from someone who's been in a position of leadership," Cawthorn said when asked about Trump's comments. "Now, I love when President Trump fights back. I hated to see how George W. Bush would always just take the blows, never fight back and defend our cause, but you know, there is a point where it's gone a little bit too far. Some of the tweets, like the ones you just outlined, I believe that's a point where the president has gone too far."
Davis thinks his statements pale in comparison to those of the president.
"Somebody asked about the tweet. I pointed out it was figurative, not literal, where the president has literally said, 'Knock the hell out of them,'" Davis said. "I went and looked at my opponent, who's at home clutching his pearls over my tweet, and I went to see what his response was to the president, and there was nothing. It's pure hypocrisy. It's stunning to me that here's this young man who purports to be a patriot and a Christian who lies, just repeatedly lies, in the same way that the president does."
It's a crowded marketplace, Davis explained, and being crass, sarcastic and bombastic gets attention.
"Sometimes it takes going to the absurd to do that, but that's the world we live in," he said.
But is it the world candidates and politicians want to live in?
"It didn't seem to be this way in the past, but I think it's certainly pointing that direction right now. It's really a bad place that we're in and that's one reason I decided to run," said Davis. "I just think the country's in a bad place and the election coming up on Nov. 3 I think truly is the most important election in my lifetime. As a country, we've got to decide on who we want to be. And I'm hopeful that the majority, I think — the real moral majority — are good people who want to take care of their community and their country. I think it's the very vocal minority that gets a lot of attention."
On Sept. 9, Mountain Xpress Assistant Editor Daniel Walton reported that the Henderson County Sheriff's office had deployed a squad car to Cawthorn's residence in response to specific threats.
"Obviously, I would love to just paint this as the far-left partisan divide, but also there, there are some sects on the far, far fringe right who I wouldn't even say are Republicans," said Cawthorn. "In both of those parts of the political spectrum, the very far fringes on either side, I believe they both represent this dangerous aspect where we do need security in this new world. And it's really a sad thing to have to say. It's a sad thing to have to admit."
Davis said he too had received such threats — on Twitter, on Facebook, and by phone.
"The Buncombe County Sheriff's Department called my campaign and spoke with my campaign manager about whether we'd been getting any similar messages," said Davis. "My opponent's very fond of the Second Amendment and has the picture of him with the big giant rifle, and now he's got taxpayer funded security outside his house. I told them I didn't need it. I've got a cat at home and that's fine with me."
Unfortunately, says Cawthorn, a large sector of the American political class is moving in a more confrontational direction.
"I believe nine months ago, Maxine Waters was advocating for 'get up in their face, don't let them have any space, go to where they're eating, go to where they work,'" he said. "What this really has shown is that this verbiage has been used so repetitively that we now see mass parts of our population are now going out in the streets. You see these videos all the time, these viral videos of people, just berating Republicans and attacking people for their beliefs."
There are plenty of videos of Republicans berating Democrats, too, using terms like "snowflake" and, as a slur to the mentally handicapped, "libtards." Cawthorn's called for improvements to the state of discourse in the campaign, even as he defends himself against allegations of white supremacy, Nazi sympathy, use of the n-word and improper behavior toward women.
"You look at many religions, they pretty much all follow Judeo-Christian values — thinking of others, treat others how you'd want to be treated yourself," he said. "I think that we need some very passionate, pensive and thoughtful leaders who can lead our national discourse to say, 'This is wrong. This is not how we go about our lives.'"
Using a metaphor of his own, Cawthorn believes it's time for candidates — and everyday Americans — to stop tearing each other down with words.
"I believe every person, every young man or young woman, is like a hatchet. This is something my father taught me as a boy. On a hatchet, you have two sides. One side is made for cutting. The other side is a blunt side, which is very similar to a hammer. We were all very similar to that hatchet. We can either make a decision to destroy something that day, or we can make a decision to build something up," he said. "It does take significantly more effort to use that blunt side to build something."
Despite their differences, Cawthorn and Davis do seem to be in agreement that tiresome rhetoric — their own war of words — won't result in a clear victory for either candidate.
"It's like we were talking about with the tweets, it's the outrageous that gets the attention and it's the mundane that doesn't, but I think most people are tired of this constant chaos," Davis said. "And I think they're looking for a return to normalcy and hopefully on Nov. 3, that's what we're going to do."