Archived News
Demonstrators greet Cawthorn before debate
Wednesday, September 16, 2020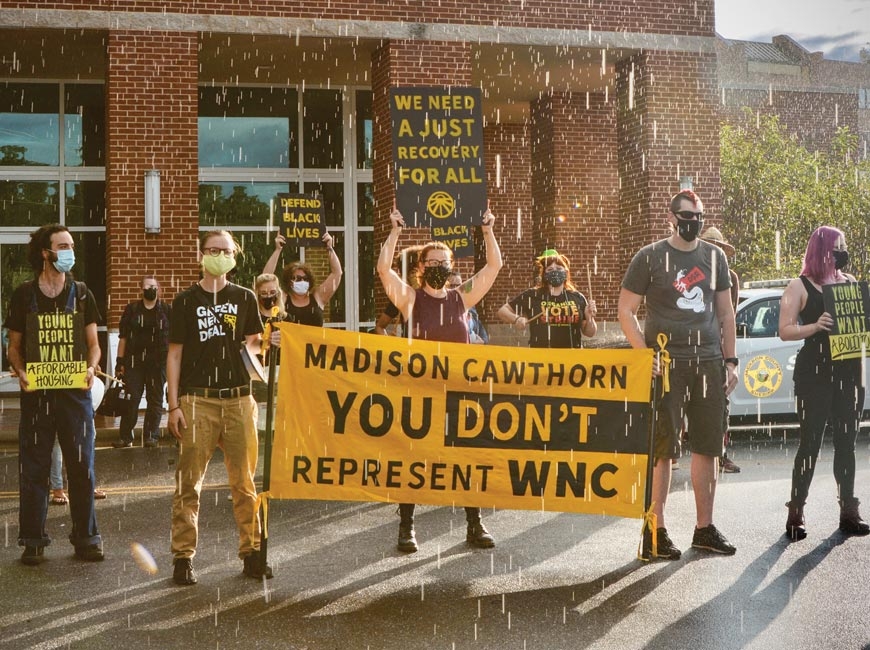 Demonstrators braved a brief downpour to advocate for the Green New Deal on Sept. 9 in Sylva. Cory Vaillancourt photo
Around 30 demonstrators affiliated with a group called Sunrise North Carolina showed up to a congressional forum held by Southwestern Community College in Sylva on Sept. 9, but they weren't there to watch — they were there to sound off against the environmental positions of Republican candidate Madison Cawthorn.
"He is 25 years old, which is how old I am," said Alex Lines, of Asheville. "He is very outspoken against the Green New Deal. He recently said it was 'waterboarding future generations.' He represents everything that our generation is fighting against — everything that we want to transition away from."
The Sunrise Movement is a national group focused on climate change. There are a number of local Sunrise chapters; one briefly occupied Asheville Mayor Ether Manheimer's office last December after they asked her to declare a climate emergency and mobilize resources. The group spends much of its energy advocating for the passage of the Green New Deal.
The Green New Deal is a proposed legislative package championed by New York Congresswoman Alexandria Ocasio-Cortez and former Democratic presidential candidate, Vermont Sen. Bernie Sanders.
Broad in scope, the Green New Deal's overarching goal is to move the United States toward 100 percent renewable energy consumption over several decades, at a cost of more than $12 trillion.
Other components of the package create substantive intersectionality by linking climate justice to a number of ancillary causes touted by left-leaning advocacy groups, like socialized health care. Those additional components add up to $80 trillion to the tab — a figure greater than the gross domestic product of every nation in the world combined.
"The Green New Deal is fighting for a just recovery for everybody," said Ashley McDermott, 32, also of Asheville and an organizer with the Sunrise Movement. "We think that climate justice is directly related to racial justice. It is a direct reflection of systemic racism in a capitalist society in that it oppresses the most vulnerable people."
Passage of the Green New Deal, according to McDermott, would result in millions of high-paying jobs, but not everyone sees it that way.
"I was surprised that these demonstrators showed up. Being a conservative, I believe I'm pretty conscientious of the environment. As someone who's from a younger generation, who grew up hunting, being in the outdoors, I really care about our natural environment and I want to protect it," Cawthorn said. "So it was surprising to see some people come out with such vitriolic rhetoric when I'm one of the only Republicans who's ever acknowledged that yes, we do need to take care of our environment."
Cawthorn's gone to great lengths to brand himself as a "green conservative" and has even broken with his party and President Donald Trump on some aspects of environmental policy, saying in a forum on Sept. 4 that the Book of Genesis calls Christians to be environmental stewards.
Since taking office, Trump has rolled back dozens of regulations imposed by the U.S. Environmental Protection Agency, with dozens more rollbacks proposed.
Nuclear energy, according to Cawthorn, is cleaner, plenty safe and would allow the U.S. to remain a net exporter of energy.
"I think it really comes to the idea of advocating for energy practices," Cawthorn said. "I believe that a strong economy lends itself to one that can afford to say, 'Hey, you know what? Let's take some precautions to make sure that we're okay with our environment. Let's make sure that we're not just making our profits we're also thinking about the long term.' I think that people are climate alarmists when they say they want to do the Green New Deal, or that they want to get rid of fossil fuels completely."
Moe Davis, Cawthorn's Democratic opponent, says on his website that energy independence would be good for the environment, for national security, for entrepreneurs and for workers. He supports the Green New Deal's broad goals, although he stopped short of backing all 48 components of the resolution until he is able to review actual proposed legislation.
"My opponent doesn't believe in science," Davis said. "I do. Science deniers are particularly dangerous for Western North Carolina because our economy is tied to our environment. We need leaders in Washington who grasp the threat and will act to protect our environment. Climate change is real, and we can't afford to wait until we reach a tipping point to act. We are already running out of time."
McDermott said the cost of doing nothing is far more than any of the proposed price tags on the Green New Deal.
"As global temperatures rise, costs are skyrocketing over infrastructure damage, inland flooding, wildfires, ecosystems unraveling, not to mention the cost of human life from climate disaster and temperature extremes, especially for the most vulnerable communities," she said. "Instead, we sink trillions into our military budget and corporate bailouts. We need a drastic overhaul of our economy immediately."