Archived News
Town places moratorium on Franklin gazebo events
Wednesday, September 16, 2020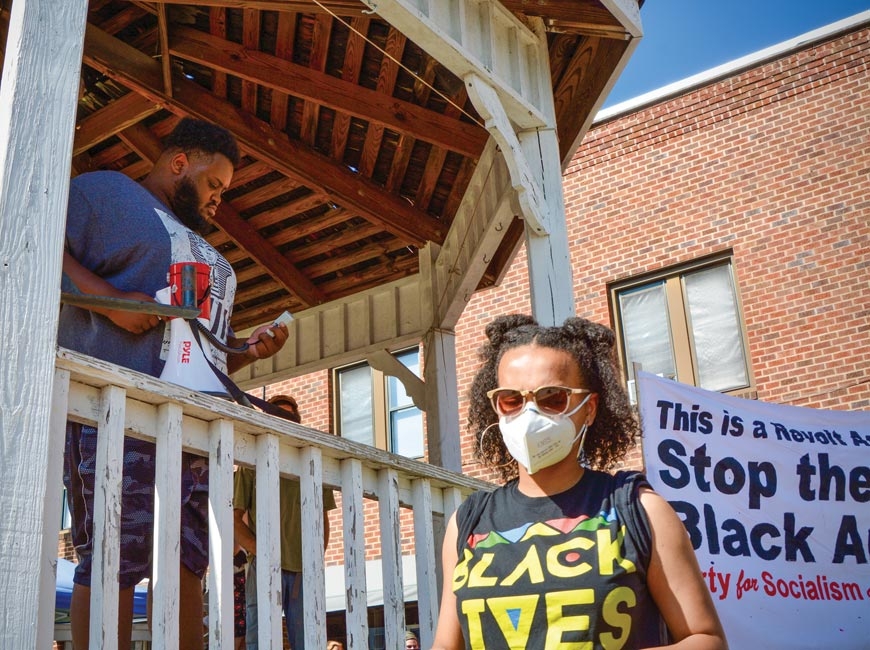 Franklin's downtown gazebo has hosted a number of protests and rallies this summer despite COVID-19 restrictions on outdoor gatherings. Cory Vaillancourt photo
The gazebo in Downtown Franklin has long been a popular gathering spot for live music during Pickin' on the Square, fall festivals, prayer rallies, recovery celebrations and much more, but the town has been bombarded with requests to reserve the space in the last several months.
"We usually get one to two requests a month to use the gazebo area, but now we're getting three to four requests a week since COVID started," said Town Manager Summer Woodard.
Looking for more direction from the town board on how to handle the influx of reservation requests, Woodard said she'd put a hold on approving any new applicants for the past few weeks.
"Others have submitted applications but I stopped accepting them until we get a better understanding of what the town wants to use the gazebo for," she said.
Since Gov. Roy Cooper placed restrictions on gatherings in North Carolina because of COVID-19, more people have used outdoor venues to host more events, but there have also been more protests and rallies held by Black Lives Matters organizers as well as counter protests showing support for law enforcement officers. As the town center, the gazebo has been at the center of all these events as well.
"With the rapid proliferation of people wanting to use the gazebo for protests and rallies, we don't want to intentionally stifle speech," said Town Attorney John Henning Jr. "But it has caused us to say, 'Let's stop and see what council's intent is for the property.'"
While the town wants to protest people's right to free speech, it can also place limitations of where and when that free speech can occur, Henning added, especially when it becomes a public safety issue. These types of events also put the town's police force in an uncomfortable position. The police force has limited staff to maintain peace when protesters and counter protesters are in the same area. It also puts law enforcement in a precarious position to ensure outdoor gatherings are still adhering to Gov. Cooper's mandates, which states that no more than 50 people can gather at an outdoor event.
Henning then asked the council to consider a moratorium on gazebo reservations outside of the town-sponsored events as long as the state is under a State of Emergency. He added that the county had designated the courthouse plaza across the street from the gazebo as a "free speech zone" and that could be used by those wanting to organize protests, rallies and other events.
Councilmember Joe Collins asked why events couldn't continue there as long as they are adhering to the state's restrictions.
"To me, it's a health issue. The state gives us guidelines for gatherings — it could change week to week — but whatever guidelines we have from Raleigh should be used there," he said.
With the 50-person limit, Henning said allowing gatherings would still require someone to enforce those restrictions — keeping the events under 50 people and making sure everyone wears a mask and social distances.
"The issue is gonna be if we reject one we'll have to reject them all in fairness," Scott added.
Councilmember David Culpepper said he was not in favor of placing a moratorium on using the gazebo.
"I always assumed our permitting of the gazebo was only for scheduling purposes," he said. "I'm uncomfortable with us trying to pick and choose and I don't wanna throw the baby out with the bathwater either. We should allow them to gather peacefully at scheduled times."
Scott agreed that was a valid point, but right now the issue is about public health. Last month, the town chose to cancel its popular PumpkinFest due to COVID-19.
Councilmember Jack Horton said it seemed like an impossible thing to police and asked about the town's past restrictions. For example, the town probably wouldn't think twice about approving a peaceful prayer vigil but would probably have reservations about allowing the KKK to hold a rally at the gazebo. Where do you draw the line, he asked?
Scott said the courts were clear that you can't make that kind of determination just because you don't like a particular event or organization.
"Or we can just suspend use until COVID restrictions lift and the people already permitted will get first priority when we open it back up," Horton said.
Councilmember Dinah Mashburn suggested allowing the couple of events already permitted to move forward even if the town did decide to place a moratorium on it going forward. The two events already permitted are a Constitution Day celebration Sept. 17 and a recovery rally — both events were approved back in February and March.
"This is an illusion of permission," Culpepper said. "If 50 or 500 people want to go up there and do something, it's public property. There have been several events bigger than allowed during COVID. We're probably more likely to get a large crowd there if we choose to close it down than if we keep it open."
Police Chief Bill Harrell told the council he'd adhere to whatever was decided but asked that if an event does require police presence, that perhaps the organizer should be willing to pay the cost to have off-duty officers for security.
"Our budget just doesn't allow for it," he said.
Collins asked if anyone was in favor of keeping the gazebo open.
Culpepper said he was but understood the difficulty of trying to enforce restrictions.
"I'm 100 percent against enforcement action if there's a 51st person or a 500th person if they are peaceful," he said.
Harrell agreed he's not in favor of making arrests for being over 50 people.
During public comment earlier in the meeting, Pastor Michael Stephens with Franklin Church of God asked the council to consider approving his National Prayer event for Sept. 26 before a moratorium went into effect. The prayer rally would be in conjunction with Franklin Graham's National Prayer March in Washington, D.C., and would feature live music, guest speakers and a canned food drive for CareNet. As for the public health concerns, Stephens reminded the board that Macon County currently only had seven active COVID-19 cases and that previously held events at the gazebo hadn't led to any outbreaks. He said he submitted his request to the town four weeks ago to hold the event from noon to 2 p.m.
Council did discuss whether to grandfather in the other events that had applications pending, but decided to only let the two approved events continue. In the end, the council ended up approving a moratorium on gazebo reservations during the COVID-19 State of Emergency 5 to 1, with Culpepper opposed.