Archived Opinion
Sept. 11, 2001
Friday, September 11, 2020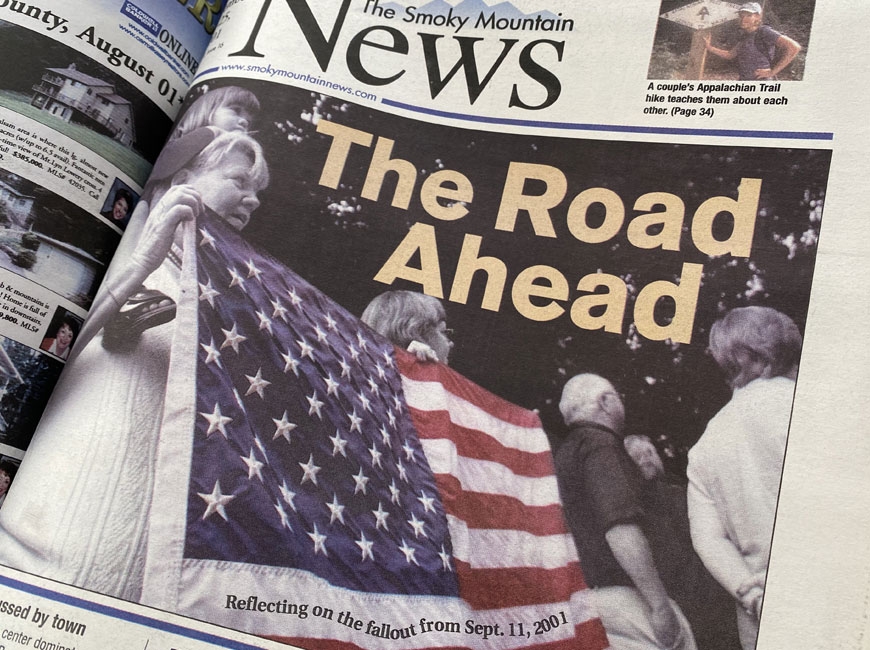 September 11 snuck up on me this year. I was listening to public radio this morning when they discussed commemorations happening today at Ground Zero.
All of a sudden it took me back to that Tuesday morning 19 years ago. In my world, the last 20 years of Tuesdays have been press days, the time when all hands are on deck at the newspaper as we try to finish stories, design the paper and send it to the press so it can be delivered on Wednesday mornings.
As the horrible events of that day unfolded, I scrapped a previously written column and tried to capture my thoughts for that week's edition. Terrorism of that scope was new and unheard of. Looking back, it was also the early days of when we were able to view events like this in real time.
After I left work that day, my wife Lori and I gathered up our three children and we sat on our front porch and talked about what had happened. There were real tears as we tried to discuss it while there were still so many unknowns.
For what it's worth, below is the column written as the tragedy of Sept. 11, 2001, unfolded.

Sept. 11, 2001
This is a new and terrible day.
As I sit nervously at my desk about 10:25 a.m. on Tuesday, Sept. 11, and look out on a gorgeous late-summer day in the mountains, terror of still unknown proportions is striking our country. Attackers are killing innocent people, perhaps thousands.
We are hundreds of miles from the attacks, but in truth they are happening in my office in downtown Waynesville. We switch back and forth from websites — the Atlanta Journal Constitution, the BBC, Reuters, listen to it on Realplayer radio broadcasts — and we hear instantly of deaths, claims of who is or isn't responsible, hear the harried descriptions of eyewitnesses who saw people jumping from the 110-story World Trade Centers before they collapsed, the halting, grave voices of news broadcasters. We see live video stream across the screen, rescuers and bloody survivors, eyewitnesses and newscasters.
At 11:12 a.m. I am hearing President George Bush describe the events, our reaction, our plans for an investigation.
Amid all this, amid the sadness and utter helplessness, two truths strike me. The completely senseless mentality that allows one person or group to attack and kill innocent people is beyond my depth of perception; and two, our ability to watch it happen instantaneously makes the disasters even more difficult to cope with, perhaps more difficult to put in perspective.
By 11:23 a.m., reports are coming from the FAA of airplanes missing across the nation, of grisly bodies burned from head to toe being admitted to New York hospitals, of 20,000 people or more still in the World Trade Towers when they collapsed from the planes piloted by suicide terrorists and filled with passengers.
The death toll of innocents is mounting, and I am trying hard to imagine what kind of hatred could spawn all of the destruction. I remember after the Oklahoma City Federal Building was bombed, and we all blamed foreign terrorists. In fact, the deaths were caused by a disgruntled American, a boy really.
But this is of even a larger scale, a coldly calculated series of terrorist attacks that had to be planned for months, even years. Children, mothers, sisters and fathers have been killed. The obsessive hatred of the United States by different groups has spawned some terrible acts in the past, but nothing like this. The only blame, though, is on those who committed the attacks. There is a higher place, and they will pay for their actions.
By 11:37, we hear that more passenger airplanes are missing. By 11:42 a.m., CNN reports another airline in route to San Francisco is down. I begin to wonder how many are going to die, wonder if those people on those planes know what is happening. There is no way they could, except they do likely know they have been hijacked. The rest of the terror, perhaps, is unknown to them.
And as we watch and hear, I begin to dislike being able to do so. Lightning bolts are flashing all around, earthquakes hitting, quieting, and then hitting again. Confusion is too simple a word. Like a viewer of some reality show gone awry, I can't stop, can't pull the plug on the web. The horror of it all has me addicted in some way I don't know how to explain.
As we approach noon, I think about what effect this day may have on the history of the United States and our place in the world. Will it change us? Will it change the rest of the world? I don't know. The truth is that using terrorism is an admission of helplessness. Those who are victims of it will, after the sadness and shock wear off, be filled with a new hatred.
Finally, I have an intense desire to see my kids and my wife. For today there are perhaps thousands of good people — both living and dead — who will never again have that opportunity.
(Scott McLeod can be reached at This email address is being protected from spambots. You need JavaScript enabled to view it.)