Archived News
Flag burning suspect taken into custody
Wednesday, September 09, 2020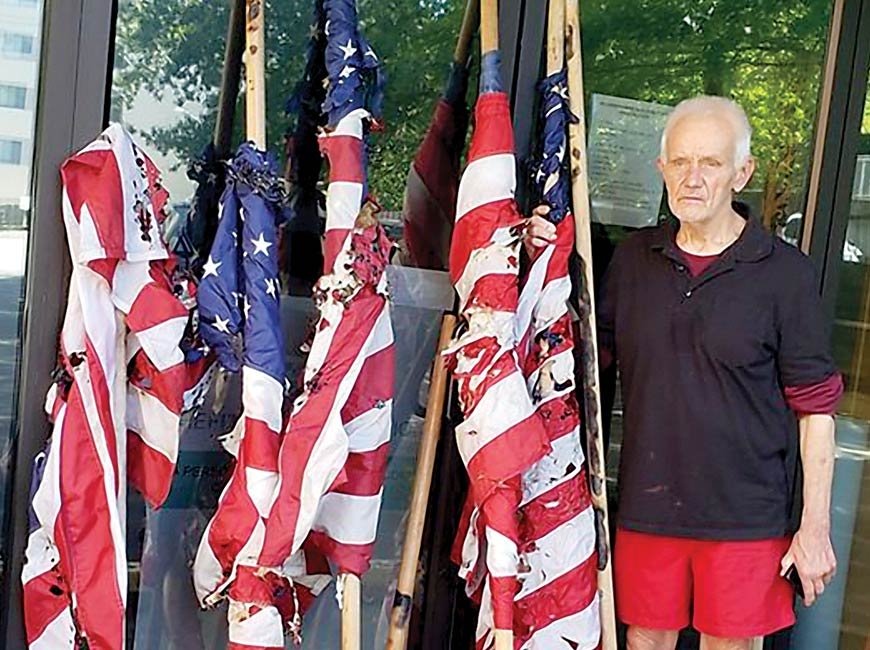 Quick police work coupled with private surveillance footage landed a Haywood County woman behind bars on several counts related to the partial burning of several American flags.
"The complainant came in on Saturday morning [Sept. 5], and we were able to get warrants and locate her on Sunday morning at 11 a.m.," said Lt. Tyler Trantham of the Waynesville Police Department.
Trantham explained that the Waynesville Kiwanis Club noticed several of their flags, displayed on the sidewalk for Labor Day weekend, had been stolen. Officers of the WPD soon found the flags in another location, partially burnt.
Officer Jason Reynolds took the initial report, according to Trantham, and by that evening had a pretty good idea of who was responsible thanks to surveillance video. WPD officers also had previous contact with the woman, who gave a Buncombe County address but said she was now homeless in Haywood County.
Brandy Michelle Coleman
Brandy Michelle Coleman, 33, told officers she was married to "Silence of the Lambs" movie villain Hannibal Lecter, and that she was born in Norway.
"I'm here in this country illegally and I fucking hate America," Coleman told officers per the Sept. 6 arrest report.
Coleman was apprehended as she was allegedly shoplifting $56.18 worth of products from Publix, earning her additional charges. At the time, she was still wearing the same clothes in which she was observed on surveillance video.
As of press time, Coleman was being held on $10,000 secured bond with misdemeanor counts of larceny and possession of stolen goods and a felony charge of burning personal property.
Trantham estimated the value of the flags at $180 each.
The Kiwanis Club places 175 U.S. flags in front of local businesses for several major holidays, including Labor Day, Memorial Day and Fourth of July. Businesses pay a $50 annual fee to the club for their service, which helps the club meet its mission. While the members are heartbroken anyone would do this to an American flag, they were happy to report that Sheriff Greg Christopher had already offered to buy more flags to replace the ones that were destroyed.